Cooking chicken under a brick is a new and fun way to diversify your chicken dishes! Once you cook like this, you will never have regular chicken again.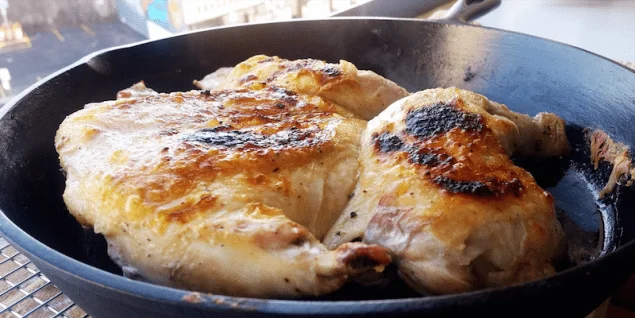 Chicken under a Brick is crispy and juicy, and the pan juices are extraordinary. If you manage to have some of this deliciousness leftover – and especially if it's breast meat – consider making chicken soup in the next couple days. Leftover "Chicken under a Brick" will give you two of the most important ingredients for a very quick soup: homemade stock and cooked chicken. But let's not get ahead of ourselves. Chicken under a Brick is so good, there's not a lot of chances you'll have any leftover.

Brick Chicken
Cooking chicken under a brick is a new and fun way to diversify your chicken dishes! Once you cook like this, you will never have regular chicken again.
Ingredients
1 whole, young chicken, about 5 lbs
2 bricks
Salt and pepper
Pinch of cayenne
1 tsp herbes de provence
1 Tbs olive oil
¼ cup white wine
½ cup chicken broth
1 Tbs unsalted butter
Instructions
Wrap two bricks in foil.
Spatchcock your chicken. Go ahead; you know you want to. But close the blinds first, obviously. You don't want your nosey neighbors to see you partially boning your bird.
Salt and pepper the meaty side of your spatchcocked chicken, then dust it with herbes. Turn it over and salt and pepper the skin side (no herbes). Let the chicken sit out on the cutting board like this for a half-hour.
Halfway through your "sit out" time, preheat the oven to 425°F.
Heat a cast-iron skillet over moderately high heat. Meanwhile, pat chicken's skin dry with paper towel. Brush with oil. Dust with salt and pepper. Once skillet is smoking hot (which takes 4-5 minutes), place chicken into it, skin-side down. Position bricks over chicken in whatever manner seems to flatten the chicken most effectively. Transfer skillet to oven. It'll be impressively heavy, so take care.
Bake for 25 minutes. Meanwhile, sanitize your workspace.
Remove bricks. Slide a large pancake flipper under the chicken, to ensure that the skin's not sticking to the pan. Then, use tongs to flip chicken. Insert a temperature probe into the center of one of the thighs, set it to 5 degrees under your desired final temperature, and return the bird to the oven. When the alarm goes off, broil the chicken until the desired temperature (160-165ºF) is reached. (Optionally, let the bird achieve temperature without broiling.)
Remove chicken to a platter and let it rest 5 minutes. Meanwhile, deglaze the pan with wine. Add chicken broth and reduce. Off heat, add butter. Check for seasoning. Serve pan juices with chicken.
Notes
It'd be a good idea to start with a very clean, uncluttered workspace. You don't want to be messing around with raw chicken, and then have the juices get in contact with other stuff you might have in your sink or on your countertops. Also, get out everything you need in advance, so that you don't find yourself opening cupboard doors and drawers and fishing around for stuff with chicken all over your hands.

Spend a lot of time getting that bird dry. This is key. After unpackaging it, check the chicken's cavity. If it has giblets, remove them. Then, pat the chicken dry. Put it on a paper-towel-lined plate, and pop it in the fridge for a couple hours. After that, pour away any accumulated juices and pat the bird dry again.

If you remove the wing, it's an easy cut. If it's a hard cut, either you have a horrible knife, or you're not precisely in the right spot.
Cutting out the backbone will suck, suck, suck unless you have some truly kick-ass shears. I invested in something incredible. I rarely make these kinds of splurges, but what with all the Kevlar I have to wear just to walk around in public in Chicago, I felt I needed a feel-good trip to the kitchen supply store to lift my spirits.

Instead of herbes de provence, I used Spice and Tease "Special Omelet Potatoes," which is a fines herbes blend. The result was subtle and delicious.
During the half-hour wait time, don't just doze off or lollygag. Toss that backbone and those wings (plus giblets) into a pot and make a crude stock from them. Use this stock for your pan-juice reduction – fantastic! (Or, save the neck, add the bones you'll eventually get from the rest of this chicken later, and make a stock from that. Add water as necessary to keep the chicken submerged.

You need a skillet large enough to accommodate your chicken or vice verse. The chicken needs to be able to lay flat in the skillet. My 5-lbs bird fit perfectly into my 10-inch skillet.

You'll find that the chicken's temperature will continue to rise after you've taken it out of the oven. By the time you've readied the broiler, you'll practically be at temperature, and your chicken won't have to spend more than a minute or two broiling. If your broiler has a custom setting, adjust it to a low setting (425°F).