Paired with a delicious black bean spread and avocados, these tacos are topped off with a fried egg for an incredibly simple bite.
By Sami Berger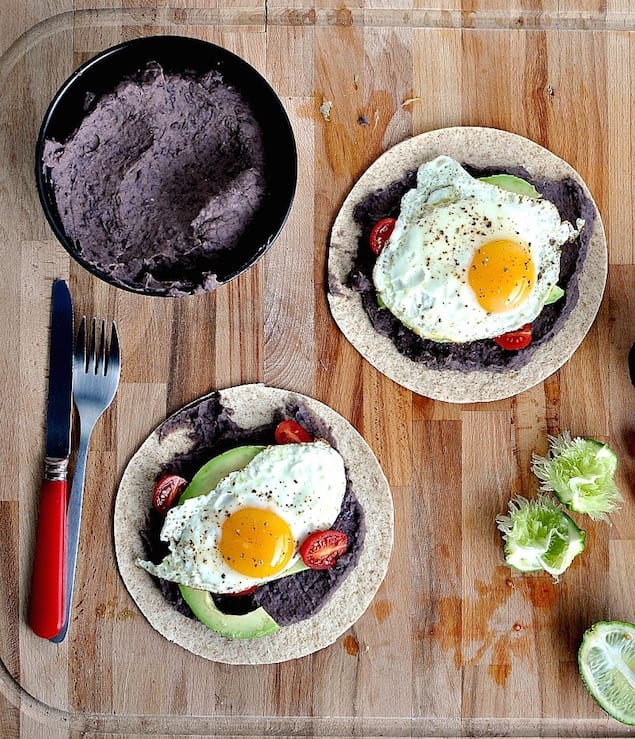 Over a year ago we went to Costa Rica for a couple of weeks. We didn't know much about the food there before we went but we quickly learned that in addition to the amazing fresh fruit smoothies, fish and fried plantains, we would be eating a lot of rice and beans. If you had asked me before we went if rice and beans excited me, I would have said no.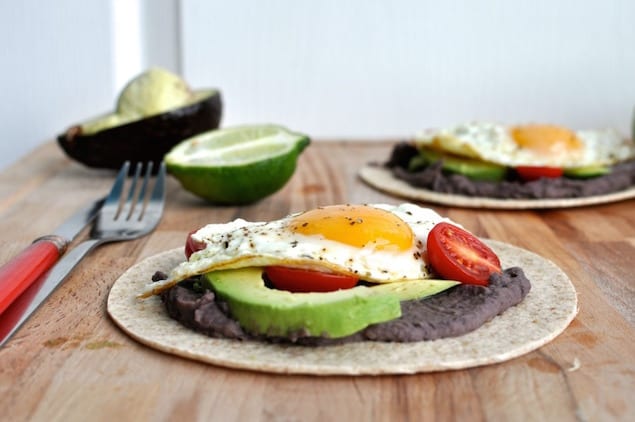 Surprisingly, the rice and beans that I had there were often very tasty: super flavourful without being overly spiced.
So, here we are, over one year later and I am fully back on the rice and bean bandwagon.
There is something about the black bean puree that is so satisfying. It is filling, hearty, smooth and healthy. It's the perfect smear for any taco, but I have to admit, I was eating it by the spoonful out of the pot after I was done with everything else. Paired with the black beans, the avocado is fresh and creamy and it's all topped off with a sunny side up fried egg. The runny yolk bursts to create a beyond delicious, but incredibly simple bite. It is a fast, easy meal that is often topped with an egg. These tacos are healthy, cheap to make and can be thrown together with very limited ingredients left in your fridge.

The Breakfast Taco with Black Bean Spread
Paired with a delicious black bean spread and avocados, these tacos are topped off with a fried egg for an incredibly simple bite.
Serves:
his will make enough black bean puree for 4-6 tacos (depending on size).
Ingredients
Black Bean Puree
1 tablespoon neutral oil
1 garlic clove, minced
½ cup minced yellow onion
¼ teaspoon red chilli flakes
1 teaspoon cumin seeds, ground
½ teaspoon salt
⅛ teaspoon freshly ground pepper
1 bay leaf
2.5 cups cooked black beans
½ cup of water
To serve
whole wheat tortillas
1 sunny side fried egg, per person
avocado, sliced
cherry tomatoes, halved
lime wedges
Instructions
Black Bean Puree
In a small pot, heat up oil over medium heat.
Sauté garlic, onion, red chili flakes, cumin, salt and pepper until they begin to soften (about 2-3 minutes).
Add bay leaf, black beans and water and cook for about 10 minutes. Most of the water will have evaporated
Remove bay leaf and puree until desired consistency. If the mixture it too runny, cook for a few more minutes on the stove, over low heat, stirring constantly.
To serve
Heat up tortillas.
Smear a good amount of black bean puree on the tortilla. Add avocado and cherry tomatoes and a generous squeeze of lime juice.
Top with egg and serve.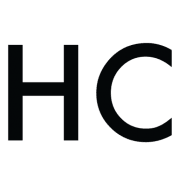 Sami Berger
Sami Berger is the author of My Second Breakfast, a mostly healthy, mostly vegetarian blog. Inspired by her travels and life in a new city, My Second Breakfast is a space to tell stories and experiment with sometimes new, sometimes familiar and most importantly, always delicious, flavours.