Breakfast at Oregon's Youngberg Hill Inn and Winery: Cornish Baked Eggs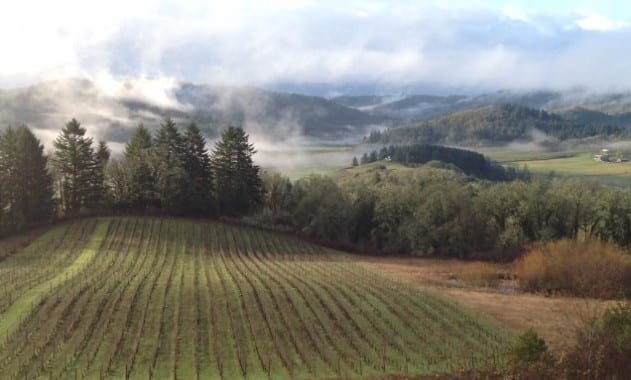 Youngberg Hill Inn is also a winery in Oregon's Pinot Noir country of the Willamette Valley, with award-winning wine and wonderful hospitality.
By Michelle M. Winner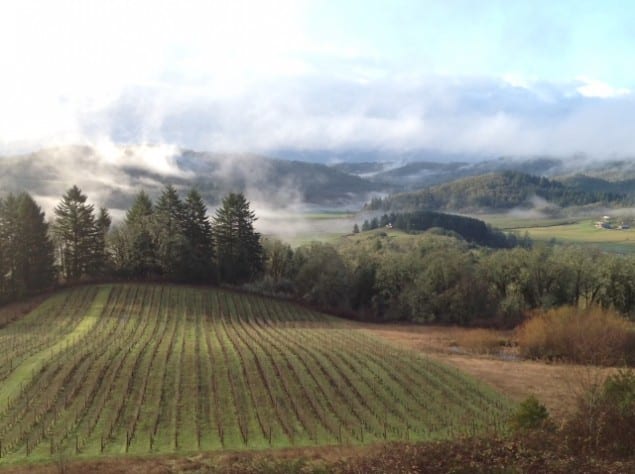 Image Kurt Winner
One of only two Willamette Valley, Oregon wineries that offers lodging on property, you will likely need to make a reservations at Youngberg Hill Inn in advance.  We were guests recently and enchanted by the beautiful setting overlooking the inn's own vineyards.
Our room "Jura" (each is named for a Pinot  Noir clone)  was on the second floor. A gas fireplace visible from bed or the Jacuzzi tub in the bathroom  brightened the gray December mornings and took the chill off in the evening. The colors of  our room  (each is individually decorated)  were soothing shades of green blending perfectly with the misty colors of the vineyard below.
I am not a B & B person. The reasons I have are purely selfish. I don't want to make polite conversation with  strangers.  I  don't like to put make-up on until I am well into my second cup of coffee. And I hate eating until I am hungry especially at a set time. But that all changed here.
I don't really have a reason except to say that perhaps it was the peaceful setting. Or it could have been the wine.  Each afternoon registered guests can enjoy the  private wine tasting hosted by Youngberg Hill Inn owner Wayne Bailey. ( If you are not a guest you may visit's the tasting room 7 days a week  from 10 to 4 pm). Wayne is  the winemaker and his entire family is involved in production; his youngest telling me that her job is to  pull the suckers off the vines at pruning time. Wayne's vintages have won numerous awards and he says that nearly half of his small winery's bottles are sold to inn guests and  wine club members.  I like Wayne's philosophy too. He respects that terroir (and the varying weather each year), dictates the character of the grape. Wayne says each vintage  has a unique story.  I would further say the winemaker is the story-teller. It's wonderful to be able to taste the wine while engaging with the winemaker for a deeper understanding of what you are tasting.
Image Kurt Winner
In case you are wondering, yes the Youngberg Hill Inn serves breakfast. One worth getting up for.  Prepared with care by the talented innkeeper and social butterfly Becky Looney. The morning conversation was an informative sharing  of the terrific restaurant finds in the Willamette Valley we had each discovered the night before. Here Becky shares her famous Cornish Baked Eggs that look like an egg floating on a cloud and taste like heaven too.

Breakfast at Oregon's Youngberg Hill Inn: Cornish Baked Eggs
Youngberg Hill Inn is one of two inns that are also wineries in Oregon's Pinot Noir country of the Willamette Valley. With award-winning wine and wonderful hospitality - this one is special.
Author:
Youngberg Hill Inn-Becky Looney
Ingredients
For each person:
1 English Muffin Split
¼ cup Parmesan cheese, grated
2 eggs, separated ( keep each yolk separate form the other too)
1 tsp. ( total) of parsley, chives, thyme or other savory herb combo.
Salt and pepper to taste.
Instructions
Preheat oven to 375 F degrees
Butter English muffin and sprinkle with Parmesan cheese.
Place on baking sheet and set aside.
Beat egg white until stiff but not dry, fold in herbs.
Mound the egg white on the split prepared English muffin halves.
Gently push the egg yolk into the middle of the fluffy egg white, push down to hold in place.
Sprinkle liberally with more Parmesan.
Lightly salt and pepper.
Bake for 12 minutes and serve immediately
Michelle M. Winner
Michelle was born with a fork in her hand. As a culinary travel writer and confirmed foodophile she delights in the world-wide discovery of new flavor profiles, spices, salts and herbs. Based in one of the world's foodie meccas; Portland, Oregon, not far from "Pinot Noir Heaven" Michelle shares culinary travel and chef's recipes. Her photography has appeared in Saveur Magazine and she has contributed culinary travel articles to Forbes online, WSJ online, Business Insider, Condé Nast Digital Media, Islands magazine and many others. A confirmed globetrotter, she still keeps her bags packed and fork in hand (well . . . except through airport security.)