Boulevardier – A Neo-bistro in Dallas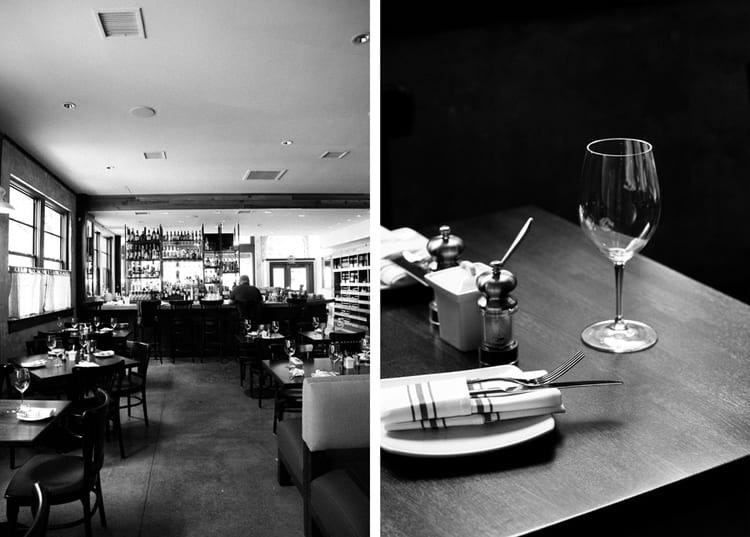 Boulevardier is a neo- bistro owned by chefs Nathan Tate and the late Randall Copeland and Veritas Wine Bar owners, Brooks and Bradley Anderson where they serve chef-driven modern French bistro classics.
By Joy Zhang
One of my favorite areas in Dallas is the Bishop Arts District. Tucked away in north Oak Cliff, there you'll find a variety of small boutiques, restaurants, bars, coffee shops, theaters and art galleries. You're suddenly transported out of the city into a cozy neighborhood setting where things move a little slower and people take the time to talk to each other.
Bishop Arts District exudes brilliance and brings about some of the most innovative artists around the city, ranging from small craft artisans to chefs to musicians and actors; it bustles with passion and energy that makes the neighborhood flourish with a carefree spirit that soothes and renews.
A few months back, I photographed Boulevardier for 360 West Magazine and had the honor of photographing some beautiful plates while I was there. Boulevardier is a neo- bistro owned by chefs Nathan Tate and the late Randall Copeland and Veritas Wine Bar owners, Brooks and Bradley Anderson where they serve chef-driven modern French bistro classics.  Along with the beautiful plates, they also have over 120 bottles of American and French wines to peruse and a large variety of liquors, vintage cognacs and whiskys.
The charcuterie boards are a must and make for great starters. The Big Board includes Moulard Duck Ham, Smoked Pork Rilletes, Bay of Fundy Gravlax, Country Pork Pate, and Beef Tongue Pastrami.
The Idaho Rainbow Trout is bursting with colors and flavors, served with french green lentils, tomatoes, lemon, caperas and fresh herbs.
For cocktails, be sure to try the Smash de la Saison with rye whiskey, mint and seasonal fruit or my personal favorite, La Vie en Rose with bubbles, rose water and a touch of demerara.
Texas Monthly recently named Boulevarider as one of the ten best new restaurants in Texas in February of this year. It's one of those places where you sit and dine and lose all concept of time immersed in great food, good drinks and perfect company — as an excellent meal should be.
Tue-Wed, Sun 4:30-10:00 pm
Thur-Sat 4:30-11:00 pm
Sunday Brunch 11:00am-3:00 pm
Joy Zhang
A 25 year-old free-lance photographer, home-chef and writer from Dallas, Texas, Joy finds inspiration for her photography and recipes through music, art and nature. Her work has been featured on Elle Girl Korea and Gourmet Live. Join her culinary adventures through her kitchen and discover fresh, simple and delicious recipes.