Valentine's Day is in two weeks — have you made your Valentine's Day Dinner plans yet?
Valentine's Day Dinner plans are stressful. At least booking a reservation in NYC is nearly impossible. They are either overpriced breaking your bank account. Or the decor is over the top, decked out with roses and chocolates and a touch of fluffy teddy bears.
Although budget friendly menus in the big apple are hard to track down, it's not impossible. Ranging from $50 -150 below are a few select restaurants that's available for you to check out on Valentines Day. Treat a sweetheart, galentine or yourself to a great dinner of your choice. From Italian to Hawaiian  and even Japanese. This year have better luck and get ready to eat your heart outs. 
Italian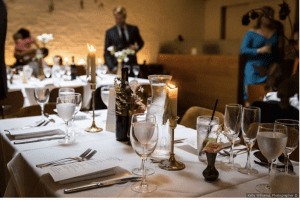 Crafted by Chef Jamie Kenyon the Valentines Dinner three course menu starts with a glass of champagne or a blood orange elderflower spritz. For the first course, features  Seared Mediterranean Octopus, 'nduja and fingerlings. In addition to House made Agnolotti stuffed with ricotta and squash. As well as Chicken and Duck Liver Mousse Bruschetta, with pickled red onion. For the second course opt for Braised Pork Cheek and soft polenta with mascarpone. House made Pappardelle with oxtail ragu (Beast of Burden); and Market Fish with wine-braised leeks and crispy artichoke. Followed by a specialty surprise dessert named Sweet Talker . The menu costs $80 per person.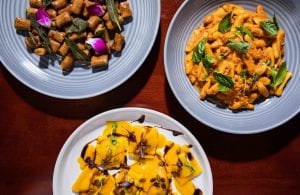 Senso Unico, the authentic Italian osteria in Sunnyside, has a special prix fixe menu featuring a three-course menu. From Executive Chef Vincenzo Garofalo the menu features highlights such as Ravioli (lobster filled tomato dough, saffron cream, green caviar) and Capesante (seared sea scallops, spinach leaves, red beet purée, lemon sauce). Guests can also opt for  a la carte along with the regular nightly menu. 
The menu costs $49 per person with the option to order any item a la carte.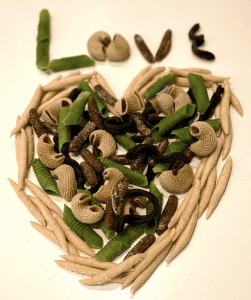 Enjoy Branzino for two at Leonelli Taberna, with Tuscan Kale, Capers, Golden Raisins, Fennel, Blood Orange, and Farro. For just
$58
this dish will leave you in love with your significant other and thanking chef Jonathan Benno. Not to stop there, you can even enjoy a Valentine's Day treat after your meal with a heart shaped or xo cookie from the bakery next door, Leonelli Focacceria!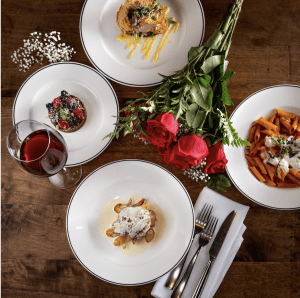 Enjoy the cozy ambiance of Antica Pesa's fireplace with your date. Dinner options include Uovo Asparagi e Tartufo (asparagus, fried egg, black truffles, Parmigiano Reggiano wafer).
Fettuccini Gamberi e Zafferano (homemade fettuccine in a saffron bisque, heirloom tomatoes, prawns). Filetto al Pepe Verde (grilled beef tenderloin, green peppercorn
foam, heirloom fingerling potatoes), and Tartelletta alla Gianduja e Frutti di Bosco (crispy tart, mixed berries, gianduja hazelnut cream). The menu for two costs $90 per person
"Antica Pesa is a classic romantic spot for Valentine's Day. From the cozy fireplace to the intimate atmosphere and romantic dishes, we want our guests to feel the love and warmth of the season the moment they enter the restaurant, and long after the meal. Share a pasta for two, enjoy delicious wine from our extensive list, or take in a celebratory affogato by the fireplace."
French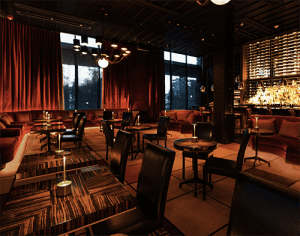 Enjoy a French-inspired Valentine's Day with your loved one at this two-star Michelin-starred hotspot, L'Atelier de Joël Robuchon, or the newly opened Le Club, helmed by Chef Christophe Bellanca. Both restaurants are located in the Meatpacking District (85 10th Ave), and will be open from 6pm – 10pm. Offering a six course menu at $195. including dishes such as Caviar & Alaskan King Crab with crustacean jelly and celery vanilla cream, Langoustine black truffle ravioli in a foie gras sauce and Grilled Wagyu Ribcap with coffee scented parsley root "Chartreuse", each course is a spectacular experience perfect for an exhilarant event. Can't find a sitter? Children's menus are also available.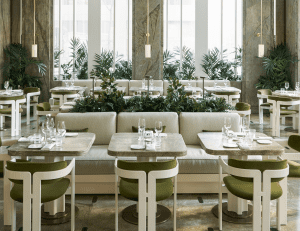 Whether it's lunch or dinner, Le Jardinier is a perfect way to celebrate with your friends or loved ones this Valentine's Day. Helmed by Michelin-starred Chef Alain Verzeroli, longtime protégé of legendary French chef Joël Robuchon, and designed by award-winning French architect Joseph Dirand. Le Jardinier will be open from 11am-2pm for lunch and 5:30pm-10pm for dinner and on Saturday for dinner only. The restaurant will be offering a  three course menu for lunch for $60 including an Avocado Farci or a Burrata for an appetizer, a Seared Bass or Heritage Chicken as a main course and a Passion Fruit Tart for dessert. The Valentine's Dinner is four courses for $125 including Amuse Juice, Avocado Farci, the Kohlrabi Squash Spaghetti, Beef Rib-Eye, or Seared Sea Bass and the Passion Fruit Tart.
Asian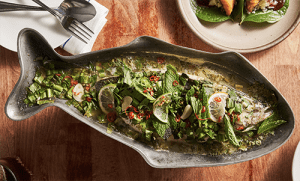 The modern Thai food here is relaxed, and familial. Fish Cheeks, the critically-acclaimed and widely-beloved colorful NoHo Thai restaurant, has curated a bright and fresh seafood-focused menu with unapologetic heat.
"Fish Cheeks is a perfect place for the couple (or friends!) who want to try something unique on Valentine's Day. The Chef's tasting menu allows diners to try a variety of Fish Cheeks' signature Thai dishes that are full of flavor and spice. The communal plates encourage sharing and conversation for a memorable night out." – Jenn Saesue, co-owner
To spice things up with your hot date, choose from one of their set menus for 2, with 5 dishes curated by the Chef to enhance your dining experience. Impress your date with some of Fish Cheeks' fan favorites including the Coconut Crab Curry, Crab Fried Rice, and Manila Clams with Sweet Basil. Set menus for 2 are $105
Say Aloha For Valentine's Day at noreetuh. The Michelin-recognized modern Hawaiian restaurant in the East Village, will showcase a six-course prix fixe menu.  Featuring all their classic dishes crafted by Chef/Co-Owner Chung Chow. Favorites includes Trout Belly Sashimi, Pork Jowl Musubi, Big-Eye Tuna Poke, Truffle Wontons and Imperial Wagyu . For dessert enjoy a Black Sesame Cheesecake with house made whipped cream. The menu costs $65 with an optional wine pairing for an additional $50.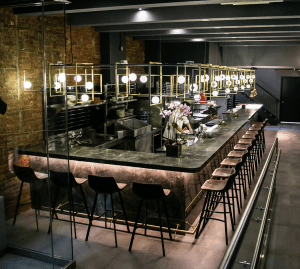 The Michelin-plated elevated modern Asian casual fine dining destination in NoMad helmed by Executive Chef Youjin Jung. Pre Fix dinner for two begins with a choice of fresh raw selection or four oysters. Then a choice of two 'to start' items and a Carpaccio with black truffle; a choice of a shared dish like Valentine's Day Special of Lobster and dessert. The menu for two costs $130 with optional wine pairing for an additional $45 per person.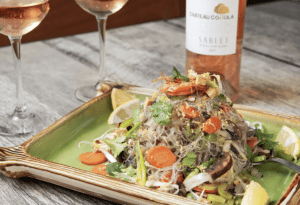 The Filipino-American bistro on the Lower East Side,. Executive Chef Jappy Afzelius's, the pre-fixe menu includes four courses. Featuring seared scallops with smoked pea purée, egg fettuccine with mushroom truffle sauce, lamb chops with parsnip puree and sun choke chips and a lover's chocolate cake to finish. The menu costs $75 per person with an optional wine pairing for an additional $30.
Mediterranean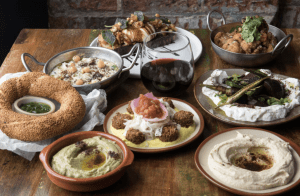 If you're looking for a modern spin on Mediterranean food head to ZIZI. A stylish Mediterranean-inspired restaurant in Chelsea from the team behind Williamsburg's beloved Zizi Limona. Offering a pre-fix menu for two with selections such as Poached Egg Tempura, Tuna Tataki and Open Flame Eggplant. Cap the night with a shared Genepy Warm Cocoa Strawberry Fondue. Yum! The menu is priced at $65 per person. 
"Mediterranean food is inherently romantic – light, flavorful, and made for sharing. Here at ZIZI we like to up the ante for date night with warm lighting, cozy seats, and flowing drinks. Stop at the bar for happy hour and keep the energy going with our nostalgic and experimental pre-fixe menu – most dishes are only available for this one night, so take advantage!" – Liran Leibman, Executive Chef
Benno inside The Evelyn Hotel in Manhattan's NoMad district.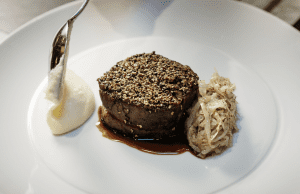 Looking for a sexy restaurant complemented by impressive food? Benno is the perfect place — serving their a la carte and 5 course Chef tasting menu including Duxberry Gem Oysters to start, Steak Au Poivre, Ravioli Bigusto, and Baked Alaska for $135 per person. Enjoy specialties like foie gras, truffles, caviar, and house made pastas and make this Valentine's Day one your date won't soon forget.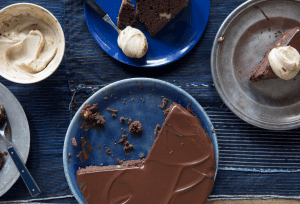 The lively Barcelona-inspired tapas restaurant Boqueria is celebrating Valentine's Day with three special prix-fixe menus. With several locations and a menu designed for any kind of romance, bromance, solemance, or happenstance. Guests can opt for
'No Commitment'— a selection of a la carte signature tapas; or go for a playful prix fixe menu (+ wine pairings) like The Classic Love Story ($49 pp) chef Marc Vidal's selection of seasonal dishes and Spanish classics; Three Little Words ($60 pp) with an assortment of decadent favorites like hand-carved Jamon Iberico and Croquetas De Pollo Y Morcilla; and The Grand Gesture ($70 pp) including Ostras Con Espuma De Patata grilled oysters on the half shell with potato cream, ending with Tarta De Chocolate con Nueces Y Cafe molten chocolate cake.
"At Boqueria on Valentine's Day, we want our guests to fall in love on a journey to Spain and back. Whether you're celebrating a romance, bromance, womance, solemance or just happenstance. Enjoy all of the fun and decadence you crave, with none of the pressure or limitations you hate."
American
Celebrate the holiday with a four-course menu created by Executive Chef Matthew Dahlkemper and Executive Pastry Chef Abby Swain. While listening to a live band, enjoy a tuna tartar, foie gras mousse, black truffle ravioli and cap the night with a rich chocolate cake. Or Spanish octopus, oysters on half shell, roasted halibut. Ending the nigh lady and the tramp style splitting a banana split for two. Menus are $125 + optional $60 beverage pairing per person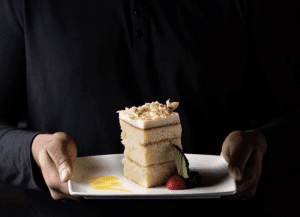 Nothing says I love you like a romantic dinner for two in an intimate setting. This Valentine's Day Hudson Yards Grill will offer a decadent dinner sans the "fancy" price tag. The  American brasserie will have its full a la carte menu available, with specials like Lobster Chowder and a Roast Rack of Lamb. For dessert, options include a decadent Strawberry Shortcake! Served with sweet Florida Berries, creating a perfect moment for an instagram pic!
Alyssa Holder
I enjoy listening to the stories of the people who devote their time to fill our stomachs with scrumptious food. And of course, experiencing and sharing my thoughts on the cuisines that span across the world.