Bon Thanksgiving: an American Holiday with a French Twist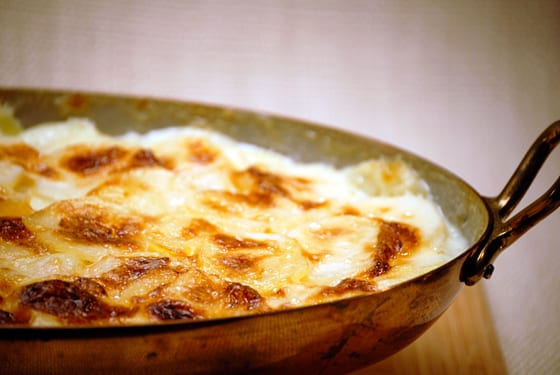 It was my first Thanksgiving away from home, and I was a little uneasy of how to handle the day without my family and all the familiar traditions. When I moved to France, I knew there would be no fried turkey, no sweet potato soufflé with marshmallows and nuts, and no football (either watching inside or playing outside) on my favorite and most treasured holiday. But rather than focus on the negatives, I loosened my belt and tried to soak in as much as I could learn from the French. Little did I know, I was about to experience my first "Bon Thanksgiving" which paved the way for some new traditions.
By Catherine Baker
I'll be honest— planning a Thanksgiving menu normally takes about five minutes in my family. What takes longer is figuring out who will bring what. While this process usually lies rich in tradition, it was quite a new experience for me last year, because I was halfway across the world living in France. When planning the menu with my American host mother, we tried to spin the traditional dishes with a French twist. We had to plan a couple of months in advance, because there were some ingredients we had to import, like cornmeal, pecans, and corn syrup. I can live without a lot of things, but not having pecan pie on Thanksgiving is just a little too cruel to do to this Georgia girl.
Getting the turkey was an adventure. The French don't eat "dinde" often, so we had to special order one from the local butcher weeks ahead. Once that task was checked off, we didn't realize our mistake of getting a rather large bird for our party. You see, all ovens are on the small side in France compared to American ones. So after brining and preparing the star of the show, we encountered great difficultly fitting him in the oven. We tried every which way and ended up laying him on his side and crossing his legs. Then we (rather hilariously) flipped him over several times during the cooking process with a small pair of tongs. Without thinking, I blurted out to my host mother, "You are really good at flipping the bird!" I immediately blushed while she laughed, knowing what I had meant.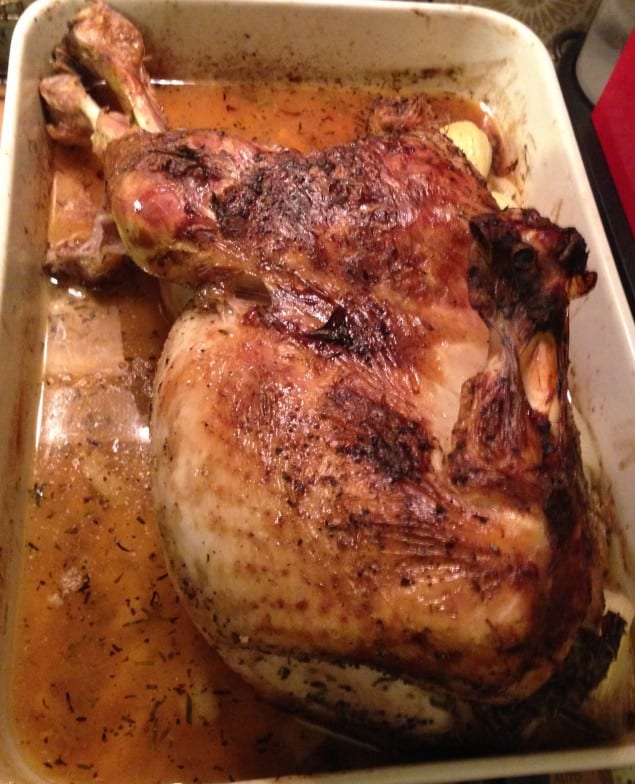 Having an elaborate, elegant Thanksgiving meal was quite a treat as opposed to the more simple dishes my family normally has at the table. As most people know, the French serve multi-course meals. This extravaganza takes place over a couple of hours and creates quite a special experience for those of us who are used to rushing through dinner in less than 30 minutes. For our French-style Thanksgiving, we prepared six courses, and I was already full before the cheese course. But the time spent is always well-worth it for the conversation. I enjoyed teaching our French guests about the traditions of Thanksgiving and the history and meaning behind the holiday. I've discovered that other cultures are quite intrigued by it. It was also entertaining to explain the sacredness of certain dishes served because of the emotions and memories they often conjure up.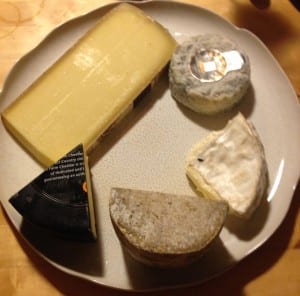 I will have to say, the French sure do know how to create comfort dishes, especially those made when the cold comes and snow dusts the mountain tops like powdered sugar. One particular dish, and by far my favorite, is called Gratin Dauphinois. This dish originated in the former Dauphiné province which is the present day Isère, Drôme, and Hautes-Alpes regions, one of which I currently live in. It consists of thinly sliced potatoes, cream, and garlic. Of course, there was many different versions— some add nutmeg, cheese, milk. But I learned the basic, old-fashioned, no fuss version. Baked low and slow, you will know it's done when the potatoes are soft and have absorbed all the cream. This gratin brings to mind all the wonders of cooking. The act of pairing certain ingredients with others which creates such sensational and memorable experiences. I believe that's why anyone cooks— to create memories that are hard to forget.
http://blogs.kqed.org/essentialpepin
I was thrilled to re-create the Gratin Dauphinois for my relatives when I returned home for Christmas. Although my uncle had requested the usual mashed potatoes at our annual get-together, he was a good sport about trying my "new French thing." I tried to reassurance him, and everyone else, that there's no possible way you can go wrong with potatoes, cream, and garlic! But they needed proof and I gave it to them. Slowly baked to perfection, the creamy potatoes filled our growling bellies, all courtesy to the French.
If you're like me and find yourself away from home and family this Thanksgiving, I encourage you to get in the kitchen (even if it's solo) and dig up an old recipe. If you don't have any, try this Gratin Dauphinois one. Even if it's not exactly on Thanksgiving Day, get in the kitchen at some point and create a memory. Whether by yourself, with family or strangers, make a new memory with a familiar dish. Twist an old ritual with a new one. Find another way to experience the holiday than what you've always done. It can be freeing, exhilarating, and possibly the beginning of a new tradition.
Some personal tips on the gratin: sweet potatoes can easily be substituted for regular potatoes and make for an equally appetizing dish. If you wind up with extra potato rounds, use a cookie cutter to place fun shapes on top of the dish for a more festive look. And lastly, the gratin is perfect for the holidays, because it can be baked in advance and then re-heated right before serving.
Gratin Dauphinois
The French sure do know how to create comfort dishes, and this Gratin Dauphinois takes the cake in my book. You don't want to miss out on these creamy potatoes baked slowly to perfection!
Ingredients
1.5 lbs. potatoes, preferably Yukon Gold
2 cups heavy cream
2-3 cloves garlic, crushed
Salt
Instructions
Preheat the oven to 250°F.
Wash, peel, and thinly slice the potatoes into rounds. This can be done with a knife, food processor or mandoline.
Heat the cream in a saucepan over medium-heat and bring to a simmer. Add the garlic and salt for seasoning. Be careful to not let the cream boil over.
Line a deep casserole or gratin dish with the potatoes so they are slightly overlapping and tightly packed.
Pour the liquid over the potatoes just until it comes the top layer. Adjust the amount of potatoes and cream according to your dish type.
Place the dish on a baking sheet in case the cream bubbles over.
Bake for 1.5 to 2 hours or until the potatoes are soft, browned on top, and the cream is absorbed. The cooking time will vary based on the kind of potatoes used. The more waxy potatoes will take longer than grainer potatoes, like Russet.
Catherine Baker
A North Georgia native, Catherine grew up in the kitchen— from mastering the art of Southern barbecue with her restaurateur father to perfecting the technique of frying plátano at home with her Dominican mother. Continuing her passion for food and cooking, the Georgia Southern University graduate resided in France for two years before returning back to the South where she currently works in hospitality at Blackberry Farm, a Relais & Châteaux property nestled in the foothills of the Great Smoky Mountains.