Bok Choy and Tatsoi Salad with Sesame-Orange Dressing
Using the baby varieties of these greens means the stems are tender enough to eat raw, and add a nice crunch to the salad.
By Rachel Crawford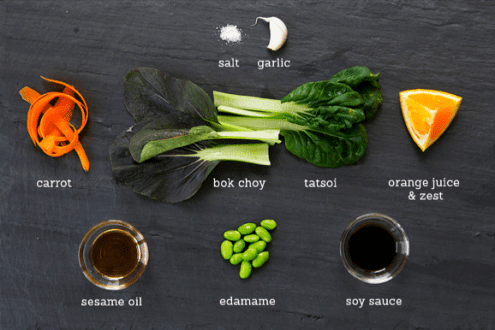 Using such strong flavors in a dressing means you hardly have to use any oil — making this a super light, flavorful dressing for the summer. I used about 1 tsp. each of soy sauce and sesame oil, plus the juice and zest of 1/4 of an orange, to make enough dressing for one serving of salad.
Tatsoi is also from the cabbage family, and it's started to pop up more and more in grocery stores as pre-packaged greens (at least near me). I've seen it referred to as "Chinese spinach," but apparently it's also known as "rosette bok choy." By the looks of it they seem nearly identical!
Bok Choy and Tatsoi Salad with Sesame-Orange Dressing
Using the baby varieties of these greens means the stems are tender enough to eat raw, and add a nice crunch to the salad.
Ingredients
Bok choy leaves
Tatsoi leaves
Orange juice and zest
Carrot
Garlic
Edamame
Sesame oil
Soy sauce
Salt
Instructions
Peel and grate garlic into a bowl. Whisk in orange juice, zest, soy sauce and sesame oil.
Thinly slice boo chou and tatsoi, removing any tough stems if necessary.
Shred or shave carrot and prepare edamame.
Assemble salad and add dressing. Season with additional salt, if necessary.
Eat.
Rachel Crawford
Rachel is a lover of vegetables and an avid home cook. She has catered parties, participated in cook-offs, hosted elaborate supper clubs, and volunteered with Slow Food teaching elementary school kids about seasonal food and how to cook. Recently, she left her full-time job as a branding consultant to spend more time in the kitchen. Her personal blog, madeweekly.tumblr.com, focuses on one seasonal ingredient every week, with a new recipe each day. She can also be found on kitchensurfing.com, a new site that allows anyone to search for and hire personal chefs online. Rachel studied acting at NYU's Tisch School of the Arts, and has lived in New York, NY for almost 12 years, which means she can officially call herself a New Yorker.