A rich Burgundy beef stew recipe inspired by recipes from Julia Child, Clotilde Dusoulier and Robert Carrier. Perfect to warm the cockles of your heart.
By Amrita Chowdhury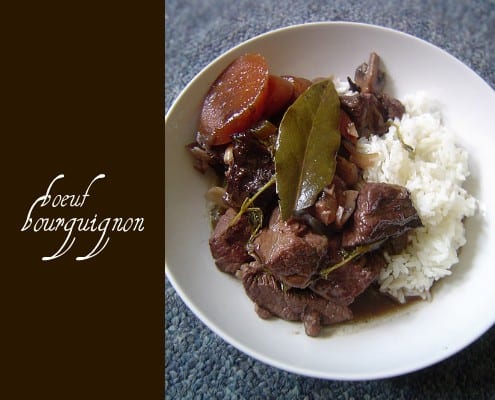 This may come across as a weird ice-breaker but here goes – I have always been intimidated by beef.
I still eat it though. I love the way a beef stew smells wholesome and robust. I enjoy the way a rare steak gives away under the pressure of my teeth. And I will always remember one summery August night, when one of my college-mates had whipped up a platter of patty melts topped with caramelized onions and slices of Gruyère. They were stupendous. A mound of meaty gorgeousness.
But in spite of all this noisy beef-eating, I never know what to do with it.
Beef, asparagus and meringues. These are just a few things that I have felt this way about. I'm guessing because we didn't 'grow up' in a kitchen that doled out beef stews, bowls of asparagus soup or disks of meringue, I feel uncomfortable whenever I'm presented with the prospect of using any one of those ingredients in a dish. Though I must say at this point, that I have spent the last three summers with my head in vats of raspberries, and last year I willed myself to learn how to make a mean pavlova.
But beef?
Beef, is still slumped in his high-backed winged armchair, the corners of his lips drooping downwards, silently staring at me with his heavy-lidded eyes.
Getting to be a pro at handling beef is definitely going to take some time.  But I knew I had to bite the bullet and take a chance with something big. Like a boeuf bourguignon…inspired by a couple of French women, naturally.
This Burgundy beef stew cloaked in light amber is only slightly less relaxing than a quick and easy chicken soup. The stew turned out rich in texture and deep in flavour, that was induced by the cognac I used instead of red wine. The bacon plays a huge role by way of adding a rounded saltiness. But the cake is taken away by the cocoa. You heard me. My hand slipped as I was adding the cocoa powder and added a teaspoon more than was necessary. Heavenly.
I would suggest you allow your hand to slip as well.
After reading through Julia Child's, Clotilde Dusoulier's and Robert Carrier's notes I think I've managed to perfect my bowl of beef stew. Served with a side of steamed rice the meaty stew is perfect to warm the cockles of your heart.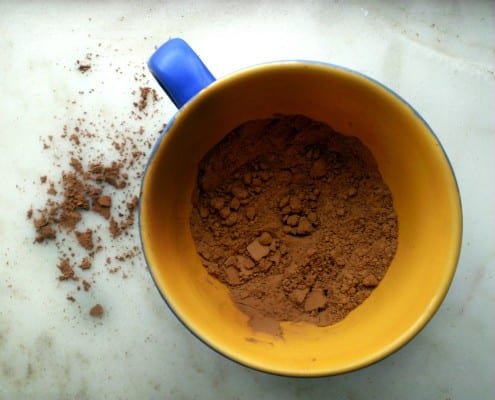 Boeuf Bourguignon - Burgundy Beef Stew Recipe
A rich Burgundian beef stew inspired by recipes from Julia Child, Clotilde Dusoulier and Robert Carrier. Perfect to warm the cockles of your heart.
Ingredients
1 lb (500gm) button mushrooms, quartered
2 tbsp butter
4 strips of un-smoked bacon, chopped
1 tbsp olive oil or vegetable oil
3 lbs (1.3kg) well-trimmed boneless beef chuck, cut into 2? cubes
1 medium yellow onion, finely chopped
2 medium shallots, finely chopped
2 medium carrots, sliced
Salt and freshly ground black pepper, to taste
1 tbsp flour (see footnote)
2 cups (480-500ml) cognac, (see footnote)
3 cups (720-750ml) beef stock (see footnote)
2 tbsp unsweetened cocoa powder
2 garlic cloves, minced
2 teaspoons fresh thyme
4 tbsp fresh flat-leaf parsley leaves, roughly chopped
1 tbsp tomato paste
1 bay leaf
Instructions
Preheat oven to 160 °C (325 °F).
In a pan sauté the mushrooms in butter till brown and soft. Keep aside.
In a deep-bottomed pot/cesserole, sauté the bacon in 1 tbsp oil over moderate heat for 2 to 3 minutes to brown lightly.
Remove to a side dish with a slotted spoon.
Reheat the pan until fat is almost smoking before you sauté the beef.
Sauté the beef in the bacon fat in batches making sure not to crowd the pieces (the pieces need to brown on all sides, not sweat).
Add the browned pieces of beef to the bacon.
Lower the heat to medium.
In the same fat, add the onions, shallots and carrots.
Cook till the carrots soften.
Add the cooked veggies to the beef and bacon.
Pour out the sautéing fat.
Return beef to the casserole.
Then sprinkle on the flour and toss to coat the beef lightly with the flour.
Stir everything around till the flour is cooked and no white traces of it remain.
Add the bacon and veggies and season with salt and pepper.
Stir in the cognac and enough stock so that the meat is barely covered.
Add the garlic, thyme, parsley, tomato paste and bay leaf.
Bring to simmer on top of the stove.
Cover the casserole and set it in the oven.
Cook for 2½ to 3 hours.
About 1 hour into the cooking add the mushrooms and stir in the cocoa powder.
Return to the oven.
The stew is done when the meat is fork-soft.
Notes
The wine used can be a good Burgundy, a young Chianti or even Pinot Noir. I've used Renault cognac here. Different recipes use different amounts of wine and beef stock, and then there are recipes which don't use stock at all. Ideally use equal amounts of red wine and beef stock (about 2-3 cups each). The beef chunks need to be dried in paper towels; any dampness will prevent them from browning. The consistency of the stew depends on your taste really. I wanted something runny instead of thick and gravy-like so I added about 1 tablespoon of flour. If you require the gravy to be thick, increase the amount of flour to 2 tablespoons and for the last 20 minutes of cooking time in the oven, remove the lid and turn up the oven temperature. Boeuf Bourguignon is best with steamed rice or crusty bread. Can be served with buttered noodles as well.
Amrita Chowdhury
Amrita Chowdhury is a self-confessed chocoholic, a compulsive picture taker and a food-obsessed British-Indian. She loves to travel and her food is a manifestation of every city she has lived in. An architect by profession, Amrita is the author behind the food blog The Subjectivist. She loves to write, enjoys oak-matured Scotch and is inexplicably addicted to collecting stationery.