An extra-moist coffee cake packed with berries and a crunchy cinnamon sugar crumble.
By Bowen Close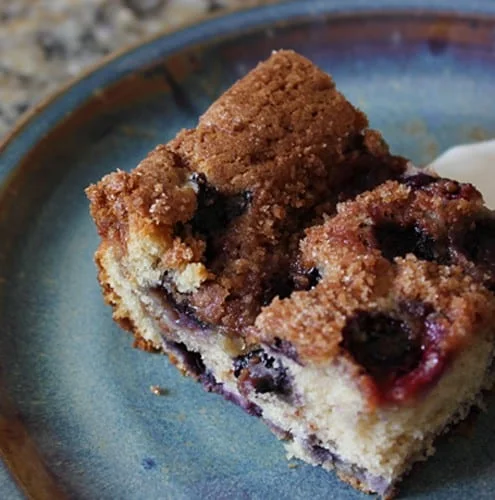 To pass the time on the extended road trip we're on, my husband and I have been listening to a podcast about snacks.
This wouldn't be surprising to anyone who knows us, and it's actually much more entertaining than it might sound. And it means I've been thinking a lot about snacks. And not just in the way that a podcast about … turtles, let's say, might have one thinking about turtles. I'm thinking about snacks like it's my job. About what kind of road trip snack we should buy at the next convenience store (Don't even get me started on the wondrous world of potato chips that we're experiencing up here in Canada – Sweet chili and sour cream! Spicy ketchup! Hot wings! Worcestershire sauce and shallot! What?! Yes. Also, does anyone have any guesses as to what "all dressed" flavor is? If so, please tell us.), about what time we should eat a snack, about what snack we're going to eat next, and about how if I were at home I would be finding a way to engage in my most favorite of snacks – "fruit and cake-type thing with yogurt."
That's what I said when my husband and I asked each other to dream up our most perfect snack, somewhere between Vancouver and Banff. (This is what any modern, fun-loving young couple does while driving long distances, by the way – ask each other questions like "what's your idea of the perfect snack?" Don't get too jealous of all the awesome fun we're having.)
I'm a big snacker. I'm rarely without some sort of food in close proximity, usually in my bag or at least in the same room, preferably positioned where I can see it. If you spend enough time with me, you'll probably notice and comment on it. I'm used to it, no worries. I just really prefer to be eating, at any given time in the day. Not in a "oh, I hear eating six small meals throughout the day is healthier" sort of way, but more in a "the slower I eat, the more minutes of the day I can spend eating" sort of way. My grandmother does the same thing, and has mastered the ability to make a dinner last three or four hours. I'm not quite there yet, but a girl can dream.
I'll eat lots of things for snacks – leftovers, bits of this and that, whatever we have lying around the house – but I have a few favorites. Some things come and go in phases – like the Peanut Butter Pretzel Mojo bars that I kept putting in my purse "for emergencies only," resulting in the consumption of so many over the past few years that I've completely burned out on them and now need to find a new nut-free energy bar that doesn't taste like cardboard (ridiculously, incredibly difficult to find, by the way). Or how a couple of years back I became completely infatuated with the pita chips from the farmers' market, an obsession I forced myself to drop only when realizing that the chips were delicious because they were basically soaked in olive oil, and thus probably not a good thing to consume as if each snack were my last.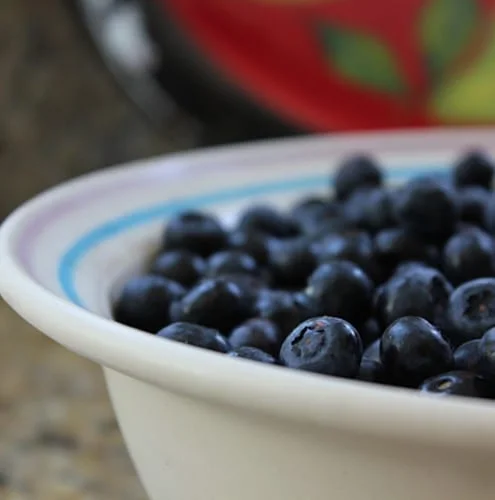 Other things shine brightly in my snack repertoire with no sign of fading – for instance, fruit and cake-type things with yogurt. I'll take pie, crisps, crumbles, cobblers, or really anything else existing firmly in the dessert category, but my true snack love is those things you feel equally as comfortable eating with breakfast, with tea in the afternoon, or for dessert after a meal. Coffee cake, pound cake, tea cake, whatever you like to call it – I want it with fruit, I want it with a few spoonfuls of plain yogurt, and I want it now. (I really do want it now, by the way, so if you could find a way to send me a bit of peach pound cake and some Nancy's nonfat plain yogurt, I'm at Lake Louise Tent Campground, site H13.)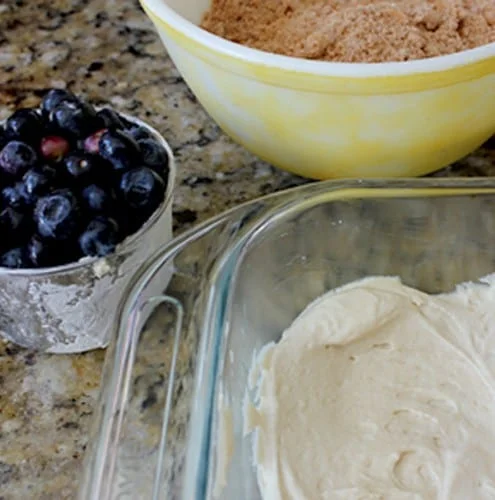 The yogurt thing is kind of funny. It could be whipped cream, or ice cream, or creme fraiche, or something a little more sophisticated, but I really do love the acidity and the contrast in textures and flavors that comes from a few spoonfuls of plain ol' plain yogurt. Especially if the fruit and cake-type thing is warmed up and the yogurt is cold. I like ice cream with things like pies and crisps if I'm eating them for dessert, but for a snack I'll always want to pair it with yogurt.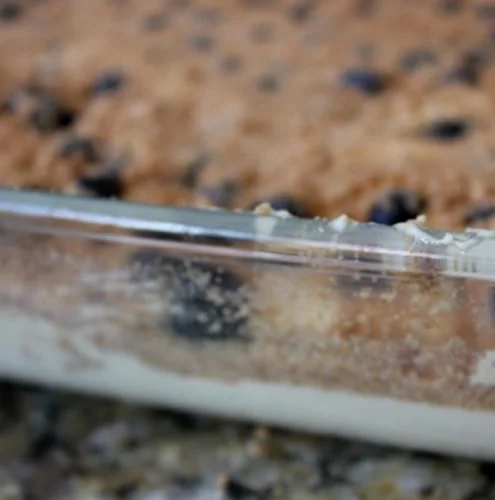 This blueberry yogurt coffee cake was the last thing I made before we headed out on this three-month trip. I've made quite a few coffee cakes in my day, but the thing I love most about this one is that it consistently reminded me of some sort of spongy pudding cake – what I imagine all those English puddings are like. From the moment it came out of the oven (literally, I didn't have the patience to wait even a few minutes to taste it) to three days later, it was super soft and luscious, as the best tea cakes should be, and packed with berries and a brown sugar crumble to give great textures. I would suspect it has something to do with all the yogurt in it (not to be confused with the yogurt I also ate with it). Or how thin the cake is, no more than an inch or so in height. Any more height and I'm not sure it would bake so well in the middle, since it's so moist. And in any case, this means you can cut yourself a bigger-looking slice, or perhaps a few smaller ones over the course of an afternoon. That's how I did it.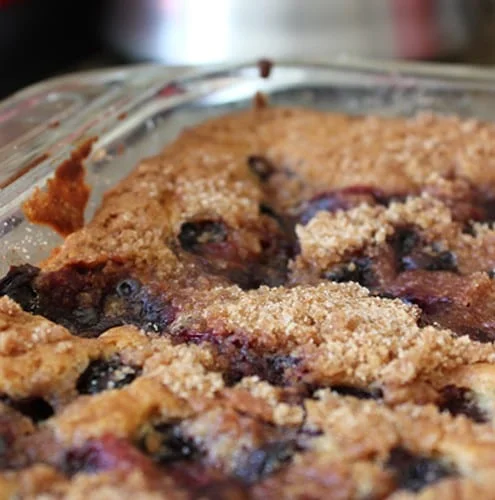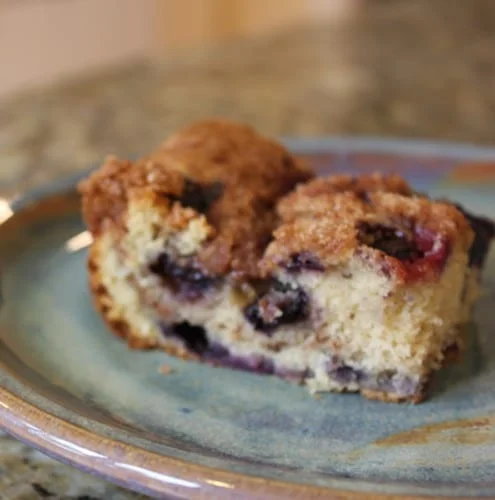 Print
Blueberry Yogurt Coffee Cake
An extra-moist coffee cake packed with berries and a crunchy cinnamon sugar crumble.
Author:

Bowen Close (Bowen Appétit)

Prep Time:

20 mins

Cook Time:

45 mins

Total Time:

1 hour 5 minutes

Yield: Around

1

2

1

x
Topping
1

c sugar

1

T cinnamon

1/4

c flour

1/2 tsp

. salt
Batter
2 cups

flour

1 tsp

. baking soda

1/2 tsp

. salt

8 Tbsp

. (

1/2 cup

or

4 ounces

) butter, room temperature

1

c brown sugar

1/2

c sugar

1

egg

1 tsp

. vanilla

1 cup

plain non-fat or low-fat yogurt
Around

1 pint

fresh blueberries
Instructions
Preheat oven to 350F. Lightly butter a 9×13 rectangular pan.
In a small bowl, mix the topping ingredients until well combined.
In another small or medium bowl, whisk together the flour, baking soda, and salt. Set aside.
In a large bowl or the bowl of a stand mixer, cream together the butter and the sugars. In a stand mixer, mix on medium-high for approximately 5 minutes. With a handheld mixer, mix on medium-high to high for approximately 8-10 minutes.  Set aside.
Whisk together the egg, vanilla, and yogurt in a small bowl. Add to the butter mixture in two parts, mixing on medium and ensuring the first part is fully incorporated before adding the next. Increase speed to medium-high and mix for 1 minute.
Add the flour mixture to the wet mixture, and mix on medium for 1 minute.
Spread half the batter into the prepared pan. It will be somewhat thin, but that's okay. Add half the berries, ten half the topping. Repeat with the remaining batter, berries, and topping.
Bake for approximately 45 minutes, or until the center of the cake seems set when lightly pressed. It may seem soft, and that's okay – you just don't want it to feel like it is still liquid in the center.
Bowen Close
Bowen Close believes that food should make people happy and healthy, and loves bringing together people with creative, delicious food made from the heart. She loves making farm-inspired, flavorful dishes with sustainable ingredients - whether that's a big plate of roasted veggies, a towering chocolate layer cake, or a cocktail utilizing backyard ingredients - and collects recipes and other food-related stories on her website, Bowen Appétit. She is a chef, cooking instructor, and food writer living in Southern California with her husband and fully stocked pantry.