This recipe shows restraint with the sugar to let the naturally tart flavor of the blueberries shine.
By Zerrin Gunaydin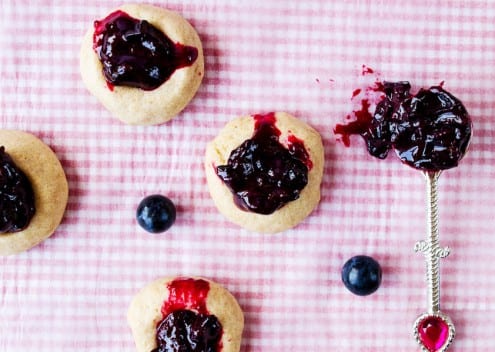 Blueberry Thumbprint Cookies
This recipe shows restraint with the sugar to let the naturally tart flavor of the blueberries shine.
Ingredients
Cookie Dough:
110g butter, at room temperature
¼ cup sugar
1 egg yolk
A pinch of salt
1 tsp vanilla powder
1 cup and 2 tbsp whole wheat flour
Blueberry Jam Filling:
1 cup blueberries
1 tbsp sugar
3 tbp water
1 tsp lemon juice
Instructions
Preheat oven to 180C.
Whisk butter nad sugar until fluffy.
Beat yolk and add into the mixture, mix.
Add in flour and salt and mix.
Chill it for 30 minutes before shaping.
Line an oven tray with parchment paper.
Make small balls from the dough, place them in the tray.
Press on each cookie with your thumb to make dents.
Bake 15 minutes until golden.
Let them cool.
Crush blueberries with hands and sprinkle sugar on it.
Add in water and cook in a pot over medium low heat.
Let it boil for about 20 minutes.
Add in lemon juice and cook until it gets thicker.
Let it cold and fill cookies with the jam.
Zerrin Gunaydin
Zerrin Gunaydin is a food blogger living in Turkey. She loves to share recipes mainly from Turkish cuisine on her blog Give Recipe. Zerrin is trying to inform people around the world about Turkish cuisine, which has a very large repertoire with its various kind of dishes.