PARTNER POST: We've teamed up with Bonne Maman to bring you the best homemade breakfast and brunch recipes to show Mom you care this Mother's Day and all spring long.
Surprise your mom this Mother's Day with a plate of blueberry stuffed French toast. This sweet breakfast is topped with luscious lemon cream for added elegance.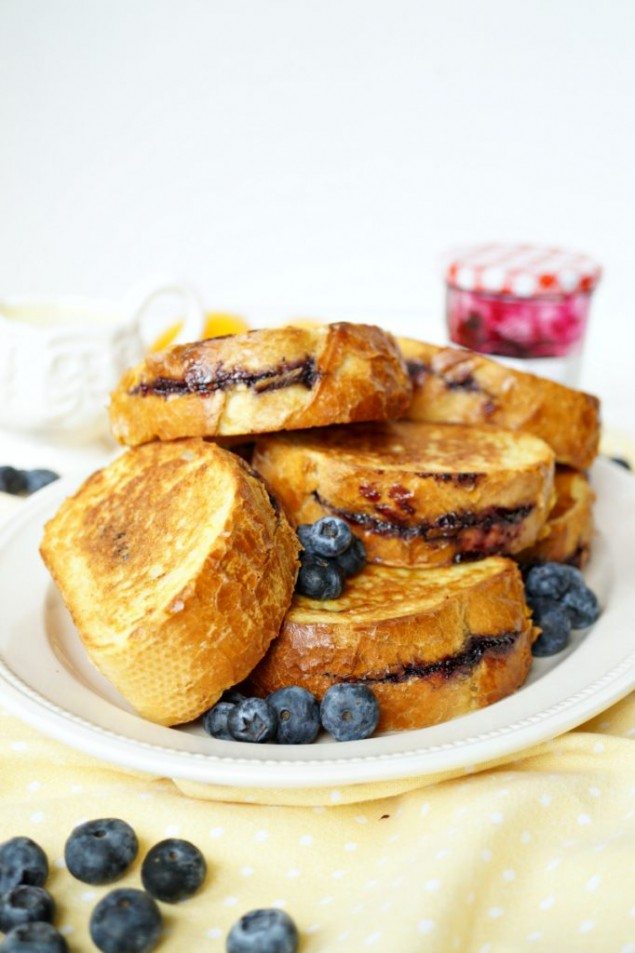 This Blueberry Stuffed French Toast and Lemon Cream is a bit of a mouthful to say, but an even more delicious mouthful to eat! Crusty French bread is stuffed with Bonne Manan's Wild Blueberry preserves and topped with rich, homemade lemon pastry cream. This would be perfect for breakfast-in-bed for Mother's Day!
I have to say, I was very excited I was told I'd be working with Bonne Maman, as this is a brand my family regularly enjoys! We always have several jars of their delicious preserves in the fridge, and a few stashed in the pantry just in case! We are a bit partial to their Four Fruits Preserves, but I have to say this Wild Blueberry variety might become our new favorite. A little sweet, a little tart, and perfect in stuffed French toast or just on regular bread with jam!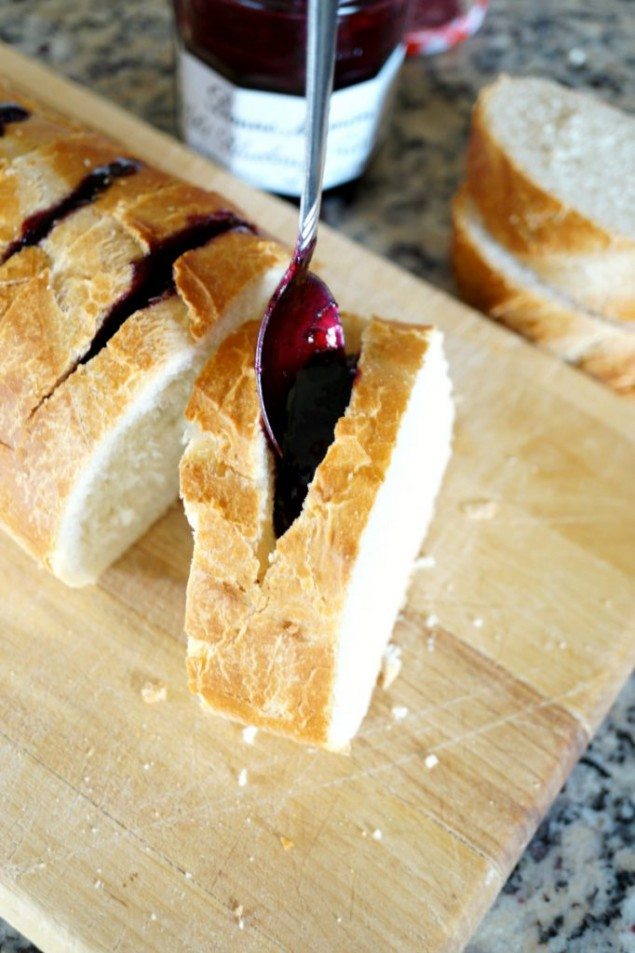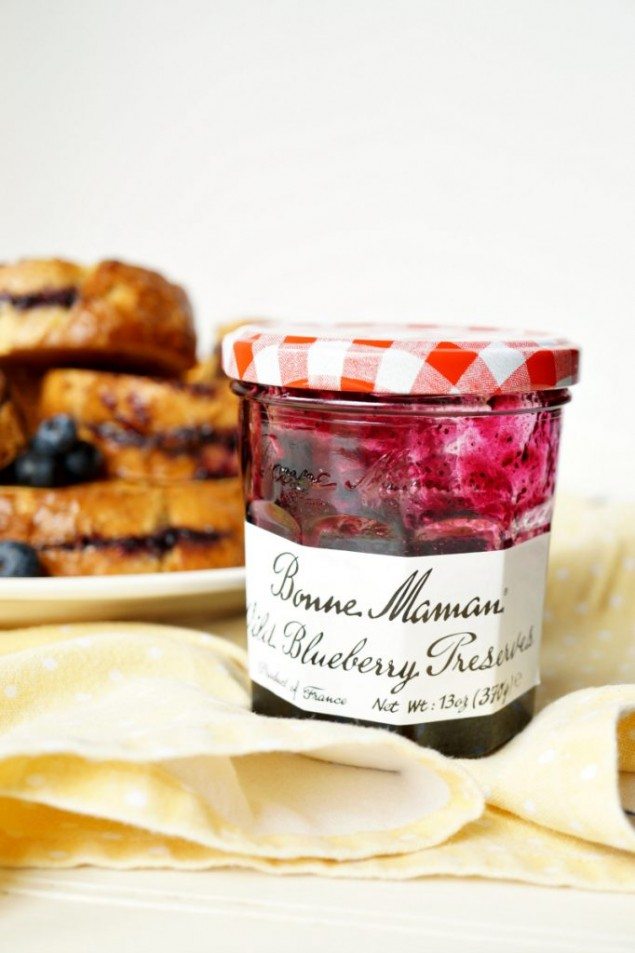 While I was initially a little intimidated by the idea of stuffed French toast, I was pleasantly surprised with how easy it ended up being! I just cut thick 1.5 inch slices of French baguette, and then using a sharp knife, I cut a little pocket right along the top. Then I was able to simply spoon the blueberry preserves inside, and proceed as you would with plain French Toast! I used the Wild Blueberry preserves this time, but any of Bonne Maman's delicious preserves would work fabulously.
Bonne Maman preserves are a delicious staple to have on hand! Their products are natural and non-GMO, free of high fructose corn syrup, artificial colors, or additives. You'll be happy to know the ingredient label is full of things you can actually recognize and pronounce! The preserves work perfectly in sweet AND savory recipes, and I actually used their Peach Mango Preserves a few posts back to make this sweet chili dipping sauce. In a pinch, these make the most epic PB&J sandwiches!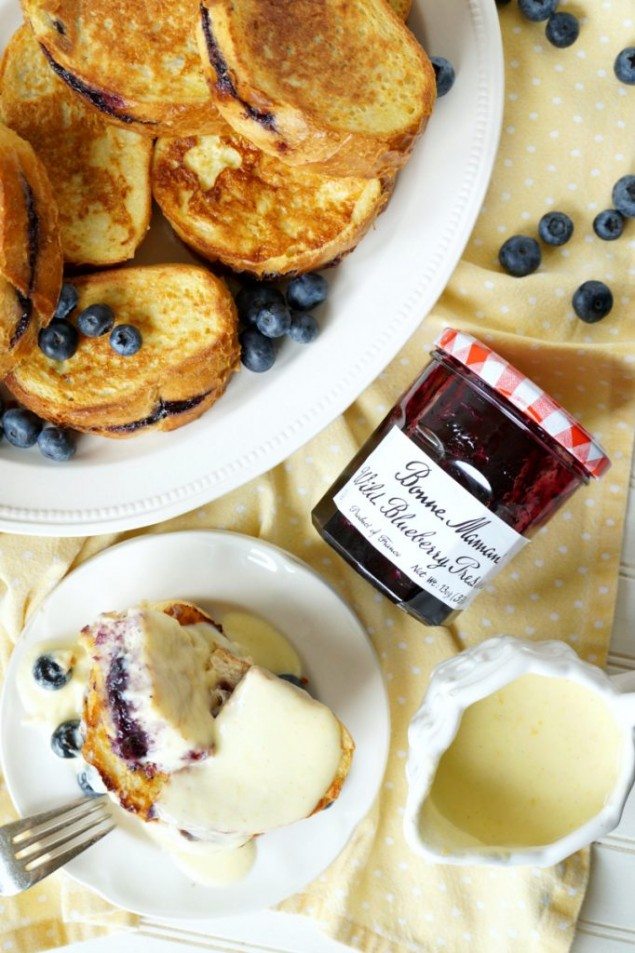 I hope you whip up these fabulous Blueberry Preserves Stuffed French Toast for Mother's Day brunch… or just for a fun weekend breakfast!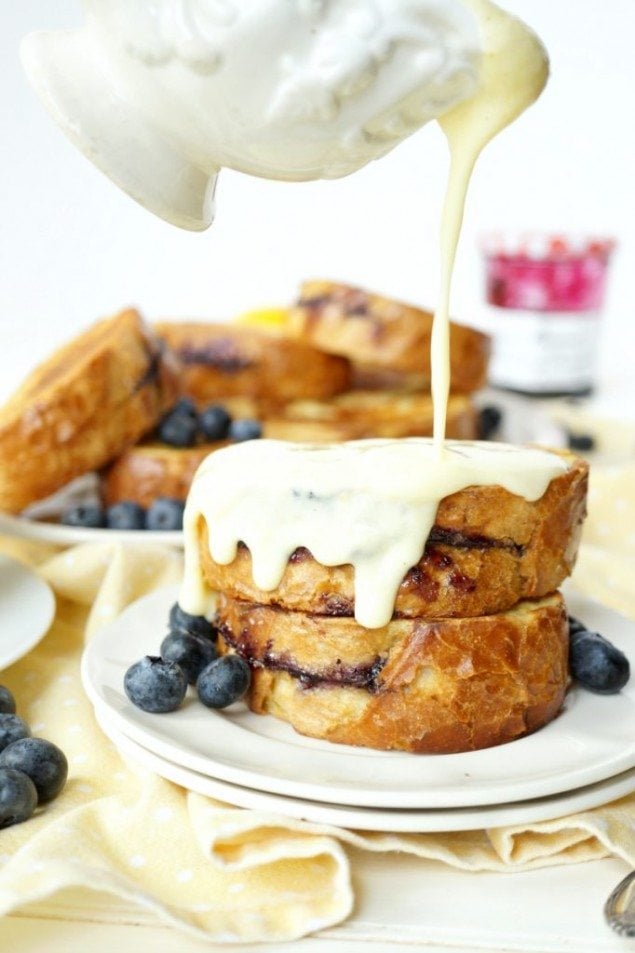 Bonne Maman is giving away a gorgeous 12-piece set of Le Creuset cookware plus many other goodies (over 1,000 prizes!) on their website. Click below to enter! Who doesn't love beautiful cookware?!
See Also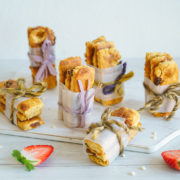 For more recipe ideas, check out these fun toasts.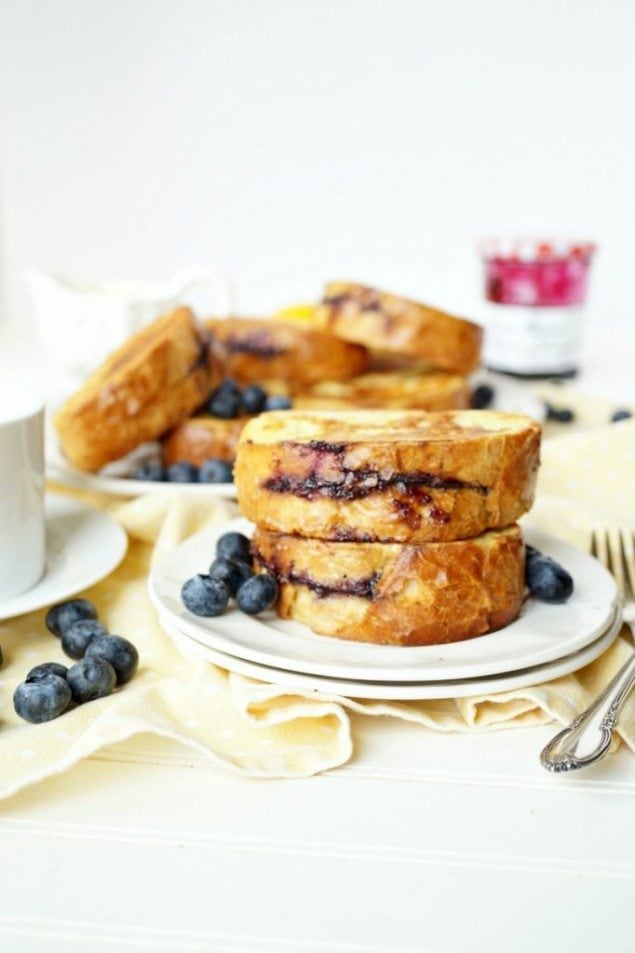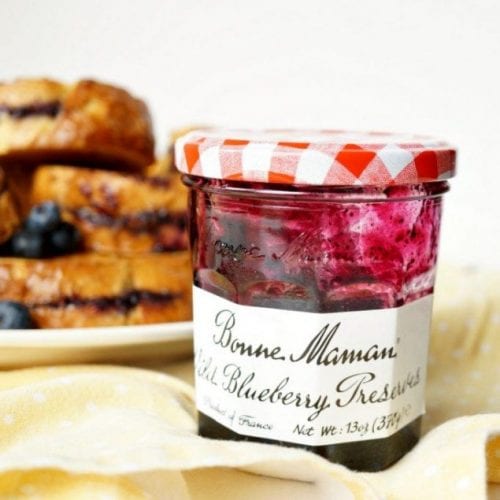 Blueberry Stuffed French Toast and Lemon Cream
Valentina Celant
Surprise your mom this Mother's Day with a plate of blueberry stuffed French toast. This sweet breakfast is topped with luscious lemon cream for added elegance.
Ingredients
*for the French toast*
1

loaf French bread

1

cup

Bonne Maman Wild Blueberry Preserves

4

eggs

½

cup

whole milk

2

tsp

vanilla extract

zest of 1 lemon

2-3

tbsp

butter

for cooking
*for the lemon pastry cream*
3

egg yolks

1½

tbsp

flour or cornstarch

3

tbsp

sugar

1¾

cups

whole milk

1

tsp

vanilla

zest of 1 lemon

juice of 1 lemon

1/2 cup
Instructions
First, prepare the french toast. Grab your loaf of french bread, and cut into 1.5 inch thick slices.

Using a sharp knife, cut a slit in the top, making sure to not cut all the way through.

Using a small spoon, stuff each slice of bread with 1-2 tbsp of Bonne Maman Wild Blueberry Preserves. Repeat with all the bread.

Preheat a griddle or pan over medium heat, and add in the butter.

In a shallow wide bowl or small baking dish, whisk together the 4 eggs, milk, vanilla, and lemon zest.

Soak the bread slices for about 30 seconds on each side, then transfer to the hot griddle or pan. Since these are thick, don't soak them for too long or they'll never cook all the way!

Cook for about 8-10 minutes per side, being careful that the bread does not burn. Since the slices are thick, you want to give them enough time to cook through.

When ready to serve, make the pastry cream.

In a medium non-stick pot (off heat), whisk together the egg yolks, flour (or cornstarch), and sugar until smooth and creamy. Whisk in the milk, a bit at a time, until the mixture is smooth and lump-free.

Put it on medium heat, and cook, whisking constantly, until mixture thickens and becomes a silky cream. Remove from heat, and whisk in the lemon juice and vanilla extract.

Serve immediately with the French toast! Cream can be warm or cold, you can do whichever you prefer. Enjoy!
Valentina Celant
Hi! My name is Valentina and I am The Baking Fairy! I'm a 20-something university student studying for PA school and moonlighting as a food blogger. I cook, I bake, I craft, I nanny, and I blog about it all! My style of cooking is college-budget gourmet... with an occasional wedding cake. The way to my heart is paved in glitter and chocolate.