Chock-full of healthy fats, minerals, vitamins and fibre, this 10-minute vegan blueberry oatmeal with maca powder and pecans tastes just like blueberry pie. The ideal healthy oatmeal recipe for a nutritional powerhouse of a meal that still tastes like dessert.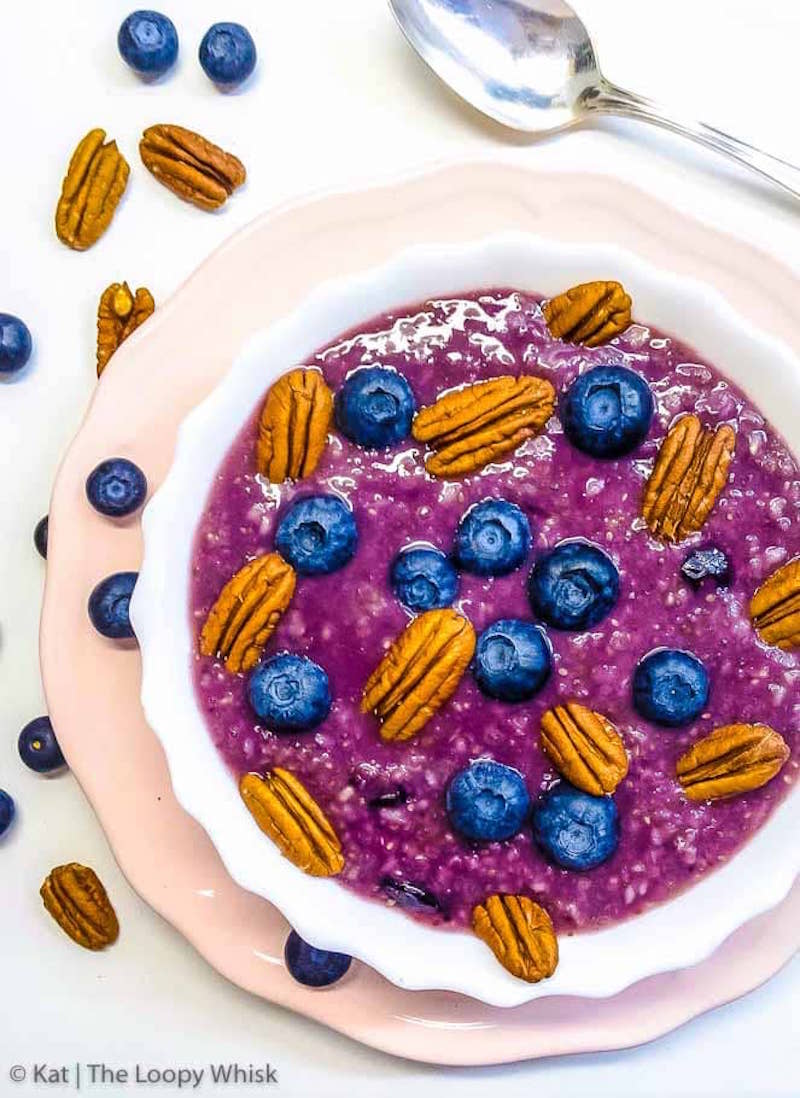 I am a firm believer that we should listen to our bodies – which is how I ended up with a big (delicious) bowl of salad in front of me at 7am. Yep, so, that happened.
This vegan blueberry oatmeal with maca powder and pecans is chock-full of all the good stuff. Obviously, the star of the show are the blueberries, which feature both in the oatmeal, as well as in the topping. Because you can never ever have too much of the blue-violet scrumptiousness that are blueberries. Your tongue will be a lovely blueish purple colour for hours. Have fun with it.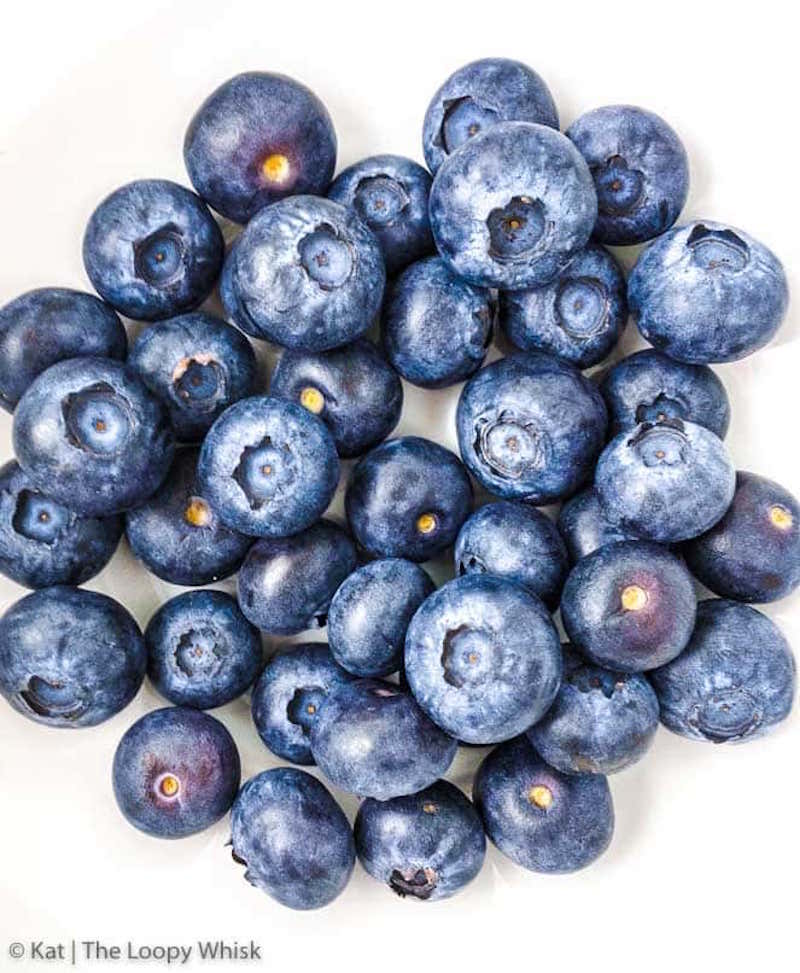 Of course, blueberries are little nutritional powerhouses, containing everything from nervous system-beneficial antioxidants and the mineral manganese which is crucial for bone health, to vitamin K, which works to enable proper Vitamin D absorption by the body. (And just in case the numerous articles across the Internet haven't alerted you yet, you really really don't want to be deficient in Vitamin D – be it because you don't get enough sunshine, or because your body can't absorb it efficiently).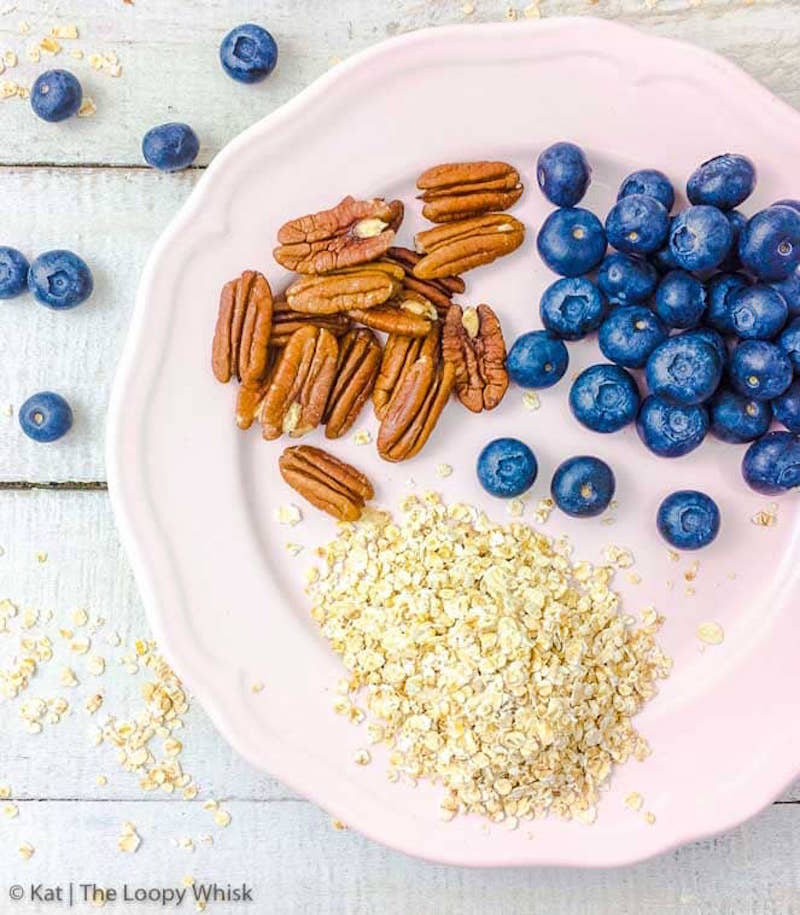 We're not stopping there. We'll also add maca powder – a great source of Vitamin B2 and protein (including several essential amino acids), crucial if you're following the vegan or vegetarian lifestyle. Or even if you aren't, and just want to fuel up on all the nutritious goodness that will (fingers crossed) either prevent or help you get over that pesky winter cold. Nobody likes a runny nose or a sore throat. So, go on, add that maca powder. Not only is it great from a nutritional standpoint, it also gives earthy, sweet undertones to the oatmeal, which you very much want to be there.
Other than that, all the usual suspects go into this lovely vegan blueberry oatmeal with maca powder and pecans, keeping it nice and gluten-free and refined sugar-free. It still comes out tasting like a mouth-watering blueberry pie straight out of the oven… have I mentioned that yet? Or… have I mentioned the fact that this recipe takes only 10 minutes from start to finish?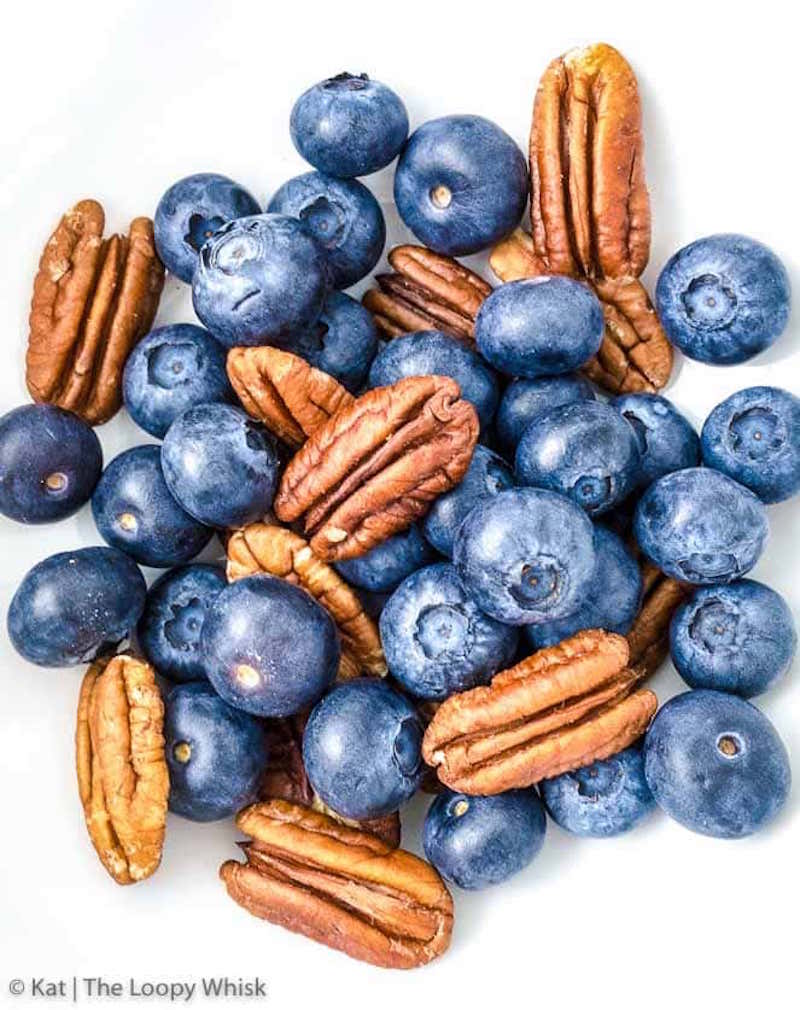 See Also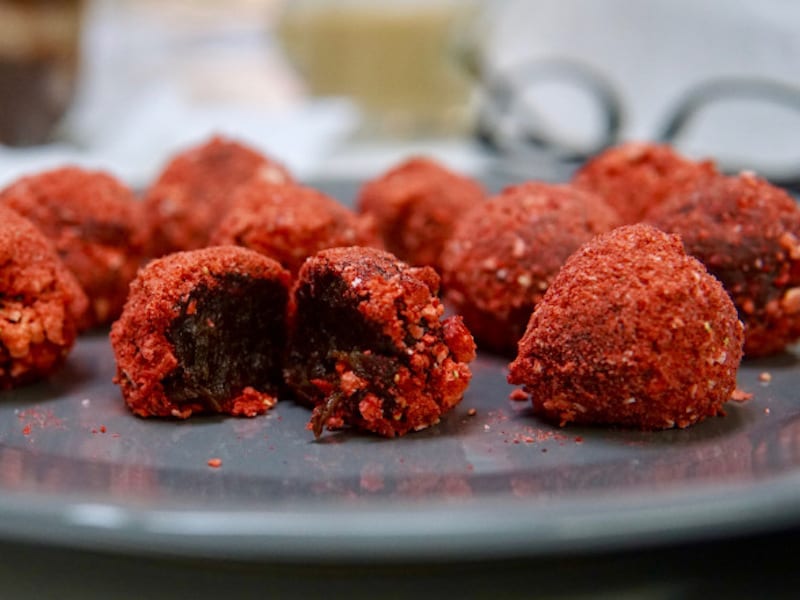 So take a pot, and in go the oats, chia seeds, maca powder, a pinch of salt and blueberries. We will mix it all together and add almond milk (or any other non-dairy milk) and water. Then on it goes to simmer for 5 minutes, after which we'll take it off the hob, and while it cools, we'll squash all the cooked, softened blueberries. That's it – just use a spoon, or a fork, or whatever's handy and properly squash them. The oatmeal will go from being a weird beige colour to a lovely vibrant purple (or is it violet? I never know the difference….), and you'll want to get stuck in right away.
But wait, we need to add the honey (or agave syrup, or maple syrup), stir well once more, transfer the vegan blueberry oatmeal into bowls (or a bowl – as in: singular – because if I were you, I'd not want to share) and top it generously with extra blueberries and pecans. The lovely plump juicy blueberries give a kick of freshness to the oatmeal, whereas the pecans are responsible for the satisfying crunch, and therefore an added layer of texture in the oatmeal. (Not to mention the healthy fats, fibre, manganese, magnesium, phosphorus… you get the picture – pecans are good for you.)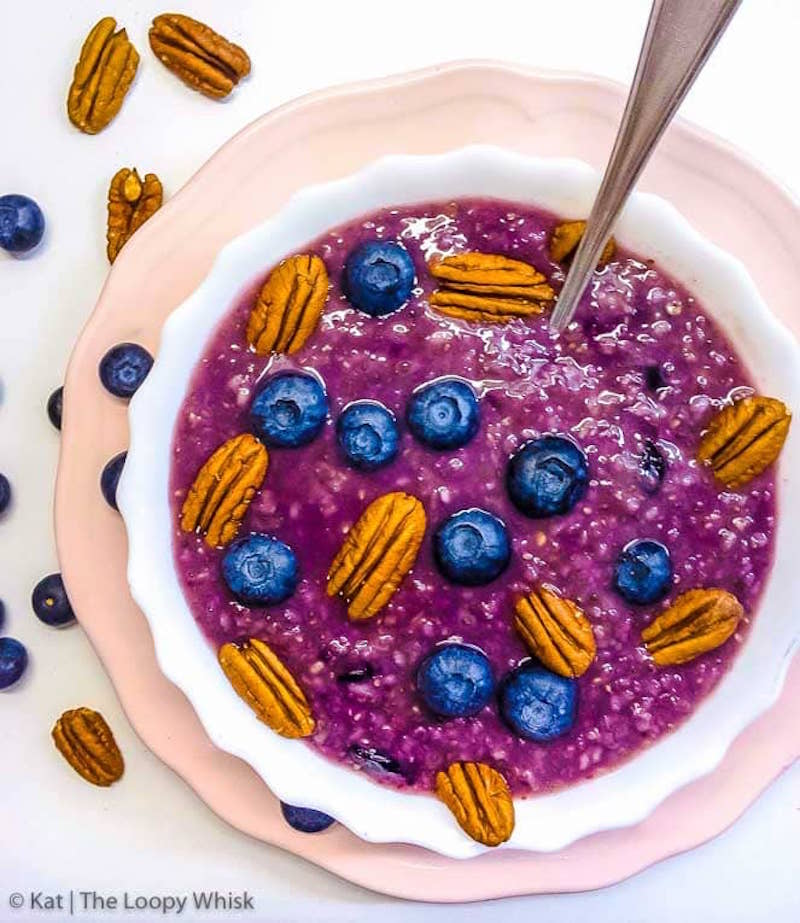 And then, all that remains is to enjoy the fluffy, silky blueberry goodness that is this vegan blueberry oatmeal – that just so happens to also be gluten and refined sugar-free. You'll have a hard time convincing your brain that you're not actually eating blueberry pie. And you can enjoy it with full awareness that you're at the same consuming a bunch of healthy fats, minerals, vitamins and fibre. You can have it for breakfast. Or lunch. Or dinner. Whenever you please, really – or rather, whenever your body wants some vegan blueberry oatmeal with maca powder and pecans.
Print
Author:

Katarina Cermelj

Yield:

0

Serves 2

1

x
Category:

Breakfast, Snack
For blueberry oatmeal:
1 cup

oats

3 tbsp

chia seeds
pinch of salt

2 tbsp

maca powder

1 cup

blueberries (~

150 g

)

1 cup

almond milk (or other non-dairy milk)

1½ cups

water

3

–

4

tbsp honey (or agave syrup, or maple syrup (Note 1))
For topping:
½ cup

blueberries

½ cup

pecans
Instructions
Mix together oats, chia seeds, salt, maca powder and blueberries in a pot.
Add milk of choice and water, stirring thoroughly.
Cook on medium to high heat for 5 minutes, stirring occasionally.
After 5 minutes, remove from heat and squash all the cooked blueberries.
Stir in honey or other sweetener of choice.
Serve warm or cool, according to preference. Enjoy topped with blueberries and pecans.
The oatmeal can be prepared in advance the night before, kept in the fridge overnight, and re-heated in the microwave the following morning. (In that case, top the oatmeal with extra blueberries and pecans just before serving).
Katarina Cermelj
Katarina is a Chemistry PhD student at the University of Oxford. At least by day – by night she transforms into a food blogger, baking up a storm, taking way too many close-up photos, and writing up blog posts for "The Loopy Whisk" (click on 'website' below to take a look!). Her recipe repertoire ranges from buttery, sugary goodness to raw vegan gluten- and refined sugar-free treats. But they are all joined by a common thread – an emphasis on easy and (mostly) quick recipes that are above all else about flavour. Oh, and she talks (writes) a lot.