PARTNER POST: Discover new ways to incorporate seasonal teas into your holiday cooking and desserts with Celestial Seasonings.
Soft and fragrant, this blueberry gingerbread tea loaf is loaded with cozy spices, and pairs perfectly with a cup of tea. Quick to make and tasting so festive, this cake makes a delicious breakfast or dessert for your hungry guests.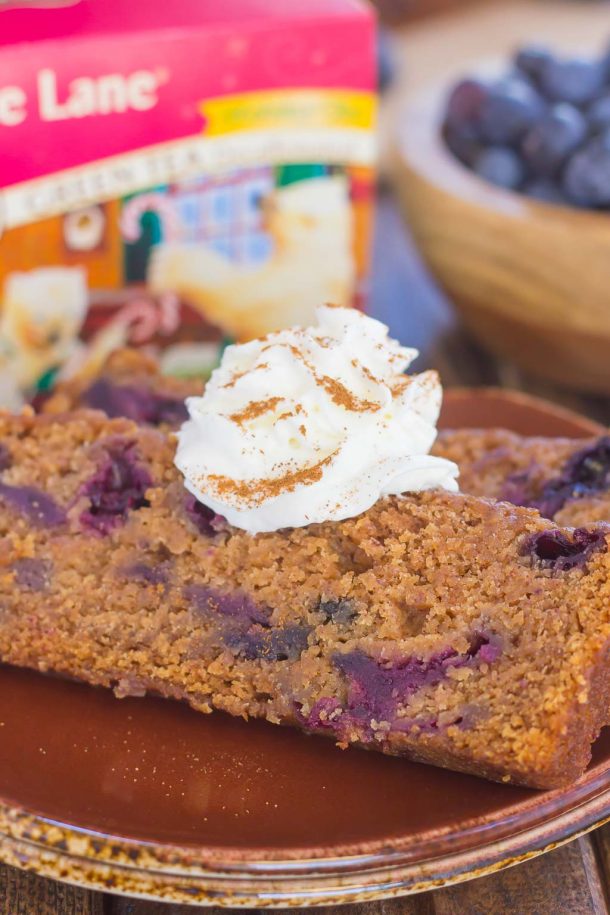 There's just something about the flavor of gingerbread and a hot cup of tea that makes me feel all warm and cozy. It's the essence of the holiday season, and tea and gingerbread go so well together!
I've shared before that gingerbread cookies reminds me of my Grandma, as she always made them every Christmas. My brothers, cousins and I would always get together to decorate the finished cookies, and it still holds a very special place in my heart.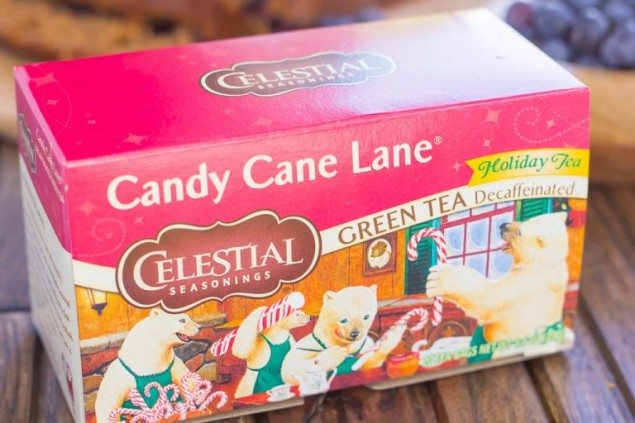 But a gingerbread loaf? That's something that I've never had before, up until recently, that is.
And you all know how much I adore blueberries, so it was practically a no-brainer for me to add them into this Blueberry Gingerbread Loaf. But, I can't take all of the credit. I was inspired to create this sweet treat from my love of hoarding magazines, specifically Better Homes and Gardens Fall Baking edition.
This Blueberry Gingerbread Loaf is soft, moist, and loaded with fresh blueberries and cozy spices. Easy to make and bursting with the flavors of the season, this bread makes a delicious breakfast or dessert for your hungry house guests!
And you know what goes perfectly with this Blueberry Gingerbread Loaf? Celestial Seasonings Candy Cane Lane Green Tea. I know that it probably sounds a bit strange to pair peppermint tea with a gingerbread loaf, but trust me, it's a winning combination.
Celestial Seasonings holiday blend is filled with naturally decaffeinated green tea, peppermint, vanilla, and a dash of cinnamon."The Magic of Tea" is what the holidays are all about.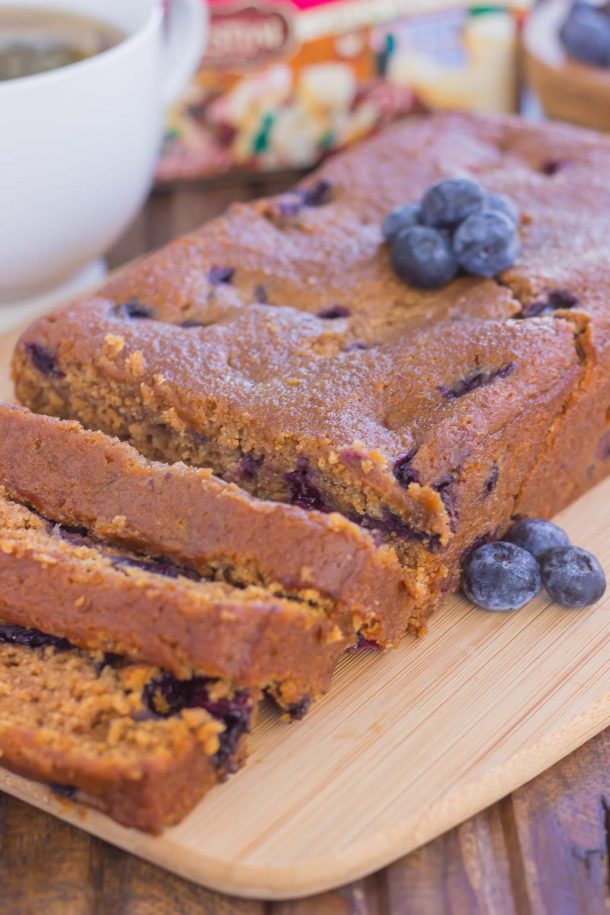 And the minty flavors complement the coziness of the Blueberry Gingerbread Loaf. I mean, what could be better than a slice (or three) of this bread, along with a steaming mug of tea for breakfast or dessert to warm you up on a chilly winter day?
Like most of my recipes, this loaf is a breeze to whip up. With just about 10 minutes of prep time, you can have this dish ready to be devoured in less than an hour. And anything that is ready in less than an hour is a winner in my book!
So grab a slice of this Blueberry Gingerbread Loaf, a hot cup of Celestial Seasonings Candy Cane Lane Green Tea, and enjoy the warmth of the holiday season!
Want to try another fun recipe for the season? Check out this Candy Cane Tea Chocolate Bark! Recipe here.
Looking for more gingerbread recipes? I've got you covered!
Gingerbread Honey Milkshake
Cranberry Gingerbread Muffins
Gingerbread Smoothie
Print
Author:

Gayle Spice

Prep Time:

10 minutes

Cook Time:

45 minutes

Total Time:

55 minutes

Category:

Baking
1 1/2 cups

all-purpose flour

2 teaspoons

ground cinnamon

2 teaspoons

ground ginger

1 teaspoon

salt

1/4 teaspoon

ground cloves

1/2 cup

unsalted butter (softened)

1/2 cup

white sugar

1/2 cup

packed (light brown sugar)

1 cup

unsweetened applesauce

1 teaspoon

baking soda

1 1/2 cups

fresh or frozen blueberries

1 tablespoon

all-purpose flour
Instructions
Preheat oven to 350F. Lightly spray a 9×5 inch loaf pan with non-stick cooking spray. Set aside.
In a medium bowl, whisk together the flour, cinnamon, ginger, salt and cloves. Set aside.
In a large bowl, beat the softened butter with an electric hand mixer or stand mixer with fitted paddle attachment for about 30 seconds.
Slowly add the white and brown sugar, beating util combined. Set aside.
In a small bowl, stir together the applesauce and baking soda.
Add applesauce mixture to sugar mixture, beating until combined.
Slowly add in flour mixture until just combined.
In a small bowl, toss blueberries with flour.
Gently fold into batter until combined.
Pour batter into prepared pan.
Bake for 45-50 minutes, or until toothpick inserted into center comes out clean.
Cool for 10 minutes in pan, then remove loaf from pan and cool completely on a wire rack.
Gayle Spice
Gayle is the blogger behind Pumpkin 'N Spice, a bog dedicated to easy and delicious recipes, sweet treats, and comforting meals that can be whipped up in no time.