Cheesecake is a timeless dessert and the luscious blueberry topping is a classic pairing.
By Tamara Novakoviç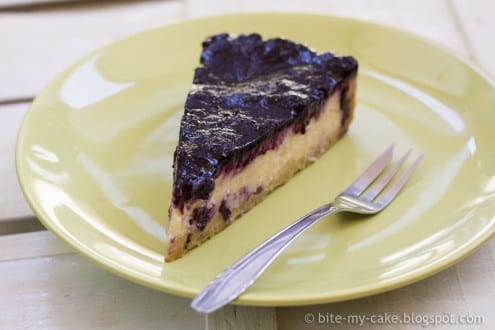 Blueberry Cheesecake
Cheesecake is a timeless dessert and the luscious blueberry topping is a classic pairing.
Ingredients
For the base
7 oz (200 g) tea biscuits
3.5 oz (100 g) butter
1 tbsp sugar
For the filling
24.6 oz (700 g) cream cheese
2 eggs
2 egg yolks
2.8 oz (80 g) cornstarch
2 tbsp vanilla extract
a bit of lime zest
5.2 oz (150 g) sugar
For the topping
8.8 oz (250 g) fresh or canned blueberries
1 tsp vanilla extract
4 tbsp sugar
Instructions
Finely ground biscuits combine with sugar and melted butter. Press into the bottom of springform pan (10.2 inch or 26 cm).
For the filling, mix cream cheese with eggs, yolks, lime zest, sugar and vanilla. Add cornstarch. Pour over the base.
Preheat oven to 356 F (180 C). Put a pan with water on the bottom of your oven. Place cheesecake on the middle rack. Bake for 45 minutes. Let cool to room temperature.
For the topping, combine blueberries with sugar and cook over medium heat, stirring, until the mixture thickens. Add vanilla in the end. Let cool to room temperature and pour over cheesecake.
Let it sit in the fridge over night.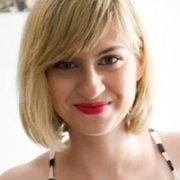 Tamara Novakoviç
Tamara Novakovic is a passionate self-taught cook, food blogger, freelance food writer and photographer behind bite-my-cake.blogspot.com. Her life journey has led her through Faculty of Humanities in Zagreb, Croatia to discovering passion for making cakes. She is currently a weekly food columnist for Croatian newspaper V magazine and food magazine Repete.