Blueberry and Bacon Salad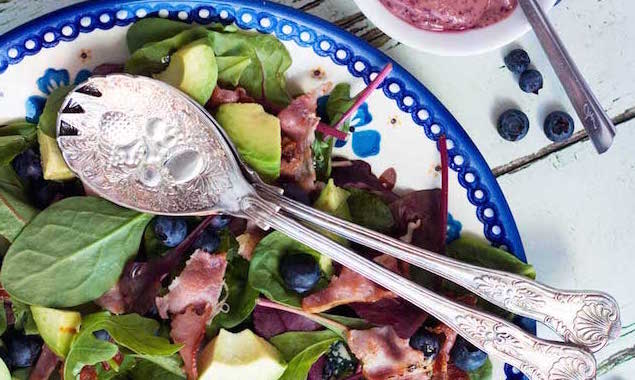 Smokey bacon and creamy avocado are nothing special on a spinach salad, but add a sweet and savory blueberry dressing and you're in for a treat.
By Helen Buxton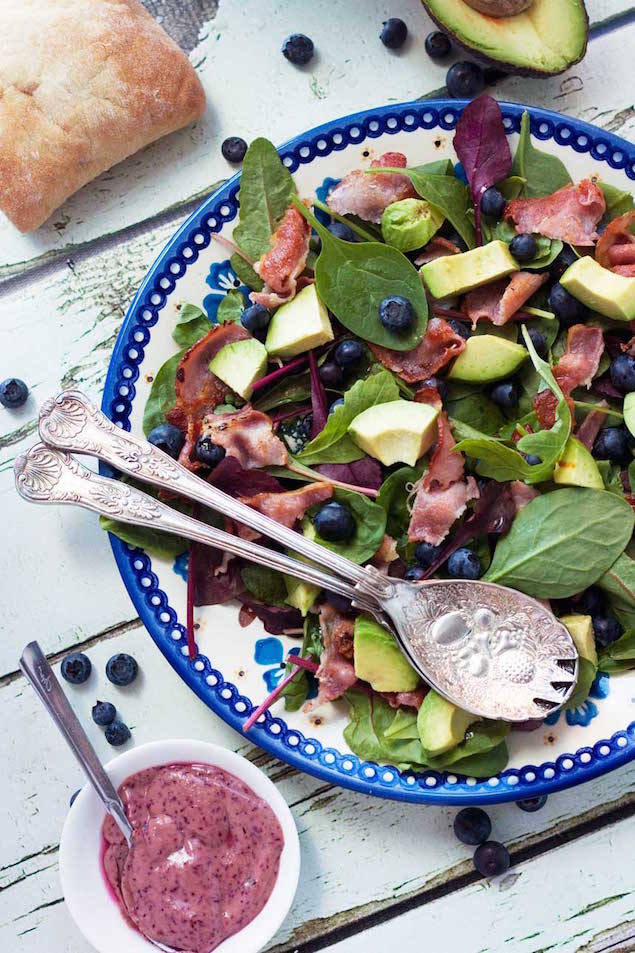 In celebration of our first spell of proper hot weather (finally I can get out the summer gear!) I decided to make a tasty salad. Nothing too unusual on the face of it … just some nice green leaves tossed with crispy bacon, avocado aaand … here's the twist … blueberries!! Maybe it sounds a bit strange to you to add the blueberries, but hear me out. Bacon is pork and pork often gets paired with fruit, and blueberries are fruit … so why not?
The pièce de résistance of this salad though is definitely the blueberry dressing! I don't know how you feel about drizzling something purple all over your food, but I promise you it tastes really really good! All it is is olive oil, Dijon mustard, balsamic vinegar, a little squirt of honey and blueberries, and as you can see it ends up looking like purple mayonnaise!
Find the bright blueberry dressing recipe here.

Blueberry and Bacon Salad
Smokey bacon and creamy avocado are nothing special on a spinach salad, but add a sweet and savory blueberry dressing and you're in for a treat.
Ingredients
For the salad
4 rashers smoked bacon
50 grams/1.75 ounces salad leaves of your choice (I used a mixture of rocket, baby spinach & red chard)
½ a large avocado, sliced into chunks
about 70 grams/2.5 ounces blueberries
For the dressing
To serve
toasted bread drizzled with olive oil & salt (optional)
Instructions
Heat a frying pan over a high heat and cook the bacon for a couple of minutes or so on each side until golden and a bit crispy. Transfer to a plate and set aside.
Scatter the salad leaves over a large plate or platter, then sprinkle over the avocado and blueberries. Tear the bacon over the salad, too.
To make the dressing, combine all the ingredients in a food processor (hand-held works well) and whizz until smooth.
Serve the salad with the dressing drizzled over and the toasted bread (if using).
Helen Buxton
Hi, I'm Helen. I'm originally from the UK but currently live between the UK, Greece and Australia with my husband (it's a long story!) We'll get settled eventually! I love nothing better than to travel the world … and sample the local street food. I absolutely love (attempting to!) put together flavours and fresh ingredients from all over the world – just so long as the recipes are easy peasy to make!