These tartlets with gorgeous heirloom tomatoes, bacon jam, and basil are a delicious play on the classic BLT sandwich.
By Natasha Steinberg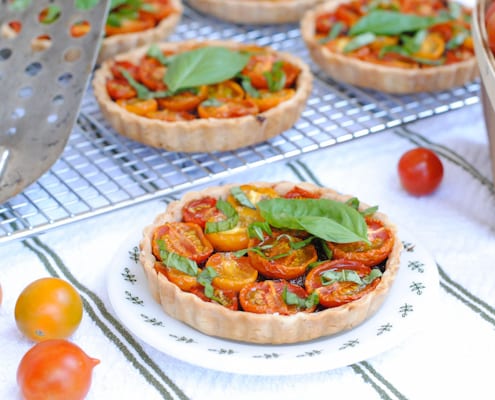 A few weeks ago, I ended up with two huge bags of gorgeous heirloom tomatoes of all sizes from a home garden. Needless to say, I was eating tons of tomatoes. Sprinkled with leftover Stilton. Some with a bit of balsamic. And some just popped in my mouth for a walking-through-the-kitchen snack. I also made gazpacho and pasta sauce and these tartlets!
This tart crust is all butter. It's tender and flaky yet crisp and appropriately sturdy. It's simple. It's easy to make, easy to work with. It keeps well. It works with sweet and savory fillings. It's pretty fantastic. You'd be a fool not to take it, run with it, fill it, bake it, eat it, etc. And did I mention these tomatoes are sitting atop a layer of bacon jam?
These tartlets with gorgeous heirloom tomatoes, bacon jam, and basil are a delicious play on the classic BLT sandwich.
Author:
Natasha Steinberg
Recipe Type:
Appetizer, Lunch, Side
Ingredients
Pâte Brisée
Bacon Jam
approx. 40 cherry heirloom tomatoes, halved lengthwise
1 Tablespoon olive oil
salt
fresh basil
Pâte Brisée
2¼ cups (285 g) bread flour
1½ cups (170 g) cake flour
½ Tablespoon salt
2 sticks (228 g) unsalted butter
1 large egg
2½ Tablespoons (40 ml) ice water
½ Tablespoon lemon juice
Bacon Jam
12 oz. bacon, chopped into large chunks
½ large onion, roughly chopped
1-2 garlic cloves, finely chopped
½ cup (118 ml) brandy
¼ cup (60 ml) raspberry blush vinegar
½ cup (100 g) muscovado sugar (or dark brown sugar)
1 Tablespoon maple syrup
Instructions
Make Pâte Brisée. In the bowl of a stand mixer fitted with the paddle attachment, mix flours, salt, and butter on low speed until they begin to come together. In a small bowl, lightly stir the egg, water, and juice with a fork then pour into the flour-butter mixture. Continue to mix on low speed just until dough forms. Be careful not to over mix. Dump dough onto a counter, gather all the bits together (do not knead or overwork), wrap tightly in plastic wrap, and refrigerate for at least 2 hours before use.
Dough may be stored wrapped tightly in the refrigerator for about two weeks and in the freezer for up to two months.
Make Bacon Jam. In a medium sauté pan, cook bacon until browned on the edges. Pour off fat into a heatproof container to reserve for other use (do not wipe pan). Add onion and garlic to pan, season with a bit of salt and pepper, and cook over medium heat until onions are translucent.
Add brandy, vinegar, and sugar, reduce heat to low, and cook until thickened, about 20 minutes. Let cool slightly then transfer to food processor. Add maple syrup and process for a few quick pulses until bacon breaks up a bit, and the texture is uniform. You still want it to be a bit chunky, not smooth. Store in a mason jar in the refrigerator.
Assemble tartlets. Preheat oven to 375 degrees F. Roll dough out to ⅛-inch thick. Cut out circles a bit larger than the tartlet pans (you won't end up using all the dough). Shimmy dough into the pans, lightly pressing into the corners. Trim excess overhang dough. Place in the freezer for about 15 minutes.
Remove pans from the freezer and arrange on a baking sheet. Using the back of a spoon, spread about 1½ Tbsp. of bacon jam onto each tartlet until evenly covering the bottom. If it's too thick to spread, you can heat it up a bit to loosen it. The jam is pretty intensely bacony, so don't overdo it. A little goes a long way.
Arrange tomatoes over the jam cut side up, fitting as many as you can without overlapping them. Brush tomatoes lightly with olive oil and sprinkle with salt. Bake for 1 hour, until crust is golden and tomatoes are wrinkly and collapsed.
Let tartlets cool until pans can be handled then remove tartlets from the pans and let cool completely on a wire rack. Stack about six large basil leaves on top of one another, roll up long ways, and chop into ¼-inch strips. Sprinkle confettied basil over the tartlets and and top each with one whole basil leaf (or more, if you're so inclined).
Notes
Prep time includes time to make and rest dough and make jam.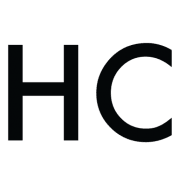 Natasha Steinberg
Natasha is a love-and-matriarch-taught maker of sweet things. She is passionate about using local and seasonal ingredients and making simple, satisfying sweets that make even the least of sweet tooths swoon. Although she is a native Texan, she currently resides in Atlanta where she is finishing up law school and documenting her sweet adventures through photos, recipes, and stories on her blog at tartletsweets.blogspot.com.