Bloomer refers to a British white bread that's perfect for paninis or even just PB&J.
By Jehanne Ali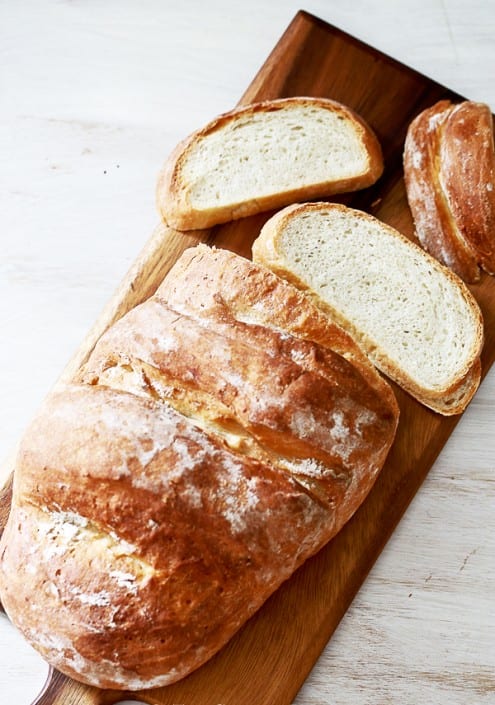 "Bloomer" Bread
Bloomer refers to a British white bread that's perfect for paninis or even just PB&J.
Ingredients
500g bread flour
50ml extra virgin olive oil
1 tbsp sugar
1 tsp salt ( 10g)
2 tsp instant yeast ( 9g)
around 300mls water
Instructions
Mix all the ingredients and add water gradually to form soft dough, either using hand kneading or stand mixer with hook attachment.
Oil your hands and knead the dough briefly. Leave to rise in greased bowl until triples in size.
Punch down the air gently and make a rectangle shape.
Fold the edges like envelope, and roll the dough with edges at the bottom.
Sprinkle top with water and dust with flour. Make few deep slashes diagonally with very sharp knife in single motion.
Leave to rise again for 30-45 mins and preheat the oven and pizza stone at 220C.
If using two racks in oven, fill the tray below with water to create steam whilst baking.
Transfer bread to bake on pizza stone for 20 minutes, reduce heat to 200C and continue for another 10 to 15 minutes until top is golden.
Jehanne Ali
Jehanne is an enthusiastic baker, food blogger, mother and wife all in one. She swaps her scalpel from her day job as a doctor to kitchen utensils in the evening and creates magical treatment of healthy treats for her family, which she shares in her blog, The Cooking Doctor. She is a firm advocate of healthy eating and always believes that honest and healthy food will steer you clear from the doctors.