Called the Uptown Bloody Mary, this brunch cocktail with tomato water, peño instead of horseradish, and olive brine has some serious funk.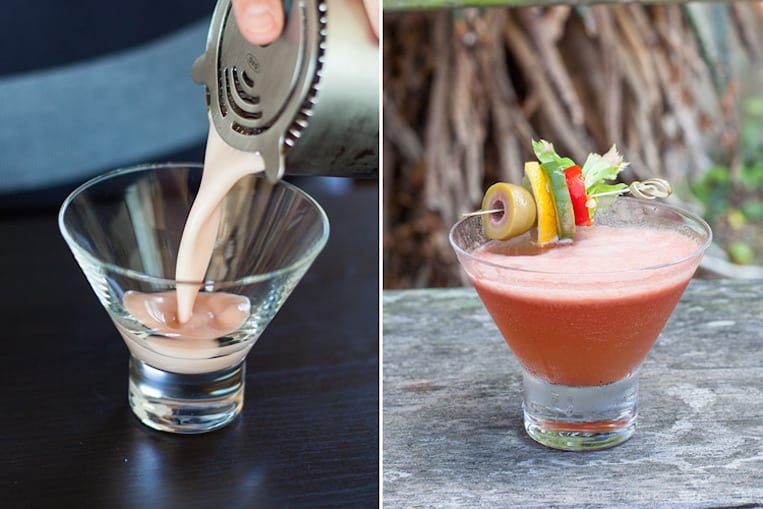 At brunch, there are always high standards when it comes to booze. You have your Mimosas (hold the OJ for mine, thanks) and your Bloody Marys. How about when it's time to expand our horizons? You want something like your traditional Mary, but a little fancy, a little uptown, something with a bit more funky flair. You, my friend, are in luck, that's why we're here to help you! Introducing the Uptown Bloody Mary!
Sometimes, you start with a great concept and work from there. This time, it was "We want to make something slightly artisanal, but not too poncy."
Alrighty, artisanal Bloody Mary — to start with, we switched out the tomato juice (which is just too gauche) for tomato water, which is fancy pants tomato juice. The process for that is quite simple: you take some tomatoes, remove their skins if you wanna (cut an X in the bottom, boil for a 30 seconds, toss into cold water and remove the skins — we didn't, pure laziness), quarter, blend, strain through the finest thing you have. Typically, that'll be cheesecloth, which might take you eight hours so leave it in the fridge. We went fine metal, as it's what we had on hand.
Then it was onto the spice. Horseradish is quite nice, especially when you grate it fresh, but we needed some peño action here. As it worked famously well in the Peño Blast, we made some peño simple syrup (and added in some whole peppercorns to round out that pepper flavor). That's super easy, boil 50/50 water and sugar with jalapeño slices. Cool that, strain out the sliced peños and you have spicy simple syrup and candied peppers. I envy you.
Finally, we needed a quality artisanal vodka that would go with all of our fancy pants flavors going on and what ho, our friends over at Hangar 1 hooked us up with their vodka.
With these upgraded ingredients, along with the standards of lemon juice, Worcestershire sauce and (our own twist) olive brine, the Uptown Bloody Mary Blast was ready.
See Also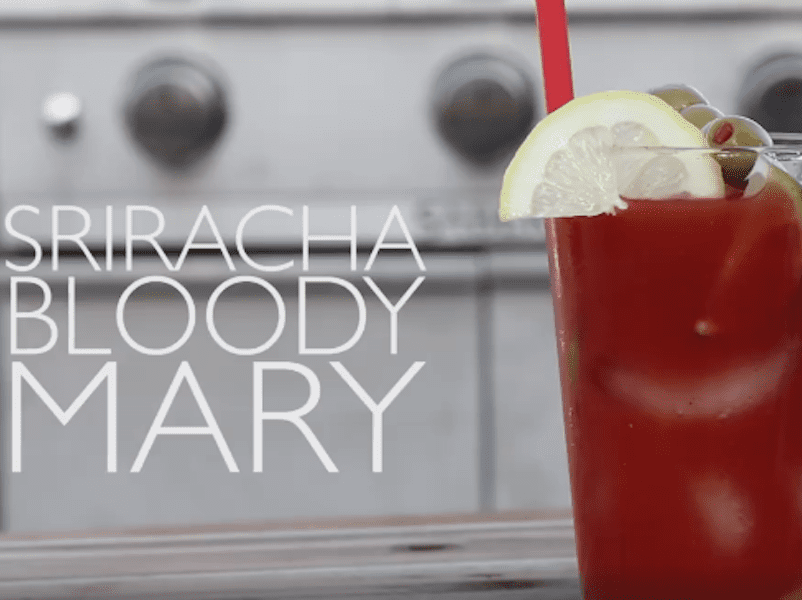 I mentioned we were also riffing on a Dirty Martini right? That's where the olive brine comes in to the party. It totally works.
If you loved this cocktail, then you probably are in need of more drink recipes with pizzazz and sass. Head here!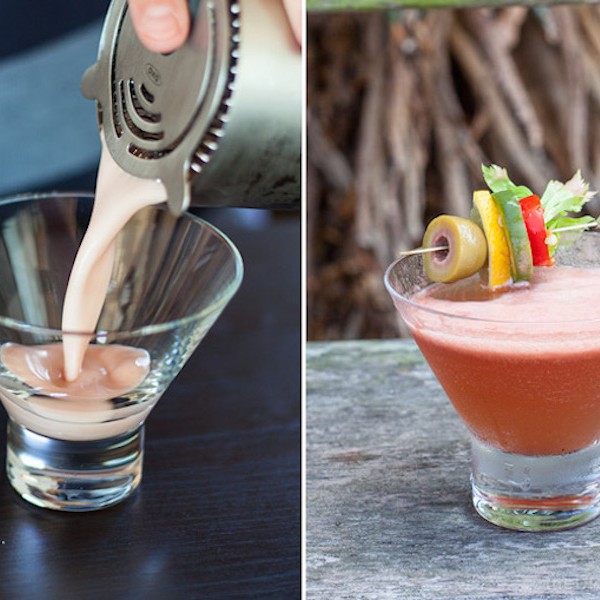 Morgan Greenhalgh
Ingredients
2

OZ.

VODKA

2

OZ.

TOMATO WATER

½

OZ.

OLIVE BRINE

½

OZ.

PEÑO SYRUP

¼

OZ.

LEMON JUICE

WORCESTERSHIRE SAUCE

GLASS TYPE: COCKTAIL

OLIVES

LEMON SLICES

CANDIED JALAPENOS

CHERRY TOMATOES

CELERY LEAVES
Instructions
Make your tomato water.

Don't know how? Read the post.

Make your peño syrup. Don't know how? Seriously, read the post.

Now, add your vodka, tomato water, olive brine, peño syrup, lemon juice and splash of Worcestershire sauce to your shaker with ice.

Shake.

Pour into your glass.

Garnish with various veggies.

Go uptown.

With spice.

And class.

The way uptown classy Bloody Marys do.

Probably need another.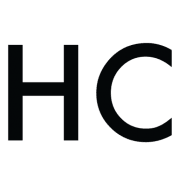 Morgan Greenhalgh
Hi there, I'm Morgan! Pleasure to meet you. Behind the camera, that's Alice. She's the strong, quiet type. After a lifetime of love with food, drinks and everything related, we got tired of people asking us "What should I drink this weekend?" Using the power of my English degree (and bartending-certified experience) and her mean photography abilities, we decided to let everyone online know what we're drinking this weekend so they could join in with us! Cheers!