PARTNER POST – Be inspired to create beautiful cheese boards with Castello cheese. And what goes better with cheese than wine? Enter to win a trip for two to Napa, California.
Create a stunning winter cheese board with honey, dried fruits and citrus marmalades.
By Sylvia Fountaine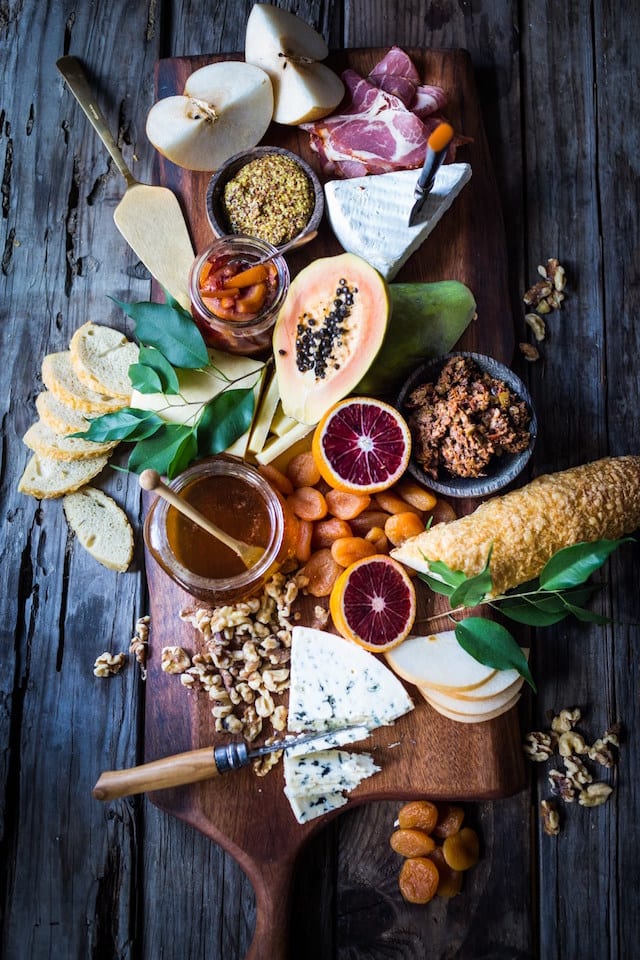 Castello, the producer of fine cheese and Folie à Deux a wine producer, challenged me to come up with a cheese board that would capture the golden spirit of award season entertainment – the Oscars and the Golden Globes.
Castello cheeses are epicurean delights – from tangy blue to complex aged Havarti, the cheeses are wonderfully balanced and come together perfectly to create a delicious winter cheese board. Paired with rich golden honey, winter fruits, nuts, olive tapenade, whole grain mustard and blood orange marmalade the board is a combination of sweet, salty, bitter, sour and umami flavors – a feast for the senses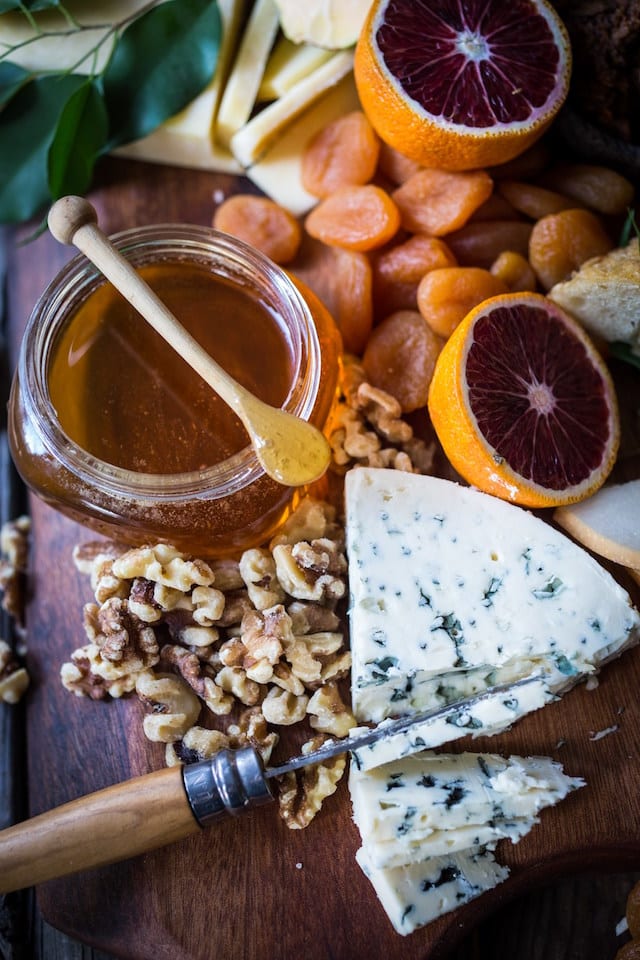 And what goes with a delectable cheese board, better than wine? The perfect pairing – Folie à Deux, a world-class Sonoma County wine delights the senses and wakes up the palate, available both in red and white varieties.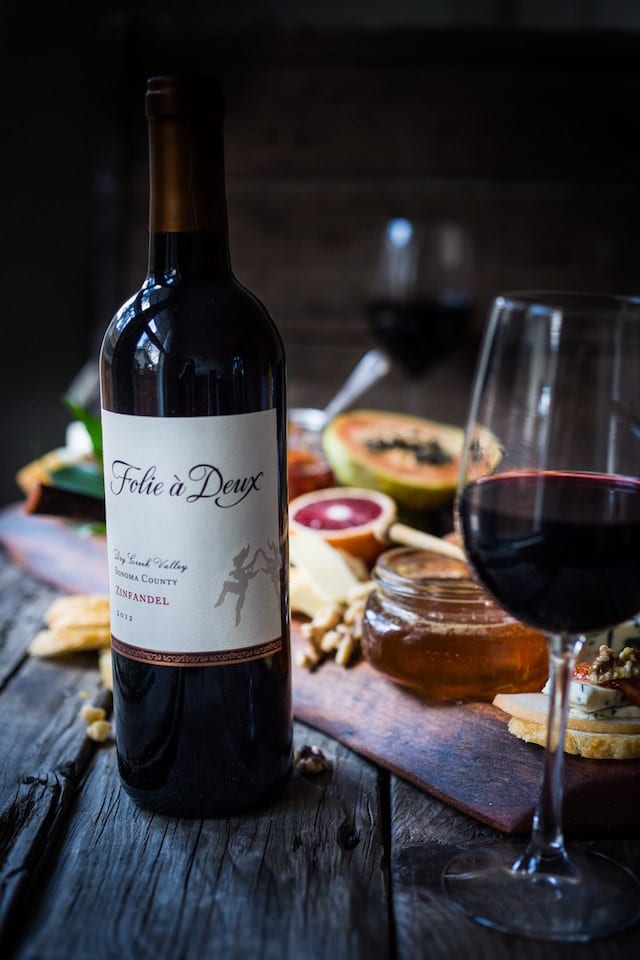 Blue veined cheeses pair especially well with honey and I always try to keep them together on a cheese board. In winter when fruits are limited, I often turn to dried fruits to fill the gaps, in this case golden Moroccan apricots.
Winter citrus can easily be made into marmalade which surprisingly taste wonderful with cheese. My favorite is blood orange marmalade.
The smell alone makes me happy and brightens up even the darkest of days.
The color of blood orange marmalade is truly lovely and flavorful. Infuse it with ginger and star anise for a touch of the exotic.
Don't forget to enter into Castello's sweepstakes! You could win a trip for two to Napa, California!
Print
Blood Orange Marmalade and a Winter Cheese Board
Create a stunning winter cheese board with honey, dried fruits and citrus marmalades.
Author:

Sylvia Fountaine

Prep Time:

20 minutes

Cook Time:

20 minutes

Total Time:

40 minutes

Yield:

8

to

10

servings

1

x
Category:

Appetizer
3

–

4

varieties of cheeses 4-6 ounces each

1/3 cup

honey

1/3 cup

seasonal jam or blood orange marmalade (recipe below)

1 cup

toasted (spiced or candied nuts- walnuts, pecans, almonds, marcona almonds)

1 cup

olives or olive tapenade

¼ cup

whole grain mustard

3

–

4

varieties of fruit- apples (persimmons, pears, figs, Japanese Pears, pomegranate, etc)

1

small baguette (sliced)
Blood Orange Marmalade: ( takes 1½ hour)
Candy thermometer

3

blood oranges

1

small lemon

1 ½ cup

organic sugar
Optional additions- 1 teaspoon minced ginger (star anise pods, fennel seeds,)
Instructions
To make Blood Orange Marmalade:
Wash blood oranges and lemon well.
Thinly slice oranges ( as thin as possible, or use mandolin), removing seeds as you go.
Stack and slice them into quarters and place them in a medium pot.
Zest and juice the lemon and add to the pot.
Add 3 cups water and bring to a boil. Boil 10 minutes.
Turn heat down to med and simmer 40 minutes, or until rinds are tender.
Add sugar, stir to combine. Bring to a boil. Turn heat to medium so it is gently boiling.
Continue cooking until it reaches 220 F ( check with a candy thermometer) about 15 minutes, careful not to walk away when it gets close…it's easy to burn.
At this point you could can or just cool and refrigerate.
Makes 2-3 cups
To assemble Winter Cheese Board:
Place cheese down in 3 different areas on a large cutting board or platter. Either pre-slice or make sure to have a cheese knife for each cheese. Slice fruits and place around the board paying attending to color. Add small bowls of nuts, honey, marmalade, mustard, olives…all in separate areas on the board with small serving utensils. Slice the baguette and either serve it on the side or tuck into the board.
Garnish with rosemary sprigs or citrus leaves.
Sylvia Fountaine
Caterer and chef of Feast Catering Co., my blog Feasting at Home is where I share wholesome, seasonal recipes we cook at home.