Blood orange juice and zest take a creamy, crunchy-topped crème brûlée to an awesome new level.
By Elena Szeliga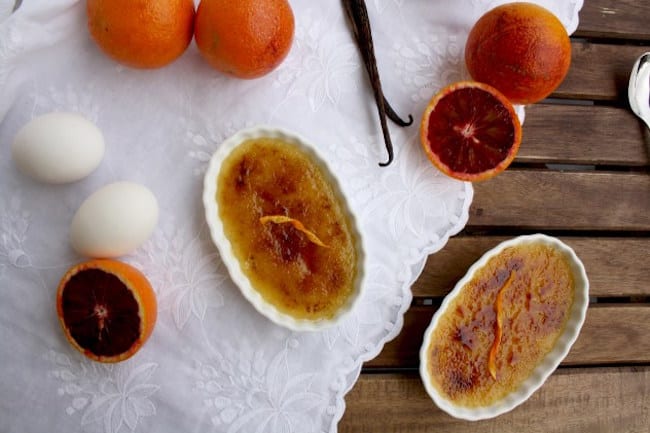 Rich and creamy vanilla custard meets a brittle caramelized topping in this seductive and foolproof delicacy. The secret lies in the contrast of textures: smooth custard base and hard caramel layer. Adding a hint of blood orange gives it a refreshing and elegant taste. The best thing about this dessert (besides its deliciousness) is that it's very easy to make and looks very impressive. It's so exciting to burn the sugar on top to make it caramelize!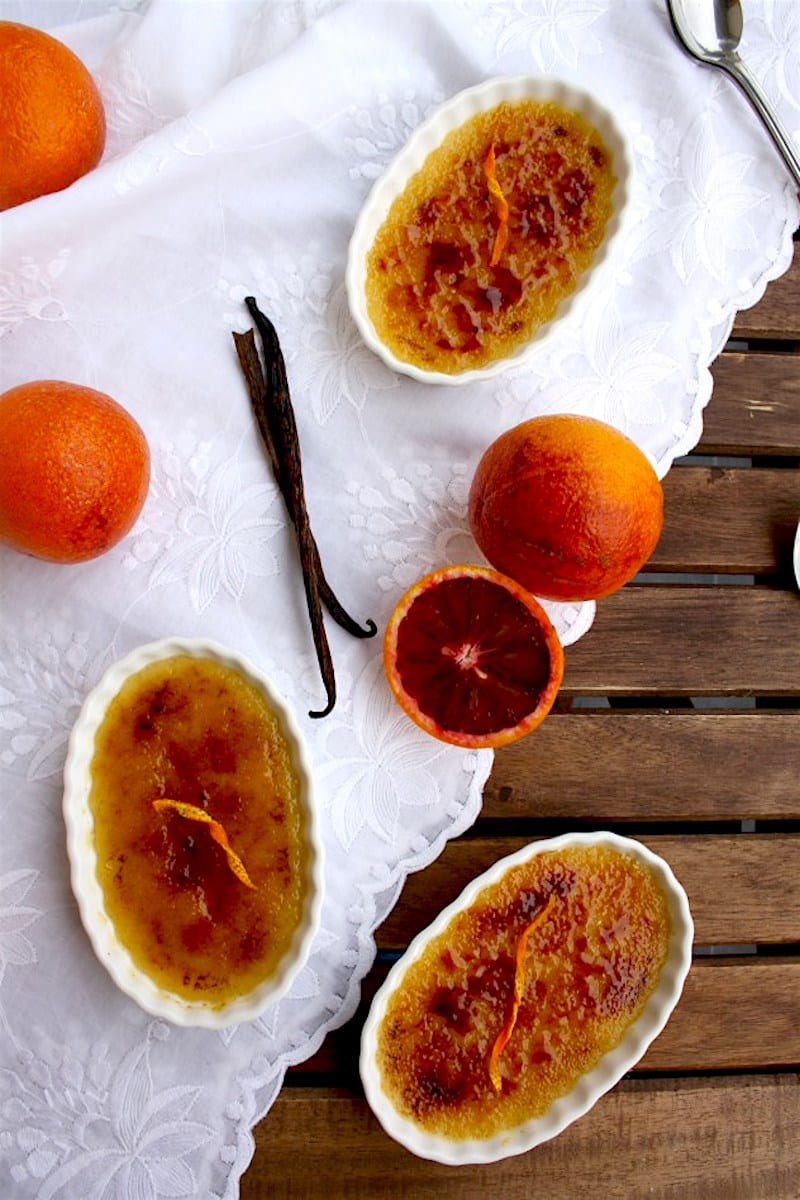 As for the crème brûlée torch which you need to caramelize the sugar on top, you have several options:
1. Crème brûlée torch is a classic method of caramelizing the topping. It can be used for other things like caramelizing meringue and marshmallows, crisping meat, charring vegetables, skinning tomatoes and melting cheese on gratins.
2. Blow torch works well for crème brûlée and can be used for lighting the grill, gardening or fixing copper pipes.
3. Broiler/Grill can be a good option, too. You have to let your crème brûlée cool completely before using it. Set it on very hot and put your crème brûlée underneath for a couple of minutes until the crust is golden brown.
4. Oven can be used if you make your crème brûlée ahead. Take a piece of parchment paper and turn an empty ramekin over. Use a pencil to circle it around. Repeat as many times as you need. Spray your circles with a non-stick cooking spray. Then sprinkle a rather thick layer of brown sugar in your circles, trying not to go beyond the shape. Broil them in the top shelf of the hot oven for some minutes, until golden brown. I recommend you to use this method if you prepare your crème brûlée one or two days ahead because this way the sugar doesn't get soggy, as it doesn't touch the moist custard surface. The crust should be put on the crème brûlée directly before serving. Also, you can make different shapes (using cookie cutters is a good idea, too!) and use them for the variety of desserts.
5. Using a mixture of alcohol and sugar is a spectacular way to serve your crème brûlée. Sprinkle the custard with brown sugar and pour a bit of hard liquor of your choice. It can be vodka, gin, rum, brandy or whisky. One tablespoon will be more than enough. Use a normal lighter or matches to burn it and enjoy the show.
Whatever option you use, make sure you serve your crème brûlée at a room temperature. If you don't use the oven method to caramelize your sugar, you should serve this dessert around 30 minutes after the sugar has caramelized, so that the top is crunchy and brittle. Remember that the most important thing about the crème brûlée is a contrast of textures. There is nothing like a sound of breaking your crème brûlée crust with a teaspoon!

Blood Orange Crème brûlée
Blood orange juice and zest take a creamy, crunchy-topped crème brûlée to an awesome new level.
Ingredients
200 ml or ¾ cup heavy cream
50 ml or ¼ cup milk
½ vanilla pod
3 egg yolks
50 grams or ¼ cup brown sugar + 4-5 tablespoons for the topping
30 ml or 3 tablespoons blood orange juice
1 teaspoon grated blood orange zest
some more zest to garnish
Instructions
Preheat the oven to 150 °C or 300 °F. Split the vanilla pod lengthwise and use a knife to scrape the seeds out. In a pot, combine vanilla seeds and pulp, heavy cream and milk.
Bring the mixture to a boil over medium-high heat, then reduce the heat to low and simmer for 5 minutes, whisking occasionally, until it thickens. Discard the vanilla pulp.
Meanwhile, combine egg yolks with sugar in a large bowl until smooth. Gradually pour the cream mixture in it, whisking constantly. Add blood orange juice and grated zest and mix well.
Carefully pour the mixture into 4 ramekins. Place them in a large baking form. Pour hot water into the baking form until it reaches halfway up the sides of the ramekins. Carefully place the baking form in the oven for 30-35 minutes. Let them cool on a wire rack.
Right before serving sprinkle the custard with 1 tablespoon brown sugar per portion and use one of the 5 methods described below to caramelize the sugar (see notes). Garnish with blood orange zest. Enjoy!