Blackberry, Orange and Vanilla Cream Tartlets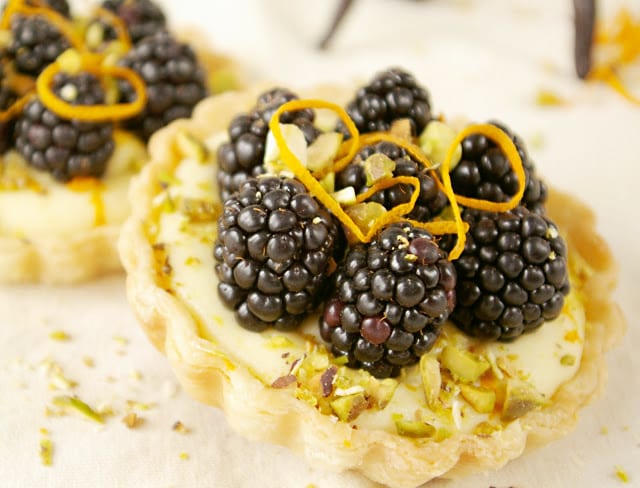 These are best eaten within a few hours, if you are making them much ahead of time, spread a thin layer of apricot jam onto the pastry crust before filling to keep the shell from getting soggy.
By Bria Helgerson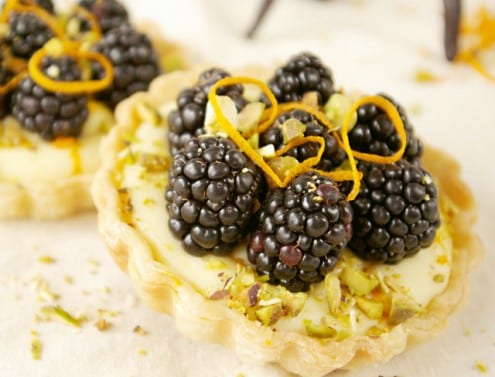 When I get a bit of time to myself, sometimes I can let my brain overload on all the possibilities of things to do, new recipes to try, and crazy projects in the kitchen. Lately though, I have been focusing on easy, simple, and classic. A disc of leftover pate brisee hanging out in the freezer, some berries on sale at the grocery store, and just enough eggs left in the fridge to make pastry cream, it just came together without much effort. For those few hours alone with my coffee that morning, it was the perfect thing to keep my hands busy and let my mind wander. Its something that doesn't happen as often as it should these days, plus pastry cream with fresh berries is just one of those things that works. Always has, always will.

Blackberry, Orange and Vanilla Cream Tartlets
These are best eaten within a few hours, if you are making them much ahead of time, spread a thin layer of apricot jam onto the pastry crust before filling to keep the shell from getting soggy.
Ingredients
Crust:
400 grams (14 oz) unsalted butter, chilled, cut into ½ inch cubes
1 tablespoon white distilled vinegar
100 grams (3½ oz) granulated sugar
⅔ cup water, chilled
665 grams (1 lb 7½ oz) all purpose flour
1 teaspoon salt
Cream
1 cup milk
1 cup heavy cream
¼ cup cornstarch
2 eggs
4 egg yolks
2 oz butter, chopped into small pieces
½ vanilla bean
zest of 1 orange
Instructions
Crust
Remove butter from fridge 20 minutes before mixing.
In a small bowl, combine sugar, water, and vinegar, stir to aid the dissolving of the sugar. Set aside in refrigerator for 10 minutes. Then, stir again to completely dissolve sugar.
In a food processor, pulse the flour and salt together a few times to combine. Add the butter, and pulse in one second bursts about 3-4 times until butter is cut in and evenly dispersed. You should have visible chunks of butter in your flour mixture, this is where the flakiness comes from.
Pour mixture into a large bowl and make a little well in the middle of the flour. Pour the vinegar water mixture into the well, along with the almond extract, and gently mix liquids into the flour with a fork. When liquid is evenly dispersed, dump dough out onto a clean surface and knead gently a few times, just until dough comes together in one cohesive ball. It may be a bit shaggy or falling apart, but that's okay, while it is resting the moisture will bind everything together.
Cut ball of dough in half and shape each half into a disc about ½ - ¾ inch thick. Wrap in plastic wrap and chill for at least two hours, or overnight. Take dough out of fridge about 15 minutes before you roll it out. For the 3-inch sized tarts, I cut each disc in half, rolled it out into a square, ⅛ inch thick, then cut the disc into four pieces, placing each one of the four pieces in a tart mold. How you roll the dough out will depend on the size and shape of the tart mold you are using. Always start in the center of the disc and roll outward, turning the disc 30 degrees after each roll to get an even thickness throughout. Carefully move the dough to your tart pan and press evenly into all corners, pinching off the excess.
Dock with a fork (meaning poke a bunch of tiny holes in the bottom of the tart crust with a fork) and freeze for twenty minutes. Preheat your oven to 400 F. Place a piece of tin foil over your tart shell, pressing it down to fit the form of your tart, and fill with beans or rice or pie weights. Blind bake your tart for 15 minutes, flipping the pan front to back halfway through. Remove the pie weights and tin foil and bake for another 5-7 minutes, until the crust is golden brown (the times on this will depend again on the size of your tart pans) . Let cool completely.
Cream
In a medium sized sauce pan, heat the milk, ½ cup of the cream, and the vanilla bean pod, split and scraped. Bring to a boil, remove from heat, cover and let steep for about 20 minutes. Strain through a fine mesh seive, then return to burner. Add the sugar and bring to a boil. While mixture is heating, combine the eggs, yolks, cornstarch, and the remaining ½ cup of heavy cream in a medium bowl. Whisk until smooth.
When the cream/sugar mixture reaches a simmer and the sugar is completely dissolved, temper into the egg mixture, whisking constantly. Return the mixture to the saucepan, and cook over medium-low heat, whisking constantly, until it thickens.
Since it has cornstarch in it, it does technically need to come to a boil for it to thicken properly, so once that first bubble pops, remove from heat and immediately put through a fine sieve to ensure that no scrambled eggs make their way into your pastry cream. Whisk in butter and orange zest and chill about 4 hours or overnight before using.
Tart Assembly
Pipe the pastry cream into each of your tart shells, using just enough to cover the bottom. Arrange blackberries on the surface of the pastry cream and top with chopped pistachios, and more orange zest. These are best eaten within a few hours, if you are making them much ahead of time, I would spread a thin layer of apricot jam onto the pastry crust before filling to keep the shell from getting soggy.
Bria Helgerson
Bria Helgerson is a Chicago based food blogger and pastry school student. Lover of all things sweet and savory, she cooks, bakes, and blogs as she navigates her culinary life at her website These Peas Are Hollow.