Who doesn't love pie? This one is loaded with summery blackberries while diced candied ginger adds an element of surprise.
By Laura Davidson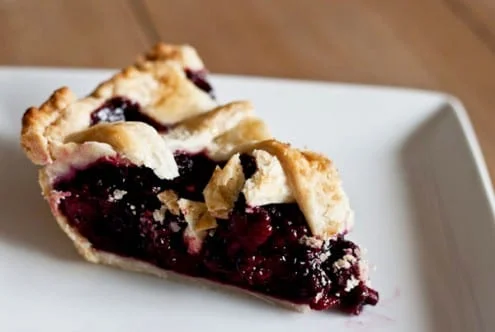 I've eaten my weight in blackberries this week. Despite enjoying a handful of them straight from the fridge practically every time I went into the kitchen, I knew that a homemade pie was in order.
To make things extra fancy, I decided to show off a bit and make a lattice pie. I wasn't so sure about my lattice-making skills, but as it turns out, it really is quite straight-forward and simple. Plus, it gives you a chance to show off all those beautiful berries. My pie crust crimping skills could use a bit of help though. Maybe I should have called this "Rustic" Blackberry Ginger pie? Oh well.
As I've mentioned before, I sort of love making pies and tarts. That isn't to say that I make a whole lot of them all that often, but when I do find an excuse to break out the butter and flour, I totally look forward to it.
In my experience, everyone loves a good pie. Pie = happy food. Who can turn down a slice of homemade pie? No one, that's who.
This pie is loaded with blackberries. Basically two pounds worth. And since I couldn't leave well enough alone, I decided to add in some finely diced candied ginger too.
See Also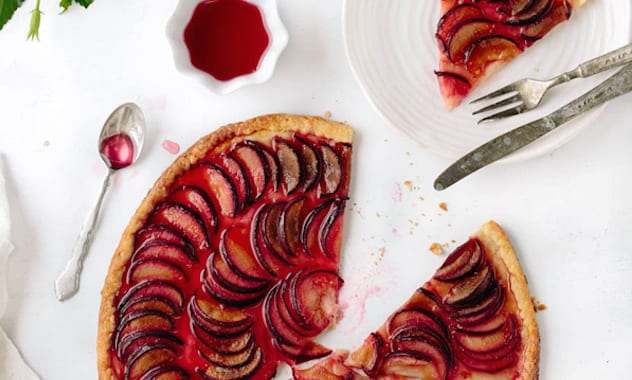 As someone who doesn't love extremely ginger-y desserts, I can promise you that it doesn't overpower the dessert in the least. But it definitely adds that element of surprise, which takes this dessert to the next level.
I could eat this all day long. Enjoy!
Blackberry Ginger Lattice Pie
Who doesn't love pie? This one is loaded with summery blackberries while diced candied ginger adds an element of surprise.
Ingredients
Double Pie Crust:
2½ cups (315 grams) all purpose flour
1 tablespoon granulated sugar
1 teaspoon salt
2 sticks (8 ounces) unsalted butter, very cold
6-8 tablespoons cup ice water
Filling:
6 cups fresh blackberries (roughly 2 lbs)
¼ cup brown sugar, lightly packed
2 tablespoons tapioca starch
3 tablespoons candied ginger, finely diced (optional)
1 tablespoon granulated sugar (if you are using tart blackberries, you might want to add a touch more)
½ teaspoon ground cinnamon
⅛ teaspoon kosher salt
juice of half a lemon
To Finish:
Instructions
Directions
Combine flour, salt, and sugar in bowl of a food processor. Meanwhile, cut up cold butter into cubes and place in separate bowl. Place both in freezer for 10-15 minutes to chill.
Remove butter and flour from freezer. Add chilled butter to food processor bowl--and pulse several times or until the butter is roughly the size of peas and distributed evenly throughout the flour mixture.
Add 4-5 tablespoons of ice water and pulse several times. Continue to add water (and pulsing a few times) until dough just comes together. Depending on moisture and humidity levels, the amount of water that you may need will change.
Remove dough to counter top and seperate into two equal size rounds (flatten slightly into discs).
Using hands, knead dough together briefly to form a ball (add an additional tablespoon of water at a time, if more is required).
Allow to chill in fridge for roughly 2 hours or overnight.
In large bowl, combine all filling ingredients and toss gently with a spoon. Preheat oven to 425 degrees.
After dough has chilled, remove one disc of dough (roll bottom pie crust first) from fridge at a time. Place dough on a well floured surface, dust with more flour, and roll out evenly into a large, roughly 12-13" diameter disc—rotating the dough continuously as you go. Fold into quarters and transfer to a standard pie dish to unfold. Using knife or kitchen scissors, trim any remaining overhang to one inch. Brush off any excess flour with a pastry brush.
Roll out remaining dough disc into a large, roughly 12-13" diameter disc--using a pastry or pizza cutter, cut dough into ½" strips.
Add filling to pie pan. Lay out 4-6 strips across the filling, leaving about a ¾"-1" inch gap between each. Fold back every other strip half way. Place one long strip perpendicular to the rest of the strips (in the center). Unfold the folded strips over the perpendicular strip.
Fold back each strip that is under the perpendicular strip and lay down another strip perpendicular. Unfold the strips back over. Repeat with remaining strips until the enter pie is covered evenly.
Trim any overhang to the diameter of the pie dish.
Fold the rim of the bottom crust over the lattice strips and crimp using a fork or your fingertips.
Brush the top of the pie crust with a milk wash and sprinkle with turbinado sugar.
Place pie dish on foil-lined baking sheet (this prevents any juices from overflowing onto your oven floor and creating a smoke-filled kitchen) and bake for roughly 20 minutes.
Turn down temperature to 375 degrees and continue to bake for another 30-40 minutes until crust is golden brown. **If crust is beginning to brown too quickly, cover with a foil tent for remainder of baking time.
Remove and allow to cool on wire rack for at least 20-30 minutes. Serve warm with a big scoop of vanilla ice cream (or allow to cool completely if you prefer a thicker, less runny pie)!
Notes
It's worth mentioning that I used perfectly ripe blackberries for this pie. Ones which were very sweet and incredibly juicy. If your blackberries are a bit more tart and sour, you might want to add another tablespoon or two of granulated sugar. Adjust to your liking!
Laura Davidson
After deciding to take a leap of faith, Laura enrolled in culinary school to pursue her passion for all things food. On her blog, Blogging Over Thyme, she shares her experience as a culinary student, her favorite recipes, stories, and photography!