Sometimes, one bold flavor is all you need. Jessie Chien welcomes summer with a recipe for black sesame ice cream.
By Jessie Chien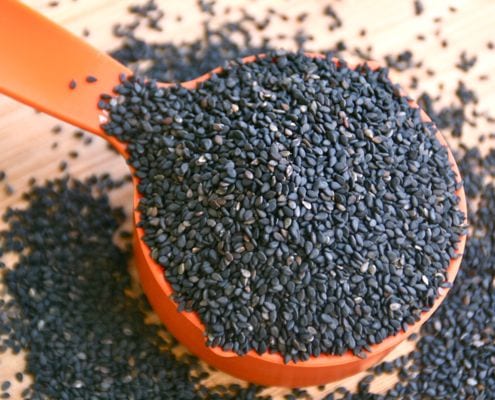 Commencement speeches are being delivered, camping gear is pulled out of the shed, and rhubarb pie is in the oven.
The calendar tells us it's still spring, but all our actions are pointing towards the summer. And with that, my ice cream maker secured its rightful place back on the countertop.
I am open to the dizzying array of sweet flavors found in some pints of ice cream: chocolate brownie chunks, peanut butter nuggets, swirls of caramel and fudge. But sometimes, even my sweet tooth aches from the thought of these combinations. Sometimes, especially when it comes to ice cream, it's best to keep it simple.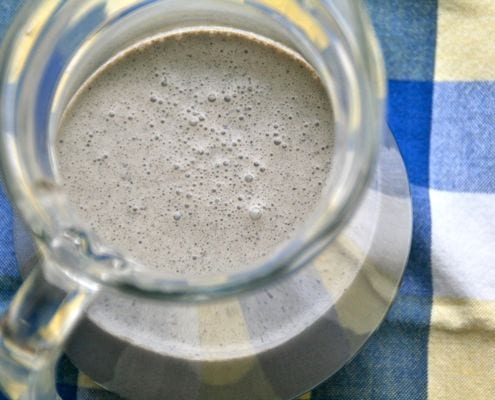 I'm a major proponent of single-flavored ice creams. I'm not talking about your dull, faux-vanilla tubs of ice cream that can be found at the generic grocery store. No, I'm talking about those flavor-packed, singular yet complex flavored scoops of ice cream purchased at a local ice cream shoppe or artisanal grocer. A punch of mango, a dose of cardamom, or a fix of coffee- whatever it may be, there is no need for distractions such as chunks of candy bars or sticky swirls. One flavor can go a long way.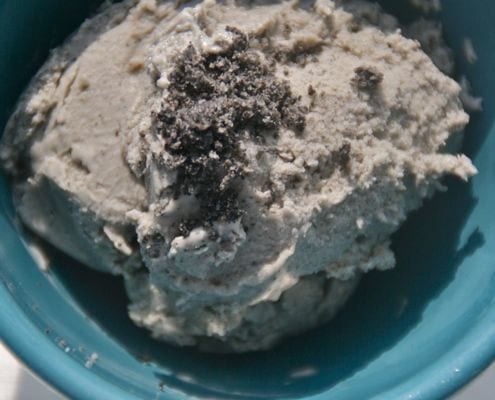 Black sesame ice cream. Perfectly toasty, nutty, and sweet- a great way to kick off the unofficial start to summer.

Milky, smooth, nutty, rich. Despite the complex flavors, black sesame ice cream is incredibly simple to make at home.
Ingredients
1 cup (250ml) whole milk
¾ cup (150g) sugar
½ cup (80g) black sesame seeds
a pinch of salt
2 cups (500ml) heavy cream
6 large egg yolks
Instructions
Toast sesame seeds in a nonstick skillet over medium heat, for 5-7 minutes. Grind in batches in a spice mill/coffee grinder.
Whisk together milk, sugar, black sesame powder, and salt in a saucepan over medium meat until sugar is completely dissolved. Remove from heat and allow to cool slightly.
In a separate bowl, lightly beat egg yolks until combined. Temper the milk/sesame mixture into the egg yolks, first pouring a teaspoon of milk/sesame into the eggs, mix, then add a tablespoon more, mix, then a few tablespoons more. Now that the eggs yolks have been tempered, pour back into milk/sesame mixture and stir well.
Add cream and set over medium heat. Stir constantly, making sure to carefully scrape the bottom of the saucepan with a heatproof spatula to minimize clumps. After about 15 minutes, the mixture should have thickened, so that a thin layer coats your spatula when lifting it out of the pan. Remove from heat, and allow to cool. Transfer to a glass container or heavy-duty plastic Ziploc bag, and set in the fridge to cool completely (for a minimum of 1 hour, best for at least half a day).
Freeze the mixture in your ice cream maker according to the manufacturer's guidelines. Store in an airtight container and freeze before serving to allow ice cream to harden to a preferred consistency.
Jessie Chien Bryson
Jessie Chien Bryson grew up spending sunny California Thanksgivings eating 20lb. free-range turkeys along with sides of Chow Mein, which is what she thinks cemented her insatiable interest of food cultures and sustainable methods as an adult. She recently spent two years in Guangzhou, China, where the locals were said to eat anything with four legs but a table and anything that flies but a plane. She's now on the other side of the world in Dar es Salaam, Tanzania, where she keeps a diary of food, travel, and expat adventures at www.jessbopeep.com