A thai-inspired treat made from whole grain black rice and coconut milk.
By Carly DeFilippo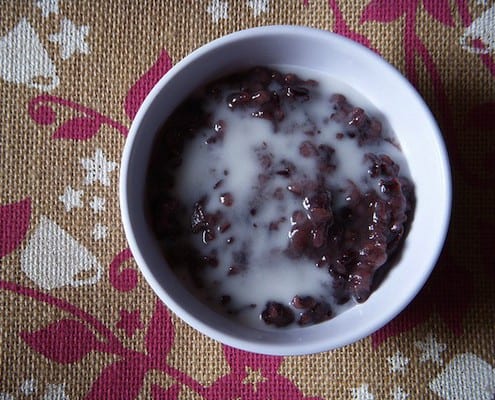 Black rice (a whole grain rice) is rich in iron, fiber and antioxidants. But more importantly, it is the base for my refined sugar, gluten and dairy-free Black Rice Pudding, a sweet and savory treat inspired by traditional Thai recipes.
Black rice (a whole grain rice) is rich in iron, fiber and antioxidants.
Ingredients
1 cup black rice (rinsed and soaked overnight)
2 cups coconut milk (unsweetened)
1⅔ cups water
3 dates, chopped into small pieces
A splash of vanilla extract
Instructions
Rinse and soak black rice overnight.
Boil 2 cups coconut milk and 1⅔ cups water.
While the liquid is boiling, re-rinse your soaked rice.
When your milk/water is near-boiling, grab a new pot. Put the rice in this pot over a low flame, toast it quickly, and then add about half of your boiling liquid.
As time goes on, gradually add the rest of your heated liquid to your rice, testing for texture.
About 30-40 minutes into cooking, add a splash of vanilla extract and your chopped dates.
Test your rice for texture (it should be chewy, not mushy, when cooked) and add extra water if needed.
Remove pudding from stove and transfer to another container to cool.
Notes
This recipe is delicious both warm and cold. Warm, I top the pudding with an extra splash of coconut milk for dessert. Cold, I eat it as is (often for breakfast!).
Carly DeFilippo
Carly is a Contributing Writer at Honest Cooking. Though the first line of her college application essay was "I love tunafish," it wasn't until she pursued graduate studies in Paris that she ever considered a future in food. Based in Manhattan, Carly is a freelance writer and the co-founder of Cognoscenti Creative, a boutique branding agency dedicated to establishing artisans as influencers.