Open faced cups of baklava are topped with slightly-spiced, super-chocolatey ice cream for a party-worthy dessert.
By Alisha Randell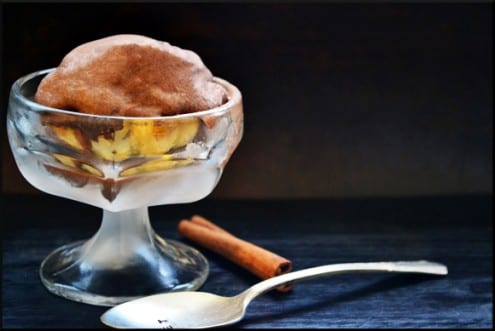 Black Onyx Cocoa Ice Cream in Baklava Cups
Open faced cups of baklava are topped with slightly-spiced, super-chocolatey ice cream for a party-worthy dessert.
Ingredients
For the ice cream
1½ cups half and half
1½ cups heavy cream
3 extra-large egg yolks
2 tablespoons black onyx cocoa
8 ounces quality dark chocolate of at least 60% cocoa
⅛ teaspoon almond extract
⅛ teaspoon cloves, ground
¼ teaspoon cinnamon, ground
Ice cream machine
For the baklava syrup
½ cup raw sugar
¾ cup water
For the baklava
6 sheets phyllo, defrosted
½ cup butter, melted
6 ounces almonds, ground
½ teaspoon cinnamon, ground
⅛ teaspoon cloves, ground
syrup
8-10 mini ovenproof baking cups or mini muffin tins
Instructions
For the syrup
Begin by preparing your syrup. Place water and sugar in a heavy sauce pan and bring
to a boil. Reduce heat to medium and continue to simmer, stirring constantly until
you have reached a syrup like consistency, about 5 minutes or so.
For the baklava cups
Starting with the phyllo, brush each sheet with melted butter then tear or section
into smaller pieces. Line the bottom and up the sides of each cup with your phyllo
making sure each cup has 6 sheets deep.
Place nuts in a small food processor and grind until semi-fine. Place nuts in
a mixing bowl, add spices tossing to incorporate. Add syrup and mix
until fully incorporated.
Layer the inside of your phyllo prepared cups with the nut mixture. Bake
in a pre-heated oven at 350 (F) for just a few minutes until golden.
For the ice cream
Melt chocolate in a double boiler over low heat until melted.
Whisk eggs almond extract and sugar, also heating in a double boiler continuing
whisk until sugar has melted. Slowly add warm half and half, while continuing to whisk.
to whisk. Then slowly add heavy cream doing the same. Now add melted chocolate
and spices, continue to whisk until you achieve a custard consistency.
Strain custard through a mesh sieve into a large bowl. Chill in refrigerator for
at least 2 hours or so to overnight.
Place fully chilled custard mixture into an ice cream machine per manufacturers instruction.
Place a mini scoop of soft serve style ice cream over room temperature baklava cups.
Alisha Randell
Alisha Randell is a former Executive Chef turned Private Chef and Culinary Instructor. She is the Co-Creator/Author of The Ardent Epicure blog "An Ode to the Pleasures of Food". Growing up with a dad as a culinary guide, whom was as well an executive chef, food and seeing food as an art form has been a lifelong passion and exploration.