Chocolate pavlova, chocolate cream and fresh cherries – a plate full of chocolate sugary deliciousness.
By Jennifer Donoghue
Pavlova, it's the quintessential Australian sweet (or New Zealand depending on who you ask).  The Pavlova was created to celebrate the Australian and New Zealand tour of Russian ballet dancer Anna Pavlova.  While both Australians and New Zealander's claim it as their own, one thing is for certain, it's considered a national dessert in Australia.  Whilst it is similar in appearance to a Meringue, the difference lies inside the Pavlova, which is soft and marshmallowy, compared to that of a meringue.  The soft and marshmallowy interior is achieved through the addition of cornflour (corn starch).
Pavlova's come in all shapes and sizes, but commonly they are served with fruit and cream.  For my Black Forest Pavlova I decided to head down the dark path and use chocolate, both in the pavlova and sandwiched between the layers of pavlova by way of a chocolate cream.
See Also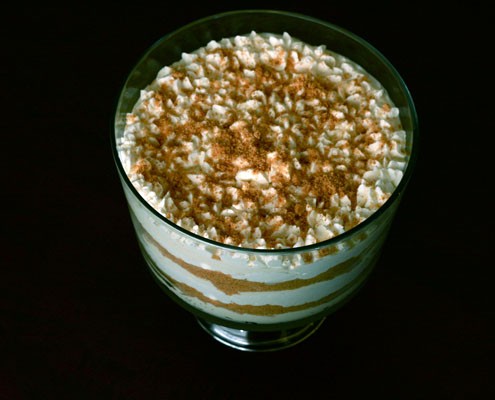 Chocolate pavlova, chocolate cream and fresh cherries…let me tell you, it's a plate full of chocolate sugary deliciousness.
Print
Black Forest Pavlova
Chocolate pavlova, chocolate cream and fresh cherries – a plate full of chocolate sugary deliciousness.
Author:

An original recipe by Jennifer Donoghue

Prep Time:

15 mins

Cook Time:

40 mins

Total Time:

55 minutes

Yield:

8

1

x
PAVLOVA:

6

large egg whites
a pinch of salt

285g

caster sugar

2 tsp

cornflour

1 tsp

white vinegar

1/4 cup

of cocoa, sifted

300g

of fresh cherries, half pitted and cut in half
CHOCOLATE CREAM:

150g

dark chocolate, finely chopped

3/4 cup

double cream

2

tsps of cherry liqueur
Instructions
Preheat the oven to 120 degrees celsius (250 Fahrenheit).
Line a large baking tray with baking paper and trace two 15cm circles, ensuring they are spaced far enough apart. Turn the baking paper over so you can see the circles.
Use an electric mixer fitted with a whisk attachment and whisk egg whites and salt until soft peaks form.
Gradually add sugar, 1 tablespoon at a time until meringue is thick and glossy and sugar dissolved. To test if the sugar is dissolved rub a little of the pavlova mixture between your fingers and if feels gritty continue to whisk until sugar dissolves and the mixture is smooth.
Add cornflour and vinegar and whisk until just combined.
Sift the cocoa over the mixture and carefully fold through with a rubber spatula.
Spread the mixture onto the baking paper, and use a spatula to spread the mixture into the shape of the circles you traced earlier. Smooth the tops so that they will lay neatly on top of one another when assembled.
Bake for 40 minutes, or until the pavlova is dry to touch. Turn off the oven and leave the oven door ajar and allow the pavlovas to cool completely before removing from the oven.
To make the chocolate cream, combine the chocolate and cream in a heatproof bowl over a saucepan of simmering water. Heat until chocolate melts, stirring well to ensure the mixture is smooth.
Remove from heat and set aside for 5 minutes to cool before stirring in the cherry liqueur. Place in the refrigerator for 30 minutes to chill. Remove from the refrigerator and use an electric beater to beat until thickened.
To assemble the place one pavlova on a serving plate and top with 3/4 of the chocolate cream. Top with the pitted and halved cherries. Carefully place the other pavlova on top and top with the remainder of the chocolate cream and decorate with the remaining cherries.
Jennifer Donoghue
Jennifer Donoghue is a passionate foodie from Brisbane, Australia and author of her food blog Delicieux. She's a vegetarian who aims to prove that vegetarian food is not merely the domain of tofu loving hippies. Her vices are salted caramel, champagne, and collecting cookbooks.