A Bite of Fall: Pumpkin Olive Oil Bundt Cake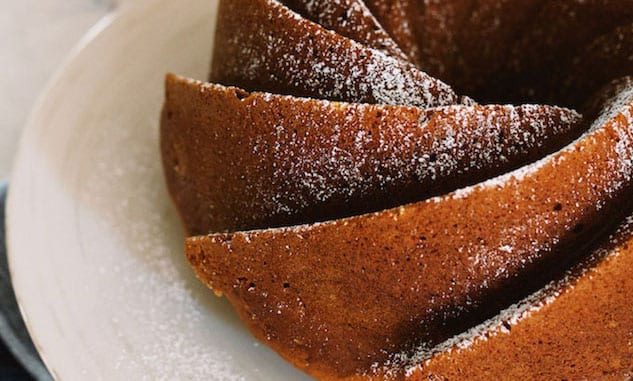 The olive oil in this cake makes it fragrant and moist without being oily. Enjoy the warm, spicy smell emanating from the oven while it bakes.
By Ann Hsu Kaufman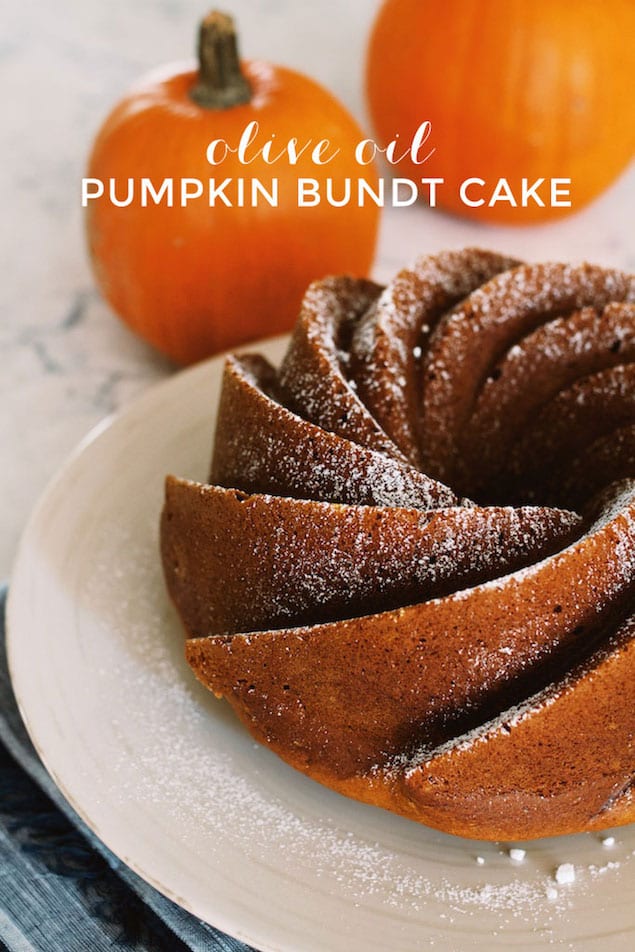 Fall has officially set in at our house.
During the week, it's hard to involve the kids on making dinner every night. Usually they help "make salad," which means practicing chopping vegetables and putting them into a bowl.  My son got a set of these kid-friendly knives for his birthday last month. We've all been surprised to learn that these knives actually work for cutting veggies and fruit. The kids love to snack while they're cutting, so much so that the salad bowl is usually empty before it even makes it to the dinner table. That's fine by me, because it's just another way that they feel like they're "helping" while I get to sneak vegetables into them. Wins all around!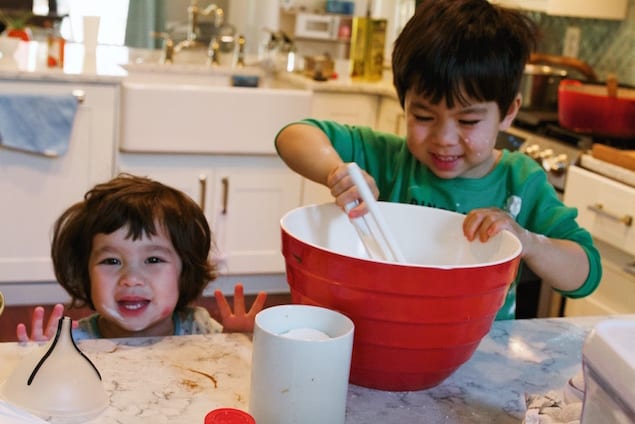 When we woke up last Saturday without needing to rush off to some play date or party, the kids were especially thrilled to have time to bake with me in the kitchen. Sure, it takes me longer to make whatever it is I'm baking, and sure, the mess is like, a thousand times worse when they help, but I think their faces say it all — it's super fun.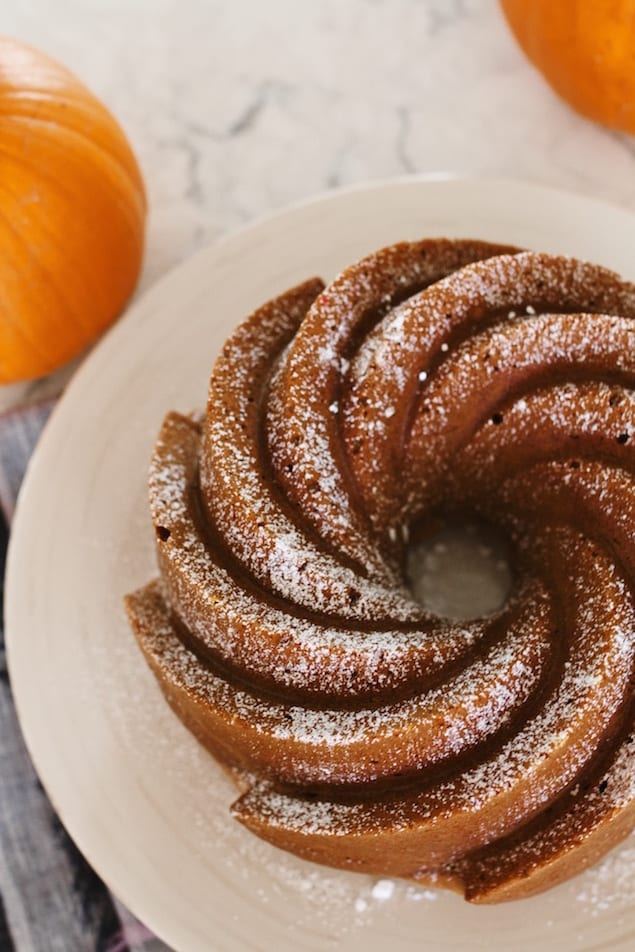 As for the cake itself, the olive oil in this cake makes it super fragrant and moist without being oily. We all loved the warm, spicy smell emanating from the oven while it baked, and I still love that our Heritage bundt pan that we got for our wedding is still popping out gorgeously shaped bundt cakes that look a lot fancier than the actual effort that went into making it. As always, my recipes contain much less sugar than called for in the original recipe that inspired my version – we love sweets in this house, but find that oftentimes recipe call for WAY more sugar than is required to give the cakes the structure it needs.
In sum – we love pumpkins, cake and Saturday mornings covered in flour.
Pumpkin Olive Oil Bundt Cake
The olive oil in this cake makes it fragrant and moist without being oily. Enjoy the warm, spicy smell emanating from the oven while it bakes.
Recipe Type:
Baking, Dessert
Ingredients
1-1/2 cups sugar
1 cup olive oil
3 eggs
3 cups all-purpose flour
2 teaspoons baking soda
1 teaspoon ground cinnamon
1 teaspoon ground nutmeg
½ teaspoon salt
¼ teaspoon ground cloves
1 can (15 ounces) solid-pack pumpkin (or 2 cups freshly roasted sugar pumpkin)
Powdered sugar
Instructions
Preheat oven to 350°.Combine sugar and oil in a large bowl with a rubber spatula until blended.
Add eggs, one at a time, beating well after each addition.
In a separate medium-sized bowl, stir together flour, baking soda, cinnamon, nutmeg, salt and cloves.
Add flour mixture to egg mixture alternately with pumpkin in three batches, beating well after each addition.
Transfer to a greased bundt cake pan.
Bake 60-65 minutes or until toothpick inserted near the center comes out clean.
Cool for approximately 10-15 minutes before inverting onto a wire rack.
Remove pan carefully from cake and cool completely.
Dust with powdered sugar.
Ann Kaufman
Ann Kaufman is an emotional food enthusiast who writes about food at Grits & Chopsticks. When she's not writing about food, she's caring for her two young children, lawyering and thinking about her next meal.