After spending a week eating street food in Bangkok and off the coast of Central Thailand, here are some of our favorite street food items we think everyone should try.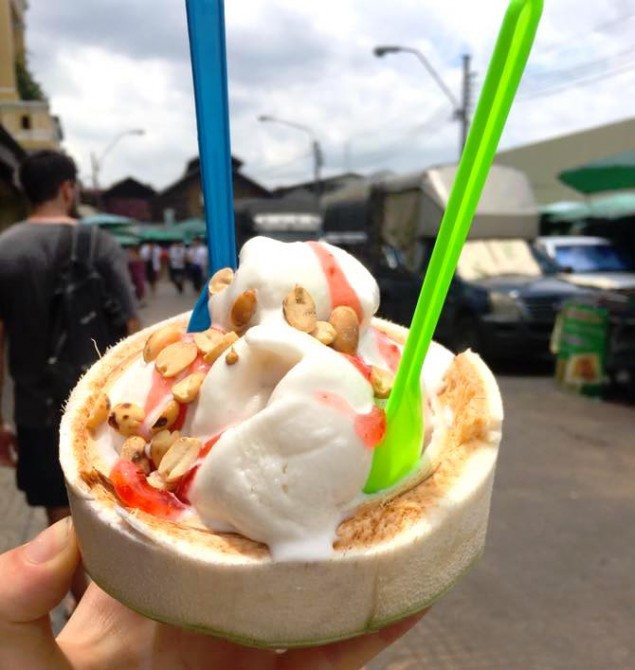 Coconuts
Coconuts in a variety of forms are abundant in Thailand. Enjoy fresh coconut water, charred baby coconuts with water that tastes a bit smokey, or coconut ice cream served inside of a coconut so you can eat the meat too. The ice cream can be topped with syrups and roasted peanuts.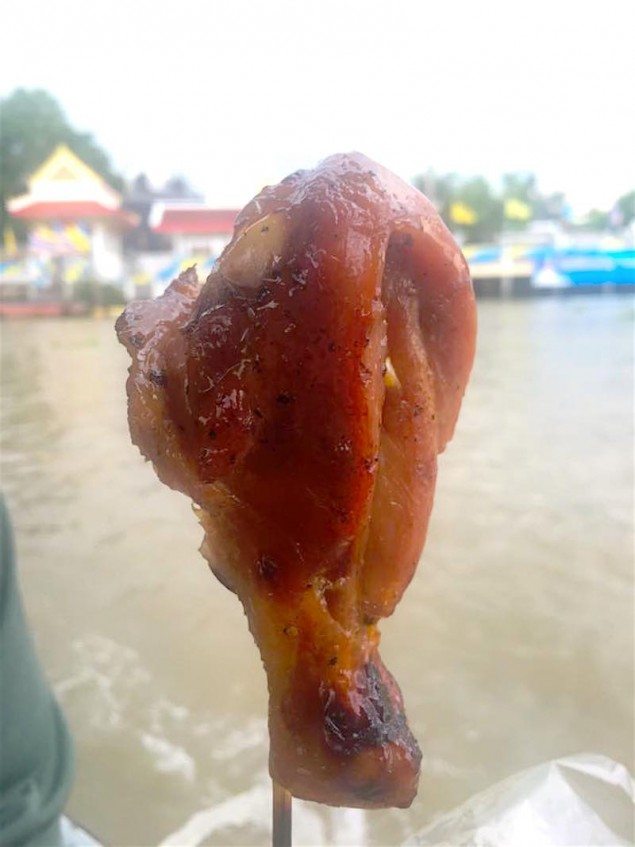 Chicken Leg Skewer on Ko Kret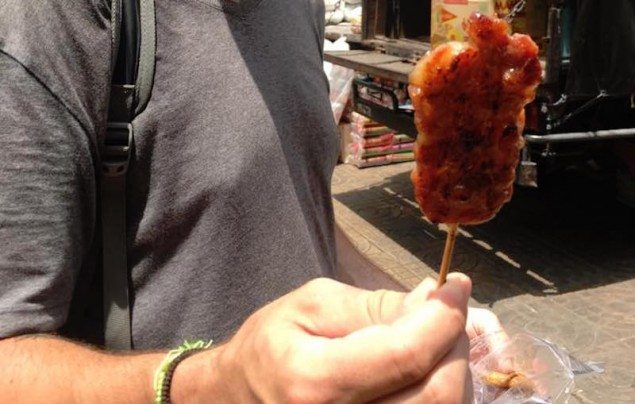 Pork Skewer
Meat on a Stick
From pork skewers to the most tender and flavorful grilled chicken impaled on a stick, Thailand has some amazing meats to be found around every corner. You will run into street carts grilling pork, chicken, fish and more throughout the city streets at all times of the day.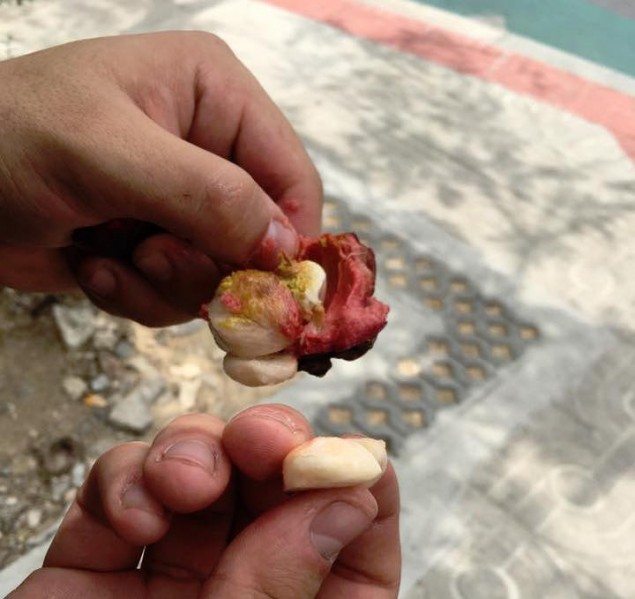 Mangosteens
This thick-skinned fruit is quite unique and cannot be found in the US. You'll be able to purchase about half of a pound from street carts around the city. Don't worry, they stay fresh for a long time and are great to stash in your backpack for a midday snack, but be sure to have napkins on hand. They are sticky! We thought the purple fruit tasted like a cross between a banana and a mango.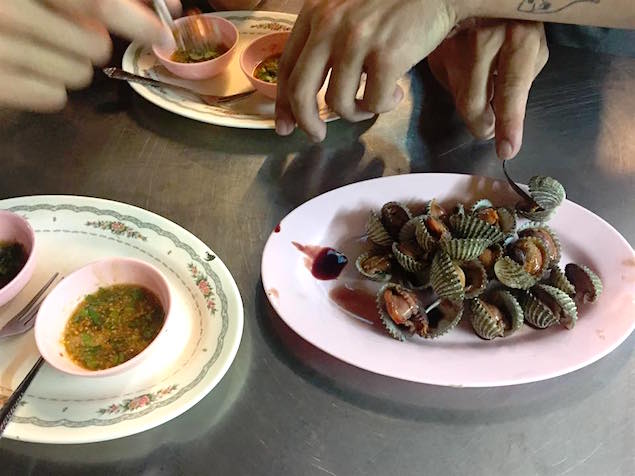 Blood Clams
Blood clams or cockles may sound and look unappetizing, but we are so glad we tried them! As you open the shells and eat the clams, a red liquid from the hemoglobin of the seafood will emerge. They have more of a meaty, rather than briny flavor to them. Please note, if the blood clams that are served are not fresh, they can cause stomach discomfort. We ate clams multiple times at a spot that was recommended to us and never had a problem. Head to the road Soi Texas in Bangkok's Chinatown and you will find Hoy Kraeng Pa Jeen. There are seats available to enjoy your clams with some delicious sour and spicy dipping sauces. Then, stick around in Chinatown to explore more of the delicious food of the area. One bite we tried in Chinatown, and were not sure what it's called, is something that looks like a taco shell, but is full of sweet meringue. Give it a try if you see it!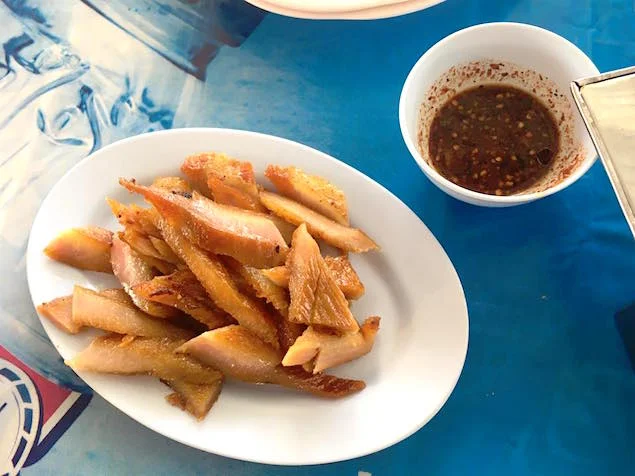 Pork Neck on the Island of Koh Samet
Fried Pork Neck
At most of the sit-down outdoor street eateries you will find a fried pork neck dish. It is extremely cheap and a deliciously fatty bite that we think is a perfect pair with a papaya salad. We couldn't get enough of it dunked in the spicy chili sauces on the table.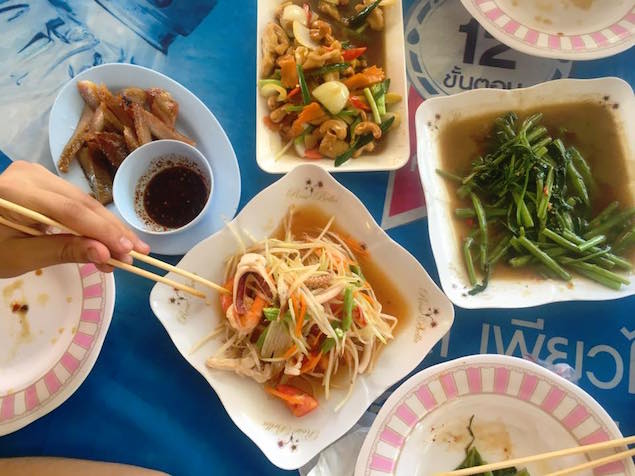 Morning glory is pictured on the right side
Stir-Fried Morning Glory
Like mangosteens, morning glory is one of the produce items of Asia that cannot be found in US. You may also find it called water spinach. We thought it was similar to spinach with thicker stems like kale, but with a unique taste all its own. Most carts and restaurants will serve it stir-fried with lots of garlic, soy bean paste, chilis, soy sauce, and fish sauce. It is a salty, spicy dish that we fell in love with.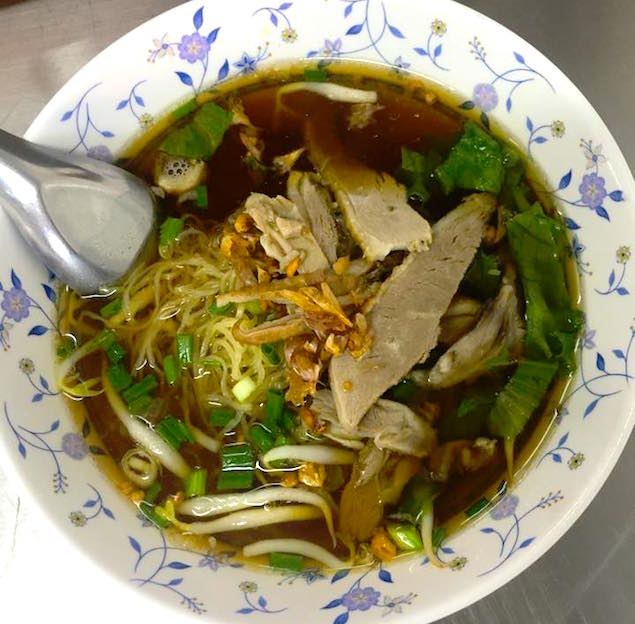 Duck Noodle Soup
Duck noodle soup may be the perfect breakfast or lunch when you are craving comfort food/a hangover cure. It's just fatty enough with spice, protein, and noodles to make anyone feel great and hearty enough to kick off a day of adventuring. We tried a great place along Thanon Chan at Chan 23 Alley.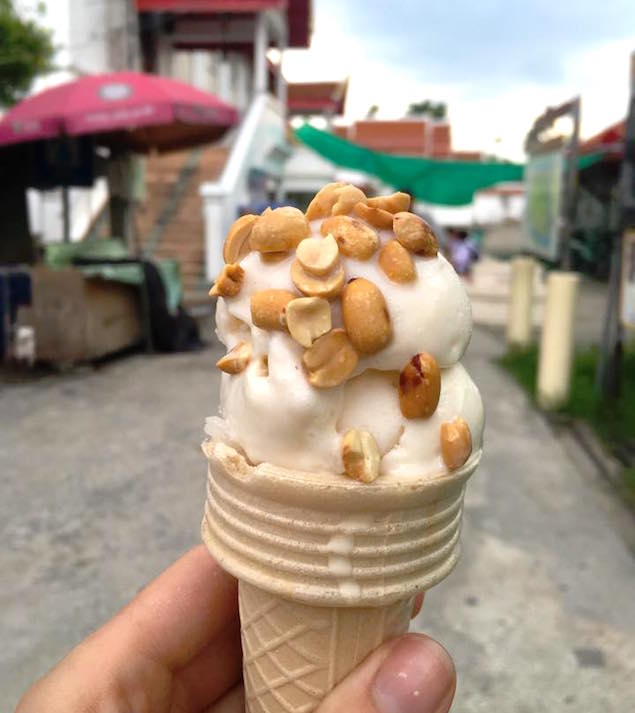 Ice Cream
Most of the ice cream carts in Thailand will have only one flavor of the frozen treat and that is coconut. Think that's boring? Just wait, it's the fixin's that take it over the edge! In the bottom of the cone, you have the option of tucking away a stash of sticky rice and sweet corn. Top things off with roasted peanuts and a drizzle of sweetened condensed milk, sometimes more, depending on the cart. That sticky rice becomes a sweet, surprise at the bottom, especially when the ice cream starts to melt onto it.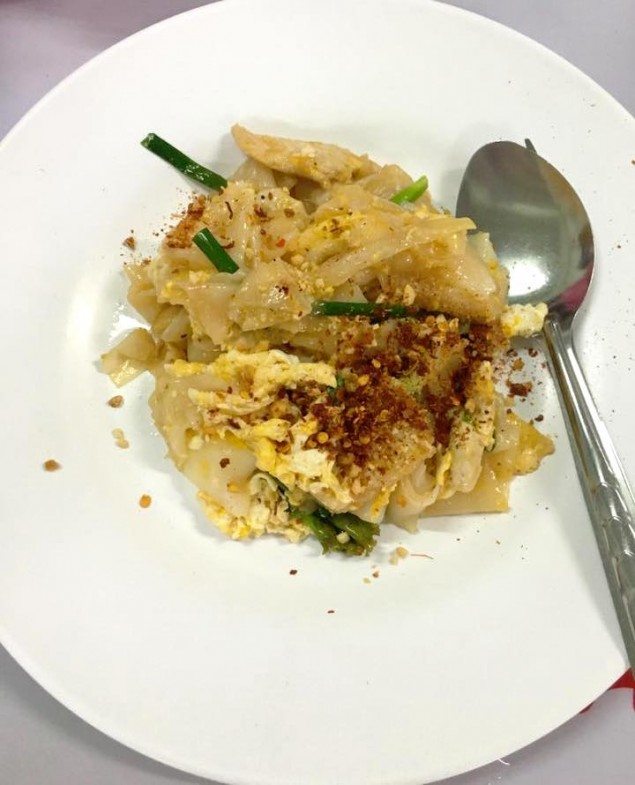 Noodles
There are a variety of noodle dishes across Thailand. While everyone should try a good Pad Thai, be sure to order some dishes that you have never heard of before. Pictured above is a delicious egg and chicken dish served with wide, flat noodles. It was greasy, spice, and so, so good.
Papaya Salad
While we found it hard to take a break from the meats, noodles, sweet fruits, and ice creams, one has to get their vegetable fix at some point. Search out a street cart with a line that is served a spicy cucumber or papaya salad. These dishes are a perfectly refreshing combination of juicy spice and sweet flavors. If the locals are willing to lineup for it, it is bound to be good.The picture featuring the morning glory also shows a plate of seafood papaya salad in the center.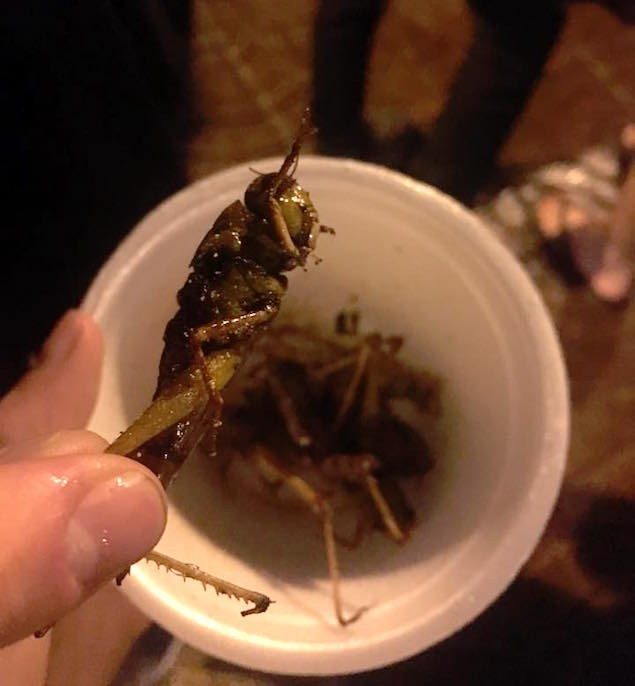 Bugs
This suggestion is not for everyone. However, if you have ever wanted the opportunity to try bugs, now is the time! Stay away from the touristy scorpions served on Khaosan Road and search out a few of the more authentic bug cards, often in Chinatown. We tried the fried crickets, which had a nice crunch, but they were also serving cockroaches, worms and more.
Besides Chinatown, be sure to explore the Little Arabia neighborhood for a unique taste of traditional Arabic food. Do you have a favorite Thai street food? We want to know what it is!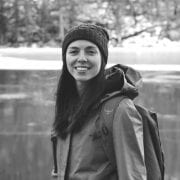 Annelise McAuliffe
Mandatory family outings to the Detroit farmers' market and nightly home-cooked meals cultivated Annelise's respect and curiosity for food. A graduate of The Culinary Institute of America, she spends her free time in New York City recipe testing, eating breakfast all day, and dreaming up international culinary adventures.