The Best of San Francisco's Noodle Scene and How to Make Your Own
San Francisco has become a noodle hot spot and whether you're searching for the best bowl, best ambience, or hippest haunt, this list has something for you. Don't live near San Francisco? Not a problem, try this recipe for Udon Noodle Soup.
By Laura Rothman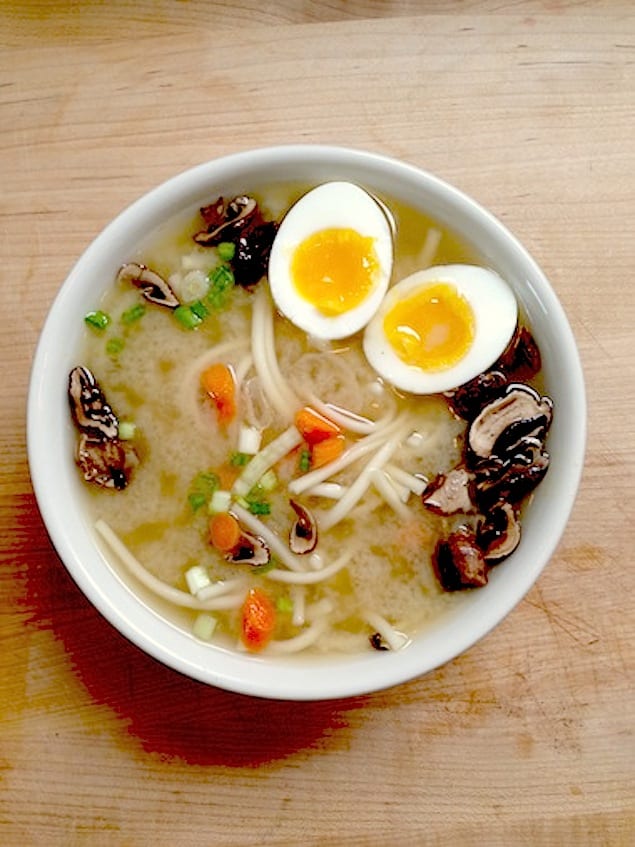 San Francisco has become a noodle hot spot. "Hot spot" might even be an understatement. At any time of day, for any price, you can get a luscious bowl of noodles. Neighborhoods such as The Richmond and Japantown have always boasted scores of noodle shops, but the trend is quickly spreading across the city. The Mission, Downtown, The Castro, and Outer Sunset each possess an equally appetizing noodle spot. Whether you're searching for the best bowl, best ambience, or hippest haunt, this list has something for you!
Don't live on the West Coast? Scroll down for an easy-to-make Udon Noodle Soup.
Places to try:
Ken Ken Ramen (Mission District, 3378 18th St, San Francisco, CA)
With an amazing number of ramen options considering the size of the restaurant, vegans, vegetarians, and meat-eaters alike can find something delicious to eat. (Don't miss the Karage!, or chicken wings. They make the long wait very bearable.)
Jasmine Garden (708 14th Street, San Francisco, CA)
Better for takeout, Jasmine Garden's pho is inexpensive, abundant, and delicately flavored. With each order, you get noodles, broth, herbs, spicy peppers, bean sprouts, and fried garlic, all combining to make a scrumptious soup.
Mau (665 Valencia St, San Francisco, CA)
Located on the Valencia Corridor, Mau boasts delicious Vietnamese food and great people watching. The noodles are plentiful, as are the appetizers. Might I suggest starting with the spring rolls?
PPQ (1816 Irving St., San Francisco, CA)
Totally barebones, PPQ (an abbreviation of Ph? Phù Qu?c) serves delicious noodles and other Vietnamese cuisine. Go for the ph? bò, bún, and traditional Vietnamese coffee. Service is quick and efficient.
Katana-Ya (430 Geary St, San Francisco, CA)
The smallest restaurant on this list, Katana-Ya serves divine ramen out of their Union Square shop. Don't be disheartened by the long wait, the steaming bowl of noodles can fix almost anything.
Rice Paper Scissors (1710 Mission Street, San Francisco, CA)
This little pop-up restaurant serves lunch out of Brick and Mortar. Go for the different noodle salads, they are fresh and tasty, beginning to have the plate licked clean!
M.Y. China (845 Market St, San Francisco, CA)
Located in the basement of the Westfield shopping center, M.Y. China is Martin Yan's new addition to the Chinese food scene. With world champion noodle dancers to watch, taste buds and eyes will leave satisfied!
Don't live near San Francisco? That's not a problem! Here's a recipe for Udon Noodle Soup.

Udon Noodle Soup
Make this Japanese noodle soup at home to fight off the cold weather!
Recipe Type:
Soup, Main Dish
Ingredients
Broth:
1 ¾ cups chicken stock (homemade or bought)
¼- ½ cup water
¼ cup white or red miso
3 slices fresh ginger
Fish sauce and soy sauce to taste
Accouterments:
½ pound udon noodles (Japanese wheat noodles)
½ cup sliced carrots
6-10 sliced mushrooms (brown buttons work well)
2 green onions, sliced diagonally
2 eggs, soft or medium boiled
Instructions
Heat chicken stock, water, and fish sauce (or soy sauce) over medium-high heat. Once it reaches a boil, reduce temperature to low, and simmer for five minutes. Place miso paste in a small bowl and slowly add ¼ cup of hot broth. Stir until the miso dissolves into the broth and pour back into the remaining broth.
For the noodles, fill a large pot half way with water and bring to a boil. Add noodles and return water to a boil for 3-4 minutes until the noodles are cooked al dente. Strain noodles and set aside.
Put carrots, mushrooms, and noodles into broth. Heat for 2 minutes on medium-low heat to let the vegetables cook a little and absorb the flavor. Ladle soup into bowls, making sure to get a little bit of everything. Add egg, sliced in half, and garnish with green onions.
Enjoy!

Laura Rothman
Laura Rothman is a San Francisco native with an appetite that rivals that of the Ancient Romans. She has cooked in restaurants, sampled copious amounts of coffee, and has traveled far and wide across the continents. Along with a zeal for food and travel, Laura has a love of the written word. She majored in English at Kenyon College in Ohio and is rarely found without a book or magazine nearby.