The kids are back in school, fall sports and activities are in full swing, and the relaxed summer mood has gone out the window along with the blistering heat. While we may miss vacation season, we are excited for the cozy feeling of fall. To get us in the spirit, even if we have limited time, we have gathered our favorite quick recipes perfect for a last minute dinner on a weeknight.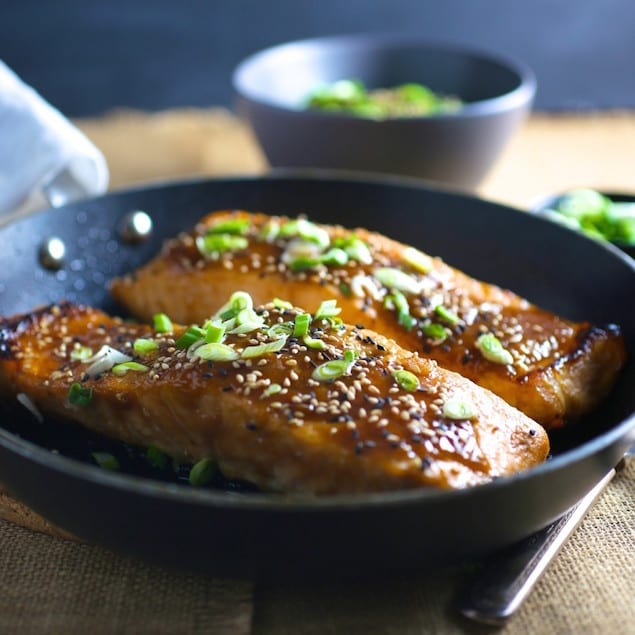 www.nerdswithknives.com
30 Minutes: Miso Glazed Salmon
Quick or not, this is an amazing salmon recipe. Miso, ginger, scallions, and sesame seeds bring full-bodied flavor to a simple dish. Serve with steamed rice or noodles, and a variety of matching vegetables for a complete meal. Find the recipe here.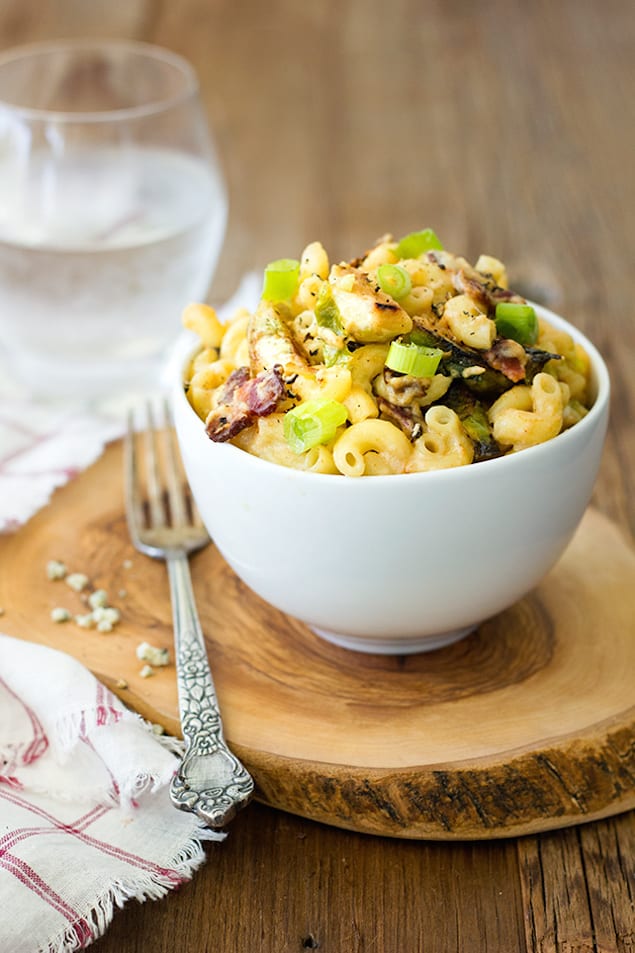 40 Minutes: Blue Cheese, Bacon, and Brussels Sprouts Macaroni and Cheese
Blue cheese adds some twang to classic mac and cheese with crispy bacon, golden brussels sprouts, and a touch of paprika for a flavor explosion in an easy, one-dish meal that's perfect for any busy night. This dish is the perfect segue into fall foods. Find the recipe here.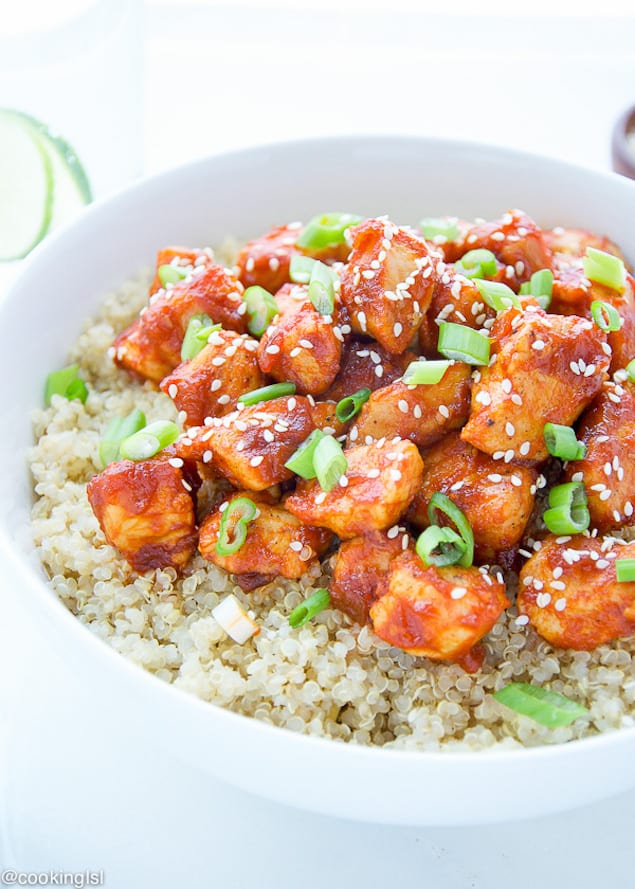 wwwcookinglsl.com
30 Minutes: Honey-Sriracha Chicken Over Quinoa
It doesn't take much to make this vibrant quinoa bowl packed with flavor. Take your favorite spicy sauce, feel free to use a different hot sauce from sriracha if preferred, combine with honey and lemon juice and sauté with the chicken until done. Cook the quinoa at the same time and you could have dinner on the table with time to spare. Try adding a cooking green, like spinach or bok choy, to the chicken as well for a complete meal. Find the recipe here.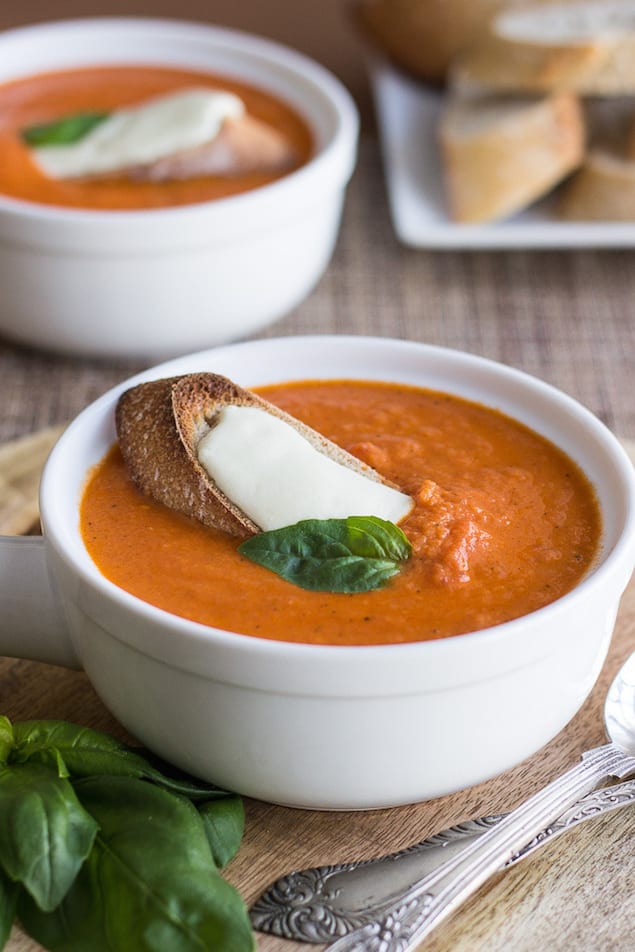 www.thebeachhousekitchen.com
40 Minutes: Creamy Tomato Basil Soup with Cheese Toast
A classic tomato soup is taken to a new gourmet level with spicy chili flakes and fresh basil. Serve with garlic and mozzarella toast for a delicious way to soak up the cream soup. Find the recipe here.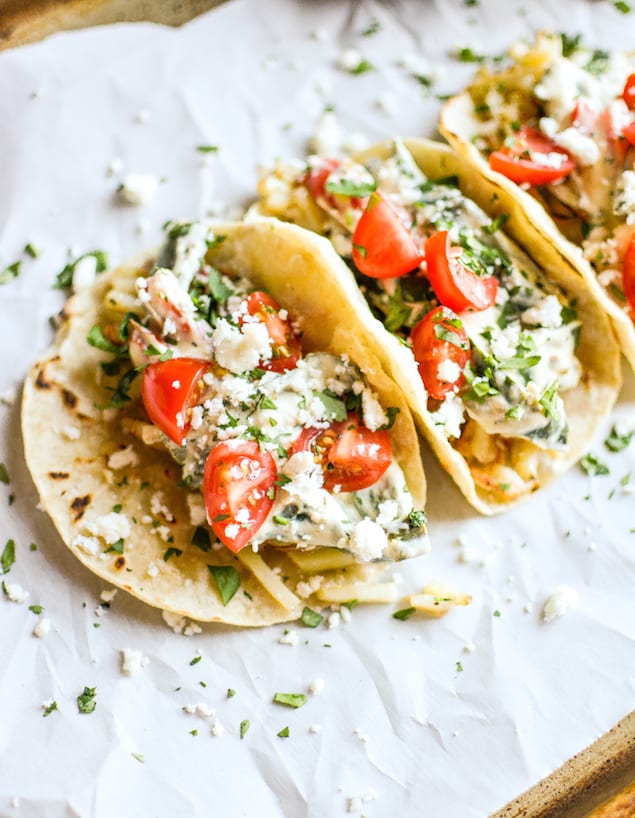 www.cookingandbeer.com
30 Minutes: Vegetarian Pepper and Potato Tacos
This is a perfect taco dish that is anything but boring and still vegetarian. Sweet red bell peppers, poblano, hatch and jalapeño are roasted to perfection and with sautéed onion and cheeses. Serve in corn tortillas with fried potatoes and fresh cilantro, cherry tomatoes and cotija cheese. Yum! Find the recipe here.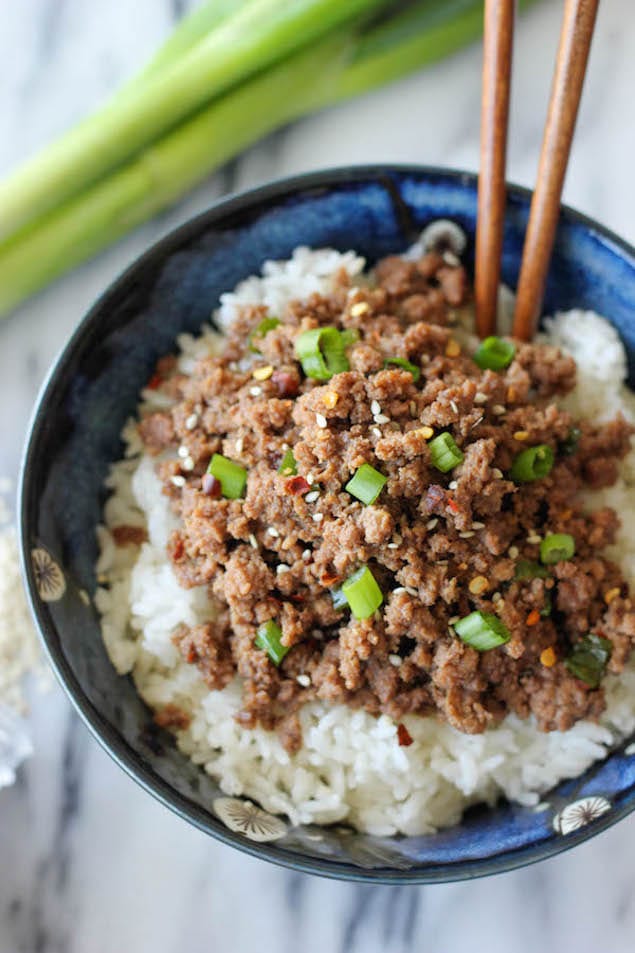 www.damndelicious.net
15 Minutes: Korean Beef Bowl
Whisk together a quick dressing, sauté garlic, add in meat and you're almost done! This recipe is insanely easy and can be served with rice inside of a lettuce wrap for a complete dinner. It's even faster than take-out! Find the recipe here.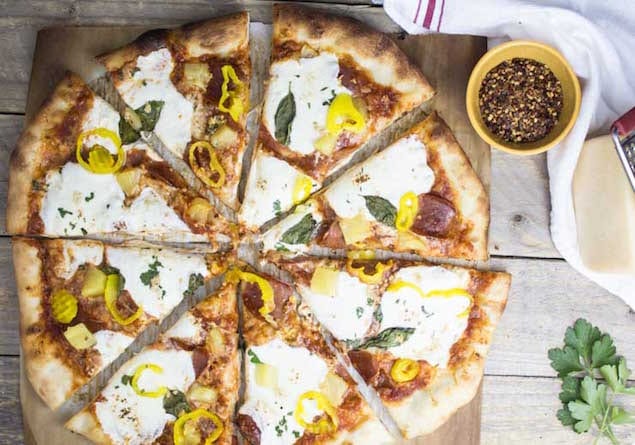 www.southernfatty.com
55 Minutes: Homemade Pizza
You never thought you would see homemade pizza dough on this list did you? While this is not the fasted recipe listed here, with some simple planning this easy dough can become a weeknight staple. Consider making a larger batch than you need and storing in the freezer for the next time you are in a time crunch. Find the recipe here.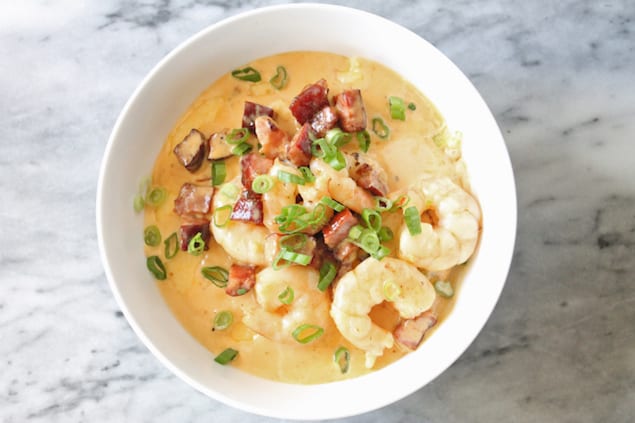 www.perpetuallyhungryblog.com
45 Minutes: Shrimp and Grits
This recipe does not call for instant grits and it is still fast. Use a quality grain and serve with creamy, spicy shrimp and andouille topping. This is autumn comfort food at its finest. Find the recipe here.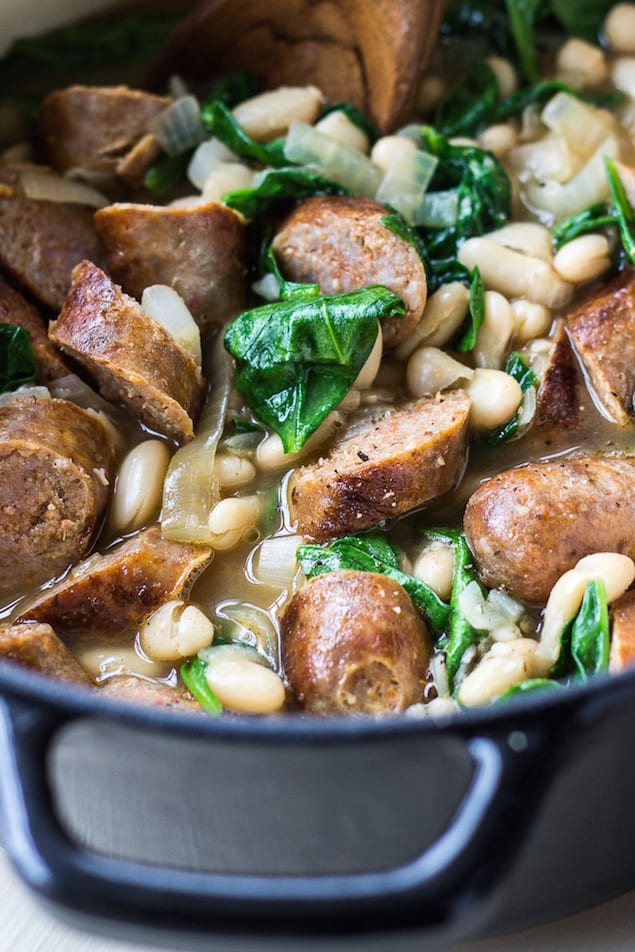 www.thebeachhousekitchen.com
40 Minutes: White Bean and Chorizo Stew
Hearty, healthy, and flavorful, a delicious stew will warm you on a crisp fall day. Simple ingredients make up this warm bowl and it is easy to make extra to stock away in the freezer or for lunch leftovers. Find the recipe here.
See Also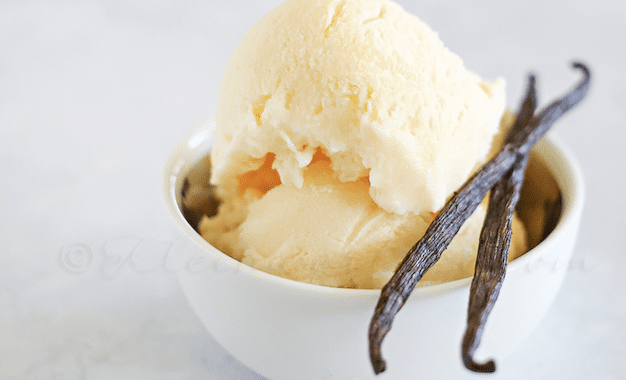 www.joythebaker.com
10 Minutes: Lasagna Grilled Cheese
Lasagna takes a long time to make, however, grilled cheese does not. However, if you sneak the ingredients of the baked dish between two slices of bread you can have the same homey flavors in a matter of minutes. Find the recipe here.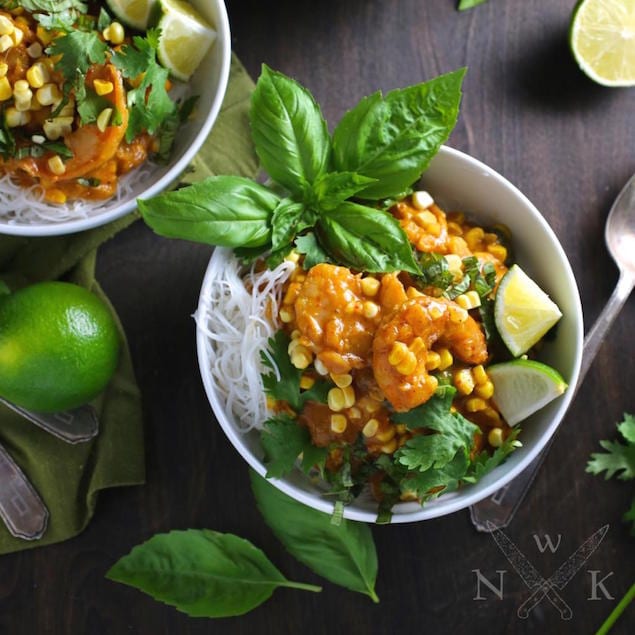 www.nerdswithknives.com
30 Minutes: Coconut Curry Noodles with Shrimp
This fiery red curry is cooled by coconut milk and topped with bright herbs like mint, basil and cilantro. Add protein with shrimp, chicken, tofu, or even chickpeas would be a delicious vegan option. Serve over rice noodles that can be cooked in minutes for a vibrant dish in color and flavor. Find the recipe here.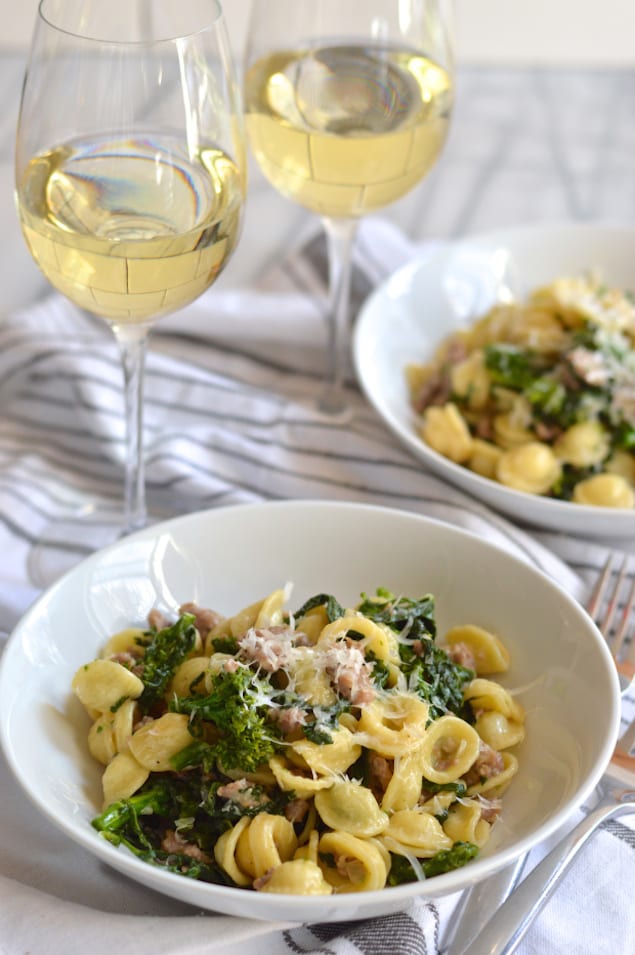 www.brooklynhomemaker.com
35 Minutes: Orecchiette with Sausage and Broccoli
Besides some good Italian pasta and sausage, all you really need for this recipe is a bunch of broccoli rabe and a dry white wine. This bitter and creamy dish is satisfying and easy to throw together. Find the recipe here.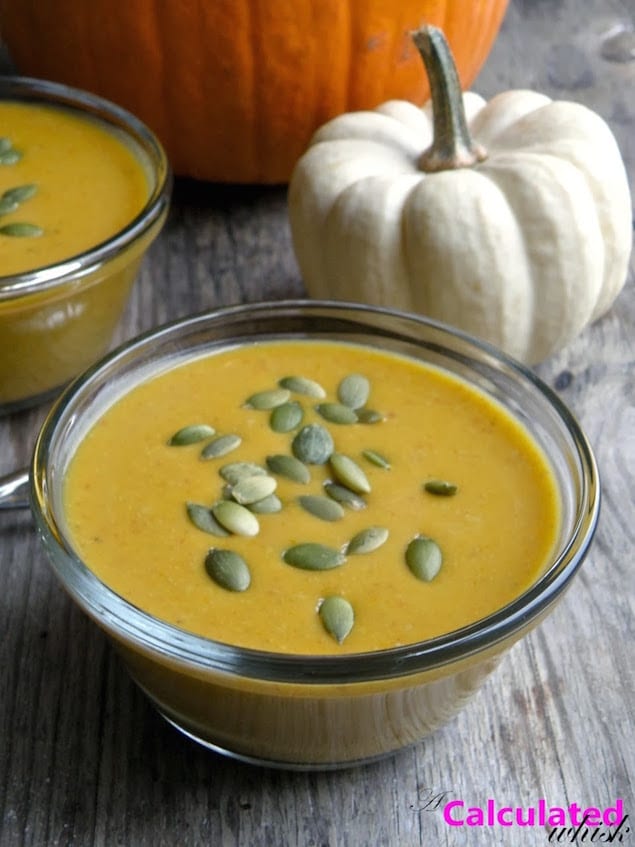 www.acalculatedwhisk.com
30 Minutes: Curried Pumpkin Soup
There are few things as fall-ish as pumpkin. Make a bowl of pumpkin soup with warming curry spices and you are in full fledged autumn territory. Make this flavorful soup topped with pumpkin seeds for a hearty bowl of seasonal tastes. Find the recipe here.
What's your favorite quick dish when you are scrambling to get dinner on the table? Let us know in the comments!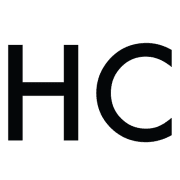 Honest Cooking
The Honest Cooking editorial team handpicks inspiring culinary stories to share with you that we think are beautiful. We strive to create an inspiring place for culinary exploration, salivating recipes, interesting personalities and stories.