Have a very Happy New Year with this NYE menu and beverage pairing from Honest Cooking.
By Kalle Bergman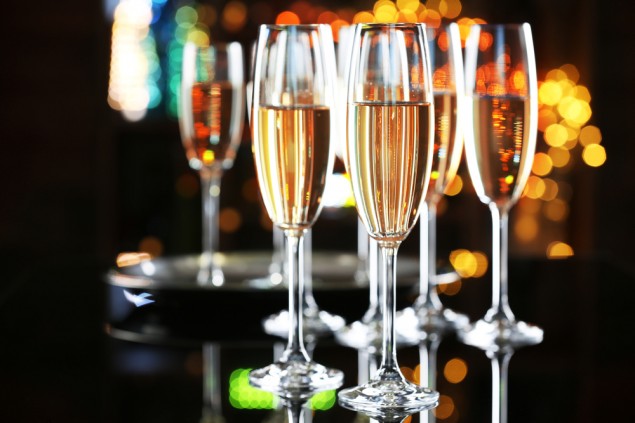 Ok, we admit it. We tend to spend most of New Year's Eve (and the days leading up to) in the kitchen here at Honest Cooking. Why? Because it is the perfect occasion to get ambitious in the kitchen without having our significant others blaming us for not spending as much time on human interaction as we do on chopping onions or blending things. It is, after all, New Year's Eve – and nothings says "special occasion" as well as a great meal paired with equally great libations. So while we leave decorations and styling tips to others, we focus on what really matters – the perfect New Year's Menu, with the perfect wine pairing to go along.
This year, our menu is international in scope, with inspiration taken from all across the globe. We start out with some light snacks from the ocean, and then move on to a celebration of the vegetable kingdom before presenting a truly carnivorous main course. Leave some room for a light but indulgent dessert – and of course a piece of delicious cake for when the ball drops. For wine, we have chosen a combination of classic and little more unexpected pairings to each dish – giving you the option to go in different directions throughout the meal. Enjoy!


—-

2015 NEW YEAR'S EVE MENU

—-
SNACKS

Crème Fraîche and Buckwheat Blinis with Salmon Roe
GET THE RECIPE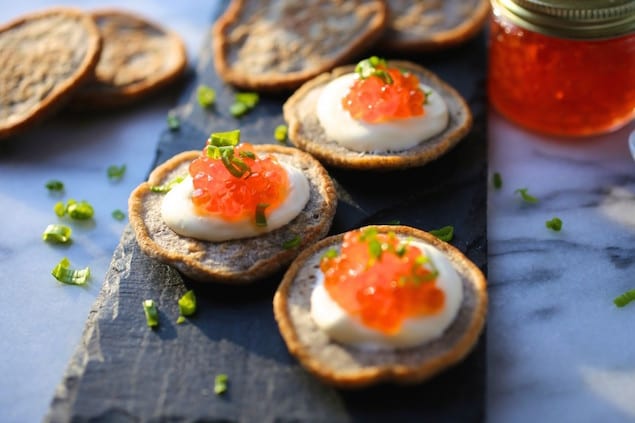 PAIR WITH
You will never go completely wrong by starting New Year's celebration with a good glass of bubbly, and for this snack it is the obvious choice. While Champagne is our drug of choice in general, don't frown upon great Californian sparklers like the Patz & Hall Brut or the Mumm Napa Brut Reserve Rosé. If you want to go really decadent, but stay clear of bubbles, the Chateau D'Esclans Garrus Rosé is considered one of the most exclusive in the world – and it will pair very well with the light flavors of this snack. For an unexpected start to the meal, check out a late harvest Riesling, like the Nederburg.
Bubbles:
Mumm Napa Brut Reserve Rosé, Napa Valley
$21
2012 Patz & Hall Brut Sparkling Wine
$45
Still:
Chateau D'Esclans Garrus Rosé
$100
Alternative:
Nederburg Special Late Harvest Riesling
$12.99
—-
Baked Oysters with Chive Butter and Aioli
GET THE RECIPE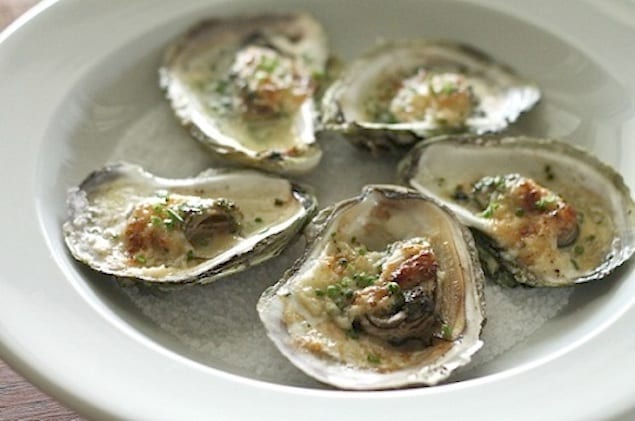 PAIR WITH
Oysters obviously also go well with Champagne, and a Charles Heidsieck is probably our favorite bottle to serve with oysters of any rendition. A Sauvignon Blanc is another classic pairing for mollusks, and always hits the spot. But, if you want something else in the glass here, a small serving of seasonal beer will be a fine match to this dish.
Bubbles
Charles Heidsieck Brut Reserve
$65.00
Still
SIMI Sonoma County Sauvignon Blanc
$15.99
Alternative
Anderson Valley Winter Solstice Seasonal Beer
$10.99 (/6)
—-
APPETIZERS
Crème Ninon – Bubbly Green Pea Soup
GET THE RECIPE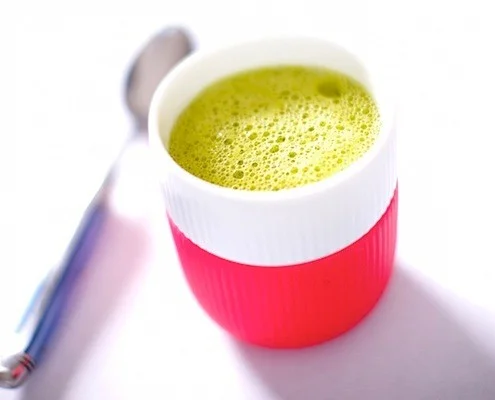 PAIR WITH
We are sticking with white wine here. The obvious choice is to use the same sparkling wine you use to serve the soup, but another route is to pick up on the sweetness and creaminess of the soup with a rich Chardonnay that can really lift the dish to higher grounds. If you are more into a blend, consider a Rhone-style white like the Fable Mountain Vineyards Jackal Bird 2012 from South Africa.
Bubbles:
Veuve Clicquot Yellow Label Champagne
$45
Still:
Gary Farrell 2013 Chardonnay, Russian River Valley
Buty 2014 Conner Lee Vineyard Chardonnay
$42
Alternative:
Fable Mountain Vineyards Jackal Bird 2012
$35
—-
Purple Gnocchi with Ricotta
GET THE RECIPE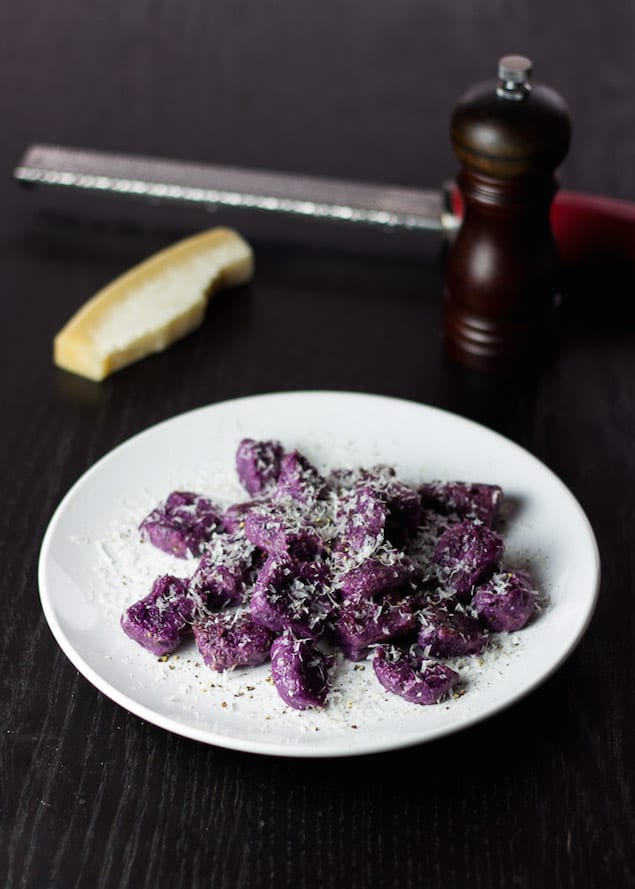 PAIR WITH
For this course, we can choose to do another white wine, move to a lighter red, or serve a bubbly rosé as a third alternative. The idea is to balance the relative richness of the dish with a wine that can add some freshness and vibrance. The 2014 J.Lohr Wildflower Valdiguié, served chilled, is a fun (and cheap) choice.
Bubbles:
Scharffenberger Non Vintage Brut Rosé Excellence, Mendocino County
$22.99
Still:
Cambria Estate 4 Clone Chardonnay
$20
Alternative
2014 J.Lohr Wildflower Valdiguié
$10.99
—-
MAIN COURSE

Hazelnut, Cumin and Orange Crusted Rack of Lamb
GET THE RECIPE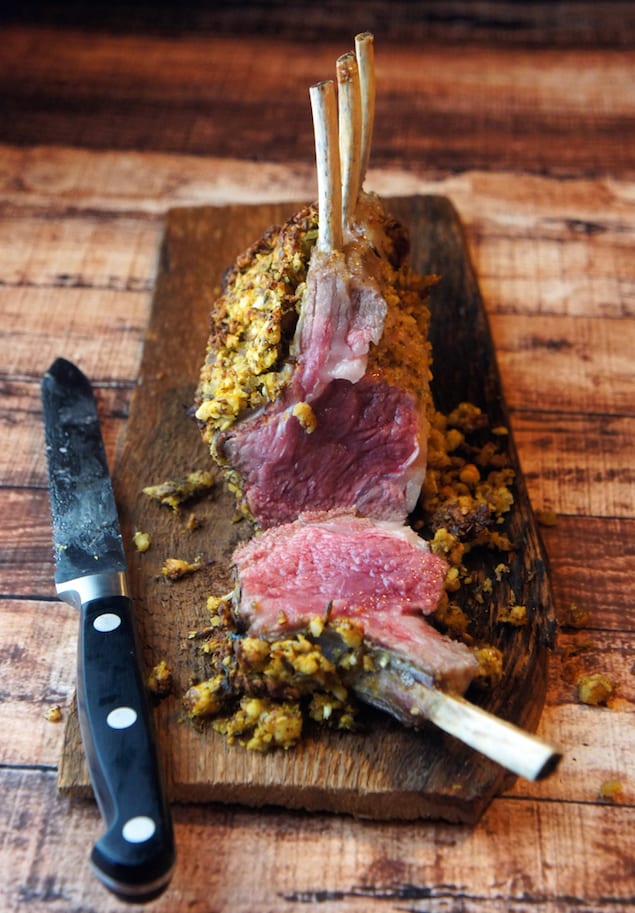 PAIR WITH
There is no way around red wine for this dish, but we can choose between lighter and heavier routes for this dish. The cumin and orange lends itself well to a Pinot Noir (the lighter choice), whereas the lamb and hazelnut works beautifully with a bigger and bolder wine like a Châteauneuf-du-Pape blend or a juicy Merlot. If you want to surprise your guests, try a Pinotage. With its robust tobacco flavors, it is not for everyone, but it will pair really nicely with this dish.
Lighter:
Domaine Anderson Pinot Noir 2013
$39.95
Gehricke 2013 Pinot Noir, Los Carneros
$39.99
Bigger & Bolder:
Oso Libre Winery 2012 'Carnal,' Paso Robles
$46
Duckhorn Vineyards 2012 Napa Valley Merlot Three Palms Vineyard
$95
Donkey & Goat 2013 Five Thirteen, (Grenache, Syrah, Mourvedre, Cinsault & Counoise)
$35
Alternative:
Nederburg Pinotage
$11.99
—-
DESSERT
Green Tea Panna Cotta with Chocolate Soil
GET THE RECIPE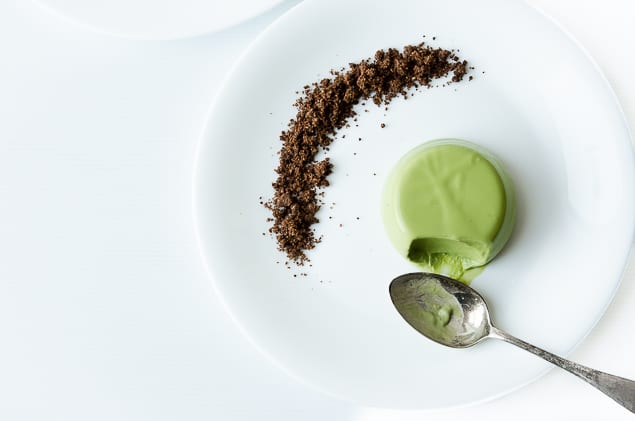 PAIR WITH
This desserts lends itself to several different options. With the earthiness of the chocolate soil, the creaminess of the panna cotta and the oriental green tea flavors – there is more than one way to go. A richer Champagne works well (like the fabulous Piper Heidsieck Rare), or you can move to a dessert wine like the interesting Stinson Vineyards 2013 Imperialis, which is a port style wine made from Tannat grapes. For the unexpected choice, go with a Cabernet Sauvignon that can hold its own against the chocolate soil as well as the green tea flavors.
Bubbles:
Piper Heidsieck Rare, 2002
$145
Still:
Stinson Vineyards 2013 Imperialis, Virginia
$31
Alternative:
SIMI Landslide Vineyard Alexander Valley Cabernet Sauvignon
$35
—-
FOR NEW YEAR COUNTDOWN
Danish Kransekage
GET THE RECIPE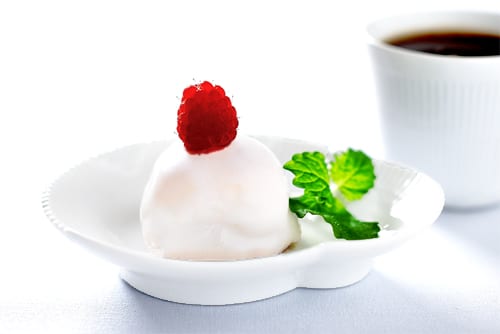 PAIR WITH
Ok, so here you really do not have a lot of choice. The Danish New Year's cake should really be served with Champagne, and Champagne only. But if you don't want to splurge on yet another bottle of Champagne (after all, tastebuds tend to get a little bit impaired towards midnight) for when the ball drops, a fruit forward sparkler can also do the trick here.
Bubbles:
Nicolas Feuillatte Brut Reserve Champagne
$35
Still:
You really shouldn't do still wine for midnight. Stick with bubbles!
Alternative:
Korbel California Blanc de Noir
$12,99
—-
HAPPY NEW YEAR!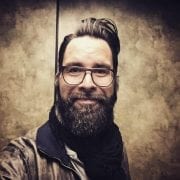 Kalle Bergman
Kalle Bergman is a food writer and media entrepreneur who is the founder of Honest Cooking. As a food writer, his writing has been regularly featured in publications like Gourmet, Los Angeles Times, Huffington Post and Serious Eats. He is obsessed with simple food, more often than not from his native Scandinavia.