The best part? You can prep it all the night before with minimal effort.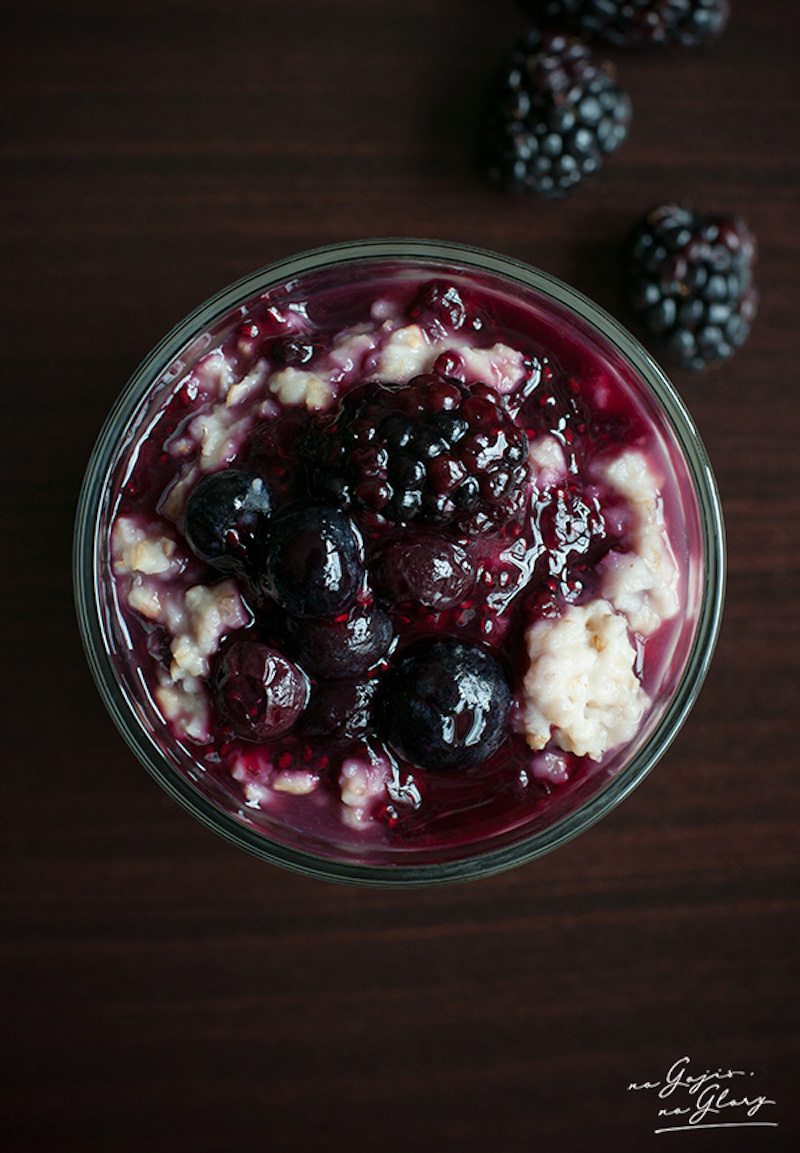 I don't know about you, but I'm SUPER lazy when it comes to breakfast. Actually, it's kind of a new issue; I used to throw down in the kitchen for breakfast. Waffles and homemade sausage were a regular thing…but not anymore. Those recipes are now reserved for special occasions. I know we're all pretty busy these days, and what we need are uber quick and faceplantable breakfast options before heading out the door. As for me, I need something quick to devour when I come back from my morning runs. Most of the time, that means a quick concoction of scrambled eggs and veggies, but it sure is nice to switch it up every once in awhile.
JUST A FEW THINGS
See Also
Don't sub steel cut oats for rolled oats – That is unless you fancy a big soggy mess. Steel cut oats take much longer to cook since the oat groat is simply cut in pieces vs being steamed and rolled flat.
Don't skip the chia! Chia seeds produce a gel when introduced to liquid, and this is exactly how you'll naturally thicken the berry compote. You'll also benefit from the extra dose of protein, fiber and omega 3s.
Sweeten only if you REALLY need to – Like if you feel like you're gonna die if your compote isn't sweeter, then go ahead and add a natural sweetener like raw honey during step 3 of the cooking process. But, the natural sweetness from the fruit is pretty darn good.
Print

---
For the Oats
1.5 cups

steel cut oats

5 cups

almond milk
? tsp salt

½ tsp

ground cinnamon (optional)
For the Berry Compote
3 cups

frozen mixed berries (I used a combo of blackberries and blueberries)

5 tbsp

all natural orange juice (If you prefer to squeeze your own like I do, it'll take about

3

medium oranges.)

2½ tsp

chia seeds
---
Instructions
Add the ingredients for the oats to a slow cooker, and stir to combine; secure the lid.
Set the slow cooker to low and let the oats cook for 8 hours; stir well when done.
To make the berry compote, heat berries and orange juice over medium heat in a small saucepan. Cook for 10-12 minutes (stirring occasionally) until the juice released from the berries has sweetened and reduced a bit.
Remove from heat, and add to a storage bowl. Stir in chia seeds and refrigerate when cooled.
In the morning, simply serve the berry compote over your oats, and enjoy! Alternatively, you can pop the compote in the microwave for a minute if you prefer not to eat it cold.
Christine Arel
A family history of diabetes, high blood pressure and heart disease is what sparked Christine's interest in healthier cooking. As creator of the blog 'No Gojis No Glory', much of her time is spent whipping up healthier versions of everyday favorites. When not in the kitchen, exploring the culinary and fitness scenes in New York City are her favorite pastimes.