Berries and Cream Vanilla Cake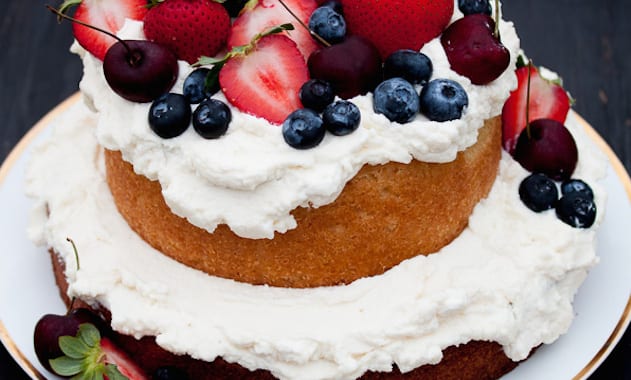 A beautiful display of summer fruit layered with simple vanilla cake and freshly whipped cream. Soft, moist, fluffy, and fruity, celebrate the end of fruit season with this winner.
By Lail Hossain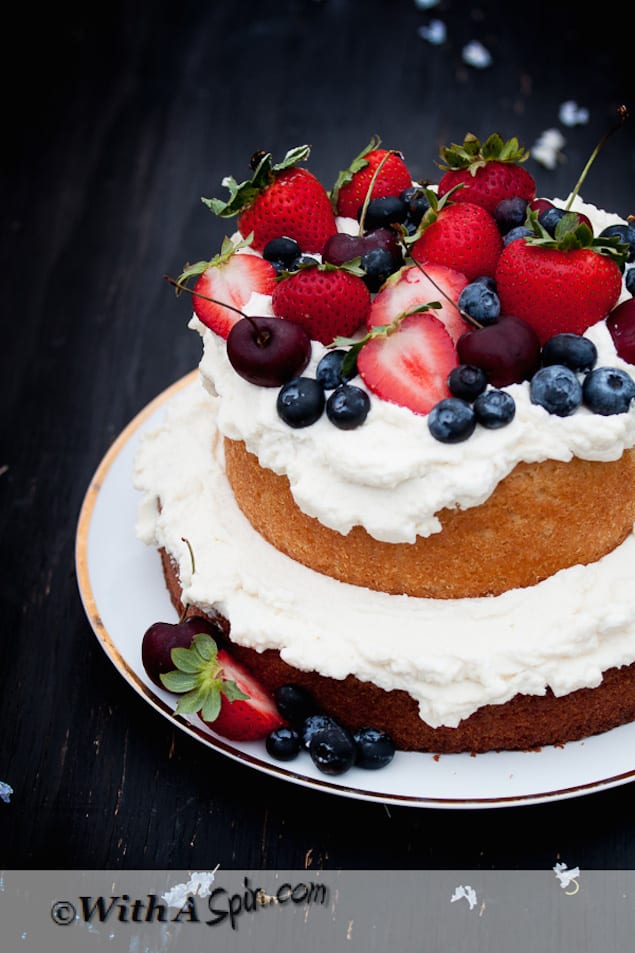 A soft, moist, fluffy very berry summer cake. What can be better than a cake layered with freshly prepared whipped cream and fresh berries and cherries?

Berries and Cream Vanilla Cake
A beautiful display of fruit with simple vanilla cake and whipped cream. Soft, moist, fluffy, and fruity, celebrate the end of fruit season with a winner.
Ingredients
For the cake:
2 ½ cup all purpose flour
2 teaspoon baking powder
1 cup butter
1 cup oil (canola, vegetable, olive, etc.)
1 ½ cup sugar
6 eggs
2 teaspoon vanilla
2 teaspoon orange juice
For whipped cream frosting:
2 ¼ cup whipping cream
6 tablespoons powdered sugar
1 teaspoon vanilla
For decoration:
Strawberry, blueberry, and cherry or other fresh fruit of your choice
Instructions
Prepare the frosting in a bowl by beating the whipping cream with powdered sugar and vanilla until stiff peak forms. Cover and refrigerate until ready to use.
Grease or line with parchment paper a 9 inch and an 8 inch round pan. Set aside.
Pre-heat oven to 350 degrees Fahrenheit
In a large bowl, mix flour, and baking powder. Set aside.
In a separate bowl, beat butter, oil and sugar until combined.
Add eggs, one at a time, beating well after each addition. Mix vanilla and orange juice.
Add flour mixture and beat on low speed until combined.
Bake 35 to 40 minutes or until golden and a wooden pick comes out clean.
Cool in pan on wire rack for 10-12 minutes.
Remove from pan and cool completely.
To decorate, spread dollop of whipped cream on the cooled cake and adorn with fresh fruits.
Notes
If you like your cake to be very sweet you can add up to 2 cups of sugar in place of 1 ½ cups.
Lail Hossain
Lail Hossain finds cooking to be an explosion of creativity. She is enthusiastic about modifying a laborious step of an old recipe, and experimenting with different ethnic recipes by adding her own spin to it yet keeping the recipes simple, healthy, and delicious. Originally from Bangladesh, Lail shares her journey of food, creativity and family in her blog "With A Spin". She is also very passionate about highlighting Bangladeshi cooking to the international culinary space.