Khichuri is a delicious comfort dish, customary to cook during religious festivals in Bengal.
By Anamika Sharma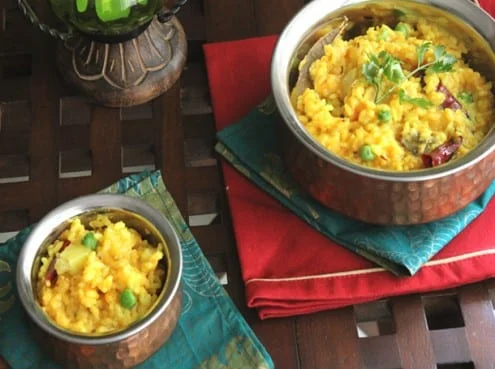 Khichuri is very popular Bengali dish and it's always being a personal favorite too for me. I am glad I got the chance to learn from a Bengali friend and make this delicious Khichuri at home, I learnt, cooked, clicked and then it was all for us to eat.
Bengali Khichuri, Khichuri Bhog
A delicious Bengal khichuri from Anamika Sharma.
Ingredients
Govindobhog or any rice – 1 cup ( I used basmati rice )
Moong Daal – 1 cup
Green Peas – ¼ cup
Potatoes – 2 ( chopped into small pieces )
Tomato – 1
Chili Powder – ½ teaspoon
Turmeric Powder – 1 teaspoon
Cumin Seeds Powder – 1 teaspoon
Dry Red Chillis – 2 or you can use green chillies slit into halves
Bay leaves – 1 or 2
Ginger Paste – 2 tablespoons
Cloves – 2- 3
Cardamoms – 2
Cinnamom Stick – ½ inch only
Salt to taste
Water – 3 cups or ½ litre
Sugar – ½ teaspoon
Ghee – 2 tablespoons
Instructions
Take a non-stick kadai and dry roast the moong daal for few seconds and till you smell the aroma from the daal, its color will change to brown. Sprinkle some water over the dry roasted daal and keep aside.
Now wash the rice under running water and keep aside. Take a pressure cooker and heat ghee in it for few seconds and add in bay leaves, Cinnamon Stick, cloves, cardamom and stir for few seconds. Now add in ginger paste, dry red chillies and mix well and allow to cook for 3 - 4 minutes. Add in chopped potatoes and peas to this now and sauté for 2 – 4 minutes. Add tomatoes and mix again.
After this add in dry roasted daal and washed rice with water, mix well, add in salt, sugar and red chilli powder to it. Now pressure cook on low till you get one whistle.
Switch off the flame and let it rest in stream for few minutes, open and allow to cook with open lid for 5 - 7 minutes till the rice and daal are fully mixed with each other.
Serve hot.
Anamika Sharma
Anamika Sharma is a passionate foodie, a food blogger with a background in aviation and telecom industry for good 15 years. Her mission is to spread the love for Indian cooking to all those who wrongly think it's too difficult. She loves to cook for her family, specially her kids. Besides cooking she also enjoys photography and traveling. MAD – making a difference is a word she chose to describe her Indian cooking site. Cooking always meant to her to be maddening and now she is mad about cooking.