Mishti Pulao or Pilaf with cashews and raisins with a slight hint of sweet is a very traditional Bengali dish. Served with a spicy meat curry, as it usually is, the flavors of the spices, ghee and Gobindobhog rice together is an unforgettable riot.
By Soma Rathore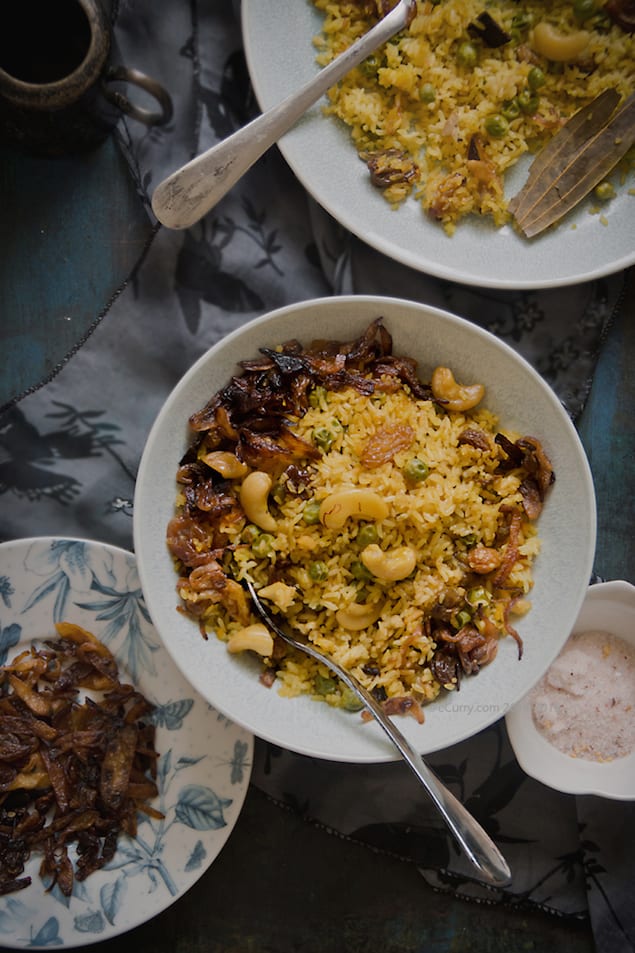 The sound of "Mishti Pulao", a slightly sweet Bengali rice dish, takes me back to this little girl dining on this tiny table and chair, set by the family dining table just where the door opens. It is Christmas lunch. The family has gathered around the table. Crisp winter air blows in through the door, making the food scents even more tantalizing. Grandma shuffles back and forth from the kitchen, warming up food and bringing them to the table. This little girl waits…very impatiently.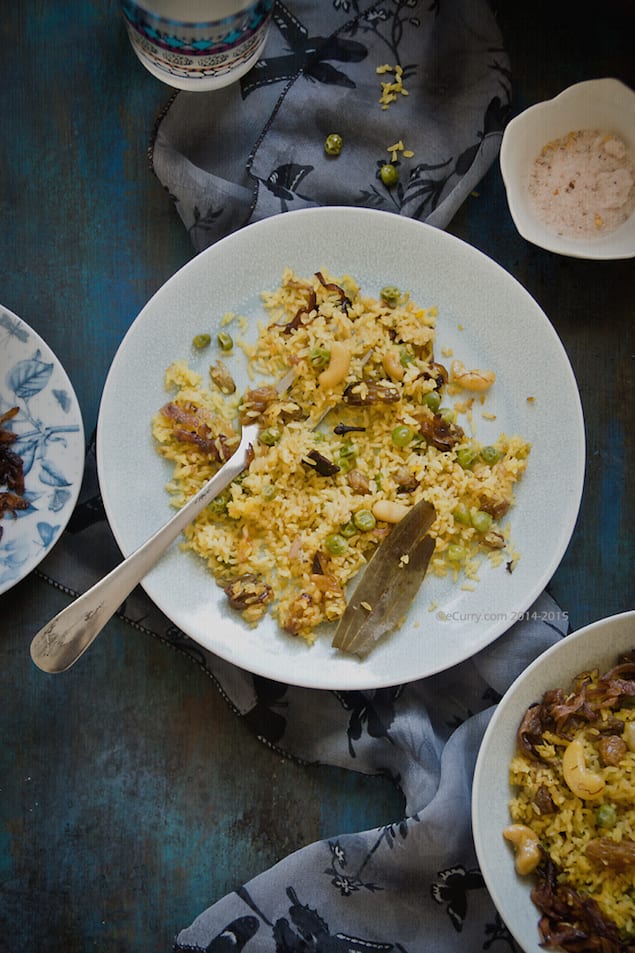 She loves her tiny table all for herself. The dining table is buzzing with adult conversation that does not interest her. She prefers looking out and getting lost in her own world: it is easier to do that from where she is placed. She plays with the streamers and keeps looking out as she waits, watching the big Jamrool tree offer shade – the shadows shimmering in patches or forming arbitrary pattern on the ground, the leaves swishing in that mellowed but invigorating winter air.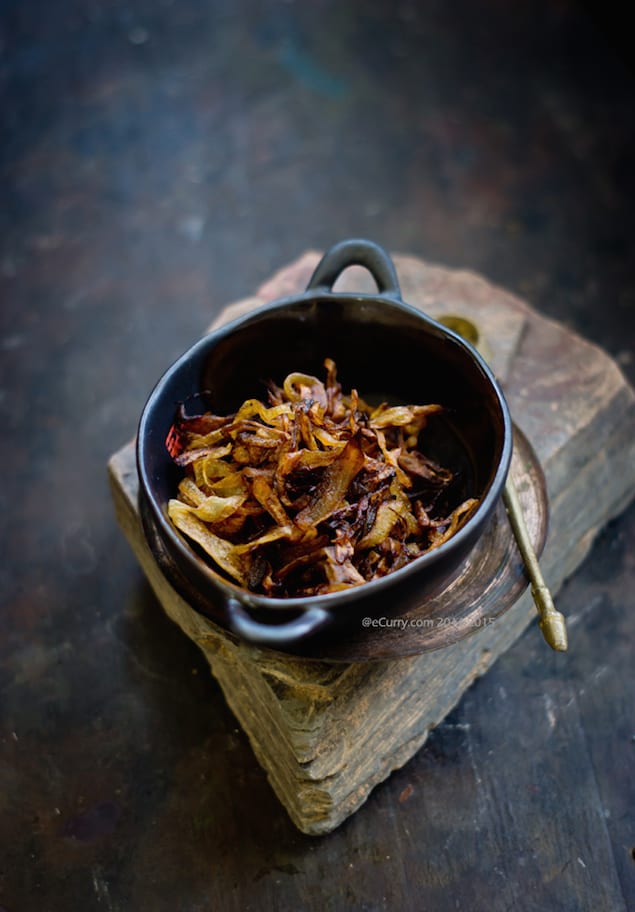 What she is waiting for is the heap of caramelized crisp onions on the pile of yellow Mishti Pulao. Dida will serve her first. Hot aromatic pulao and the spicy sauce coated pieces of meat makes every day perfect. The date and tomato chutney will come later and finally the bejeweled slices of fruit cakes that got baked the niight before. And I still do. I still have my Mishti Pulao with caramelized onions heaped on the top.
Mishti Pulao or Pilaf with cashews and raisins with a slight hint of sweet is a very traditional Bengali dish. Served with a spicy meat curry, as it usually is, the flavors of the spices, ghee and Gobindobhog rice together is an unforgettable riot. The pulao/pilaf is almost always served as a part of the traditional wedding meal, or any other significant celebration. Always with a spicy side. My favorite has been with Kosha Mangsho or braised meat. However I have to admit that I need no sides with this. The amalgam of flavors and the texture of the nuts, the sweet raisins and the perfectly cooked rice with each separate grains makes it a dish to love by itself.
Every family has traditions and ours, or rather mine was to have Mishti Pulao with caramelized onions and Kosha Mangsho for Christmas lunch at my grandparents. I do not have distinct memories of any other days that I had mishti pulao, that I savor, like this particular day. I have had it this way for many years. For as long as my grandparents lived in that house. Then there are those wedding meals (including my own) when I did wait for the Mishti Pulao with the golden fried cashews and sweet plump raisins, but they never did have the fried onions.
Slowly caramelized onions do add another level of flavor to this dish but what is most important is the use of the Gobindo bhog rice. It is a very fragrant short grain rice used in Bengal for this pulao and also for Payesh or Kheer (Rice Pudding). I get the rice from India. Each grain is a grain of gold. I have not found this rice in anywhere here. I do think using good quality Jasmine rice works for this recipe and so does Basmati.

Bengali-Inspired Pilaf with Cashews and Raisins
Pilaf with cashews and raisins is a traditional Bengali dish. Usually served with meat curry, the flavors of spices, ghee and rice together is a riot.
Ingredients
1 + ½ cup rice (either Basmati or Gobindo Bhog/Kamini Bhog or some very fragrant rice, like Jasmine rice)
2 tablespoon ghee + 1 tablespoon (to fry the onions) [only if you are using onions]
1.5 inch cinnamon stick
4 small green cardamom
4 cloves
2 tejpatta/Indian bay leaves
a pinch of mace (powdered)
a few grinds of freshly ground black pepper (as much or as little as you want)
1 inch fresh ginger, grated
1.5-2 cups packed onion very finely sliced in half moon (optional)
¼-1/2 cup raw cashews (adjust amount to taste)
¼-1/2 cup golden or sultana raisins
a fistful of slivered almonds (optional)
salt to taste
3 teaspoon sugar or to taste + ½ teaspoon (to caramelize onion, if you are using)
¼ – ½ cup shelled peas (optional – adjust amount to taste)
a sprinkle of turmeric powder (optional), – only if you want light yellow hue
1 slit green chili pepper (optional)
a small pinch of saffron (optional)
Instructions
Wash the rice until water runs clear. Drain and spread the rice in a thin layer on a paper or kitchen towel for about 30 minutes or more. The rice should feel dry. spread and dry on a paper towel for 30 minutes to an hour or until it dries to touch.( If you want a yellow hue in your pulao/pilaf, sprinkle a tiny bit of turmeric on the rice and toss after washing and before drying.)
(If you going to be using onions, slice the onions in thin half moons. The traditional Beresta or the crispy caramelized onions require quite a bit of oil or ghee for them to crisp enough to be stored for a long time. I have used way less ghee/oil here. So you have to take even more care not to burn it if you are doing it this way.
Heat a tablespoon of ghee in a pan, add ½ teaspoon of sugar and small sprinkle of salt to the onions and slowly cook them at medium to low heat while stiring very frequently until they are caramelized and crisped. This will take a long time time; 30 minutes or more depending on the amount. Do not rush or else the onions will burn and also will not crisp. Remove from pan and spread them on a paper towel. They should be separated. Set aside ad allow them to sit. They will further crisp. Once cool, you may store them in an airtight container for a couple of days. )
Pound the cardamom, cinnamon and clove until they break in small pieces. In a thick bottomed pan add ghee: when the ghee warms up, add the cardamom, cinnamon, slit green chilli pepper if you are using and the tejpatta/Indian bay leaf. When the spices sizzle, add some freshly ground black pepper. Now add the cashew, (almonds if you are using) raisins, peas if you want. Stir and toss them for a while.
Now add the salt and the sugar along with the washed and dried rice. Add the grated ginger and the mace. Toss everything together and cook at medium heat for the spices to infuse the flavors and for the ghee to coat the rice and everything else. After a 3-4 minutes, the rice will start to glisten. While the rice is cooking bring 2.5 cups of water (if you are using Gobindobhog rice. If you are using any other kind of rice, you will have to follow instructions for the particular kind to how much water to use) to a boil. Add the saffron threads if you are using them.
Once the rice is well coated with the ghee and spices, add the boiling water to the rice. Cook uncovered at high heat until the water disappears from the topmost level of the rice. There will be still water left in the pot. Now reduce heat to minimum and cover the pot tightly. Let it cook for another 3-5 minutes. Now switch off the heat but keep the pot covered for another 10 minutes.
Uncover and fluff rice with fork. You may drizzle some more ghee before serving. The rice can re heated in the microwave. Serve with spicy sides or by itself if you wish.
Traditionally the "Mishti Pulao" is served with dishes like Spicy Chicken or Mutton Curry, Bengali Cholar Dal, Aloo r Dum, Maacher Jhal or any spicy dish.
Notes
the caramelized onions are optional. The Mishti Pulao can be made without the onions and hence done the satvic way. However if you add them, they do add a deep and rich flavor to the pulao/pilaf.
Soma Rathore
I am a recipe developer and food photographer, bringing the creative passions in my life together in my blog eCurry. The blog features authentic home cooked and restaurant style recipes from back home in India and also the ones as we explore and experiment with the world cuisine.