Bell Pepper and Kale Breakfast Bowl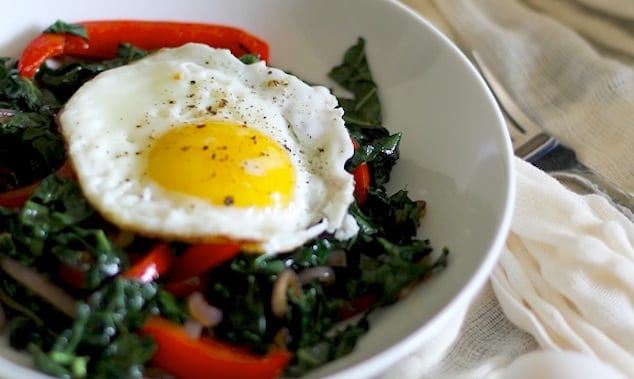 Sautéed onions, chili powder, and red bell peppers make this kale breakfast bowl something to envy in the morning. For added protein and flavor try adding black beans and cheese.
By Julia Mueller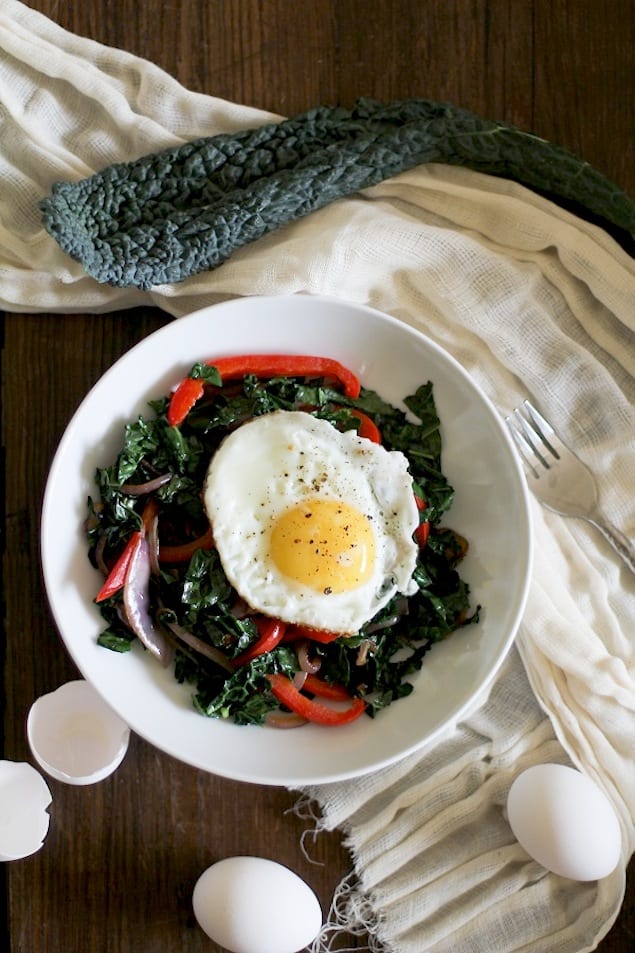 Ever since kale and I renewed our vows, the leafy greenage has made its way back into my breakfast life. Because I love eating piles of vegetables no matter the time of day, I have no qualms about getting my rise and shine on with a steamy pile of egg-topped kale. Not only am I qualm-less, but I embrace the morning veg because a nice clean brekkie makes you feel like a million buckeroos.
If you're feeling like you need to add some jazz hands to this breakfast bowl, you can throw in some black beans, salsa, guacamole, and even top it off with cheese. This is how we turn the non-fajita fajita bowl into the huebos rancheros kale bowl. Are you sick of me comparing my bowl of kale to Mexican food? Are you now craving a meal that bears no resemblance to this one? Don't do that. Come back to me.

Bell Pepper and Kale Breakfast Bowl
Sautéed onions, chili powder, and red bell peppers make this kale breakfast bowl something to envy in the morning. For added protein and flavor try adding black beans and cheese.
Ingredients
2 tablespoons grapeseed or olive oil
1 red onion, sliced
1 red bell pepper, cut into matchsticks
¼ teaspoon chili powder
1 head lacinato (dino) kale
4 to 8 eggs (sunny side up, fried, or poached)
Kosher salt and black pepper
Optional Toppings:
Diced avocado
Salsa
Guacamole
Shredded parmesan or jack cheese
Instructions
In a large skillet, heat the oil to medium. Add the red onion, bell pepper, and chili powder and sauté, stirring frequently, about 8 minutes. You want the veggies to be softened but still al dente.
Add the chopped kale leaves, stir to combine, and cook an additional 3 minutes or until kale has wilted. Add salt and black pepper to taste.
Serve your veggies with your choice of sunny side up, fried, or poached eggs on top. You can also add sliced avocado, salsa, guacamole, or sprinkle some cheese on top. Maybe throw in a tortilla...maybe some refried beans.
Julia Mueller
As a fitness and nutrition enthusiast, Julia writes a food blog called The Roasted Root, where she share recipes that are mostly vegetable and meat based along with stories of her travels and day-to-day activities. Julia loves enjoying fresh home cooked meals with her friends and family, and the process of developing recipes, photographing, and sharing them.