Beetroot Tartlets with Fennel Marinated Feta
A simple appetizer or elegant canape
By Jess Lacey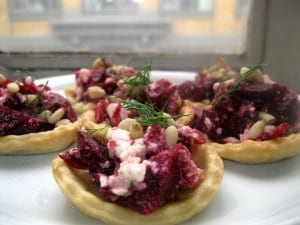 This is just a quick and simple canape or starter dish. While beetroot and goat cheese are the more traditional combination, the stronger saltiness of feta combines very nicely with the sweetness of the beetroot. The feta needs to be marinated a day or two in advance, in the fridge, however, you should take it out an hour or two before using as the olive oil becomes slightly jellylike in the fridge. If you don't have the time or inclination to roast beetroot, you can just buy the ready cooked vacuum packed stuff, cube it and pan fry it instead. I made this using bought shortcrust pastry, as I hadn't attempted baking a tart in my terrible oven before, and didn't want to find I'd wasted the time and effort of making my own if it didn't work (especially as I was baking it in a muffin tray). I am told there are good brands of readymade pastry out there, but the one I used turned out to not be one of them, so I would suggest making your own.

Beetroot Tartlets with Fennel Marinated Feta
A simple appetizer or elegant canape
Ingredients
100g feta, crumbled
Peel of 1 lemon
2 teaspoon toasted fennel seeds
3 whole raw beetroot
1 tablespoon chopped dill
1 tablespoon pinenuts
Olive oil
1 pack shortcrust pastry
Instructions
To marinate the feta, store in a jar or sealable container, top up with olive oil until covered, and mix in the lemon peel and fennel.
Leave in the fridge for 2-3 days.
Roast the beetroot in a little olive oil at 200c until soft and slightly golden tinged on the outside, about 30-40 minutes.
Leave to cool, and chop into small cubes.
Cut the pastry into 12 discs (this will use most of a 375g pack) of pastry using a cutter or the rim of a large glass and bake blind as directed on pack using olive oil greased tartlet cases or a muffin tin.
Mix the beetroot cubes with the feta and some of the fennel seeds and season well.
Once the cooked pastry has cooled, top with the beetroot and feta mixture, and garnish with chopped dill and pinenuts.
Notes
Feta should be prepared 2-3 days in advance.
Jess Lacey
Jess Lacey is an Irish food blogger and soon to be lawyer. She has found a home in London, Dublin, Leiden, Melbourne and Aarhus. After a brief foray into the world of Michelin starred cooking, she decided to keep cooking and food as relationships based purely on passion rather than income. She travels frequently, and justifies this by writing about it. More of her musings and recipes are available on her blog, Canal Cook.