Beet with Goat Cheese Yogurt Spread and Pistachio Pesto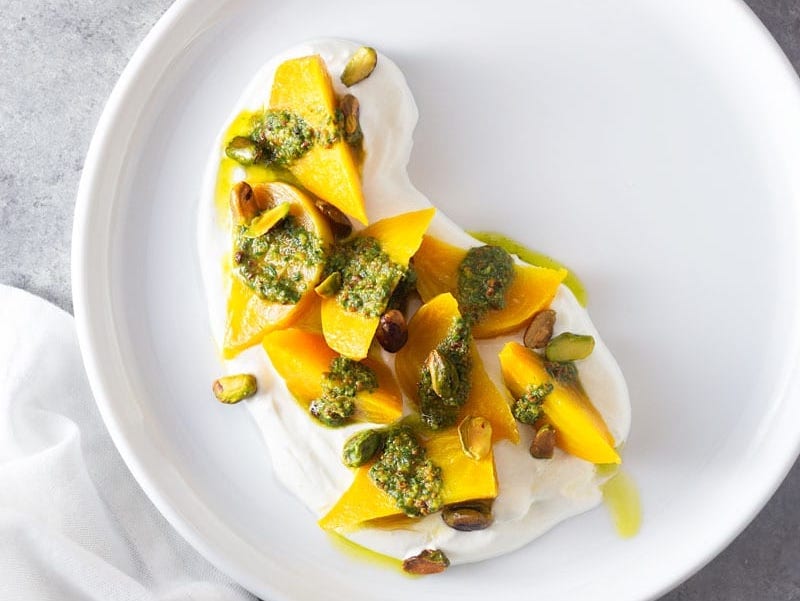 This is my version of a beet and goat cheese salad with a few unique touches.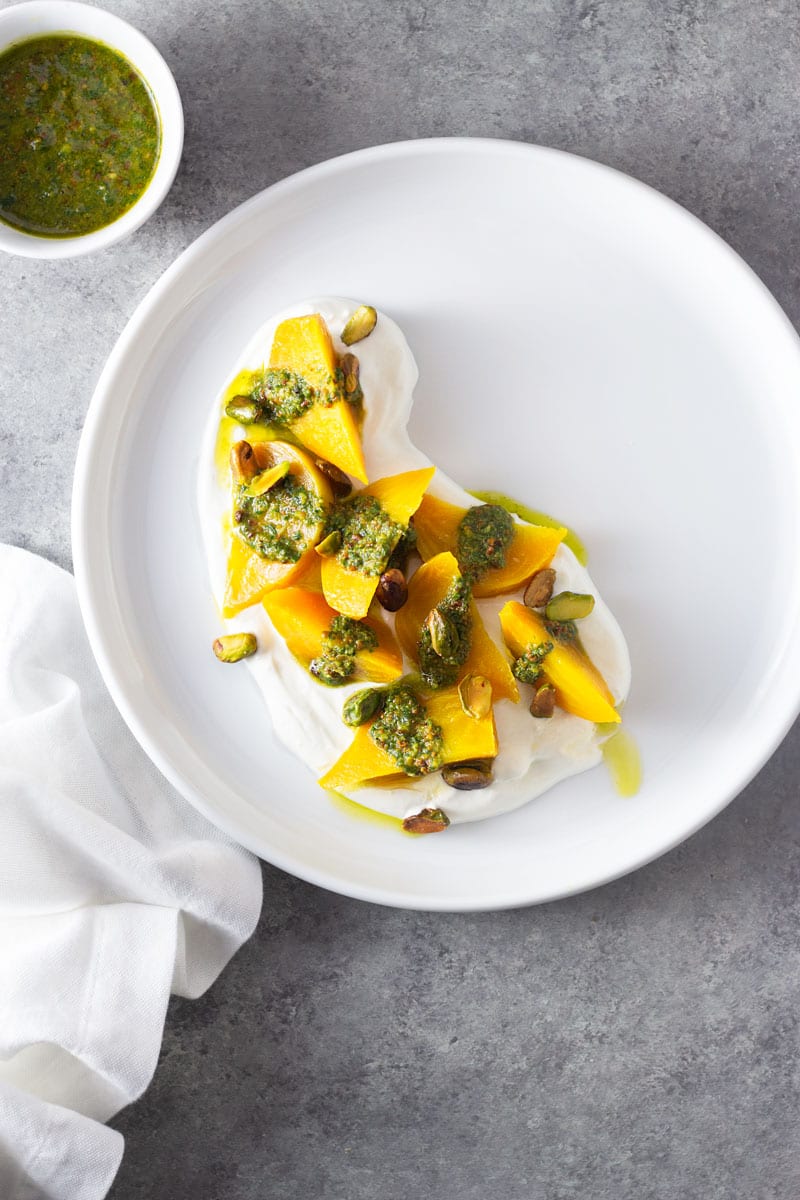 First off, I choose golden beets. Golden beets are a favorite of mine, but probably don't make an appearance in your typical beet and goat cheese salad. They have a much more delicate flavor than the typical red beet, but pair quite well with the same food buddies.
Oh and a word about seasonality. Beets might be easy to find in our grocery stores year-round, but they're a cool weather crop. This means they strive in the fall and spring months, and are harvested in the summer and fall. I assume they're in season when I get beautiful beet greens as you see above. I did not consider wasting those greens for a second. Beet greens are delicious and very similar to Swiss chard. I sauteed them up with garlic and hot red pepper flakes, which is my green vegetable default mode.
On first glance, this may not appear to be a beet and goat cheese salad. I mean, where's the goat cheese? Instead of serving the beets with chunks of goat cheese, I blended fresh, creamy goat cheese with yogurt to create a smooth spread for the bottom of the plate. The yogurt keeps things tangy and provides great texture. The ratio of goat cheese to yogurt is really up to you. I like it with just enough yogurt to become spreadable, but a little extra won't hurt.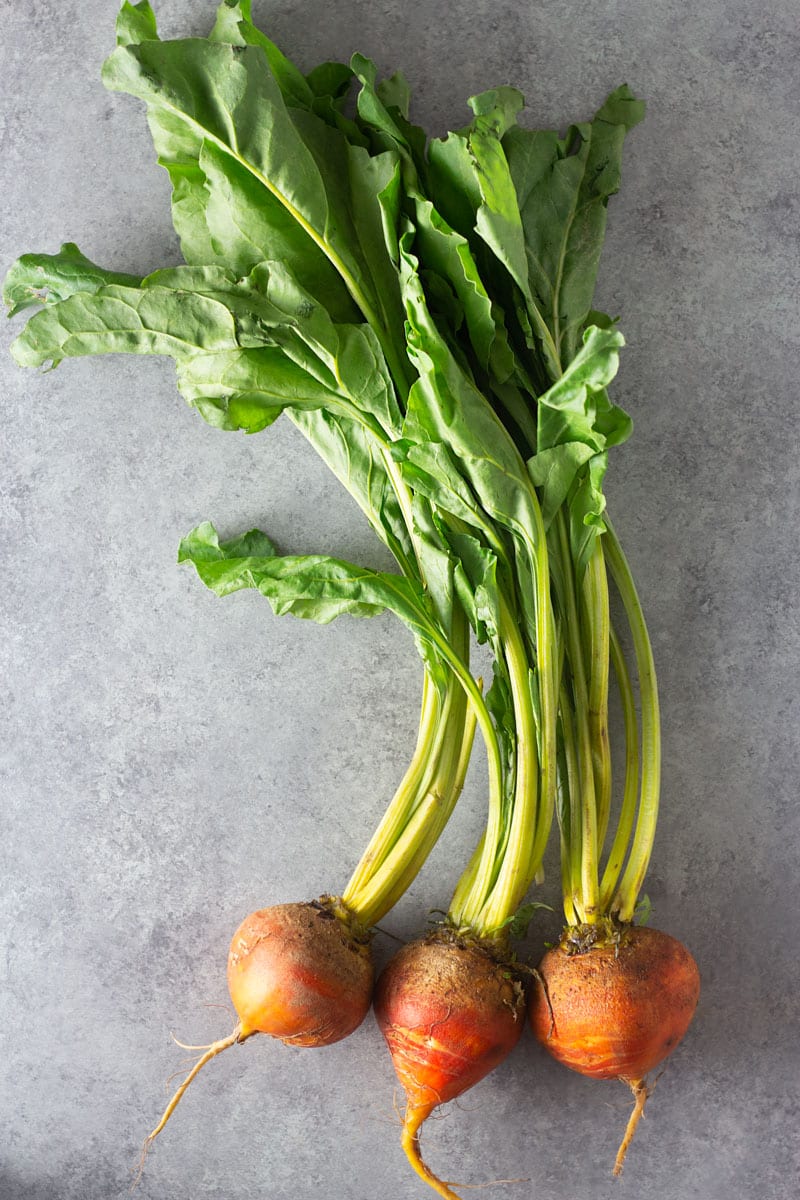 So as per usual, I got inspiration for this dish from recipes I used to make at the photography studio. There was one dish we made which my boss discovered from a Chobani cookbook he photographed. That recipe includes yogurt sauce, zucchini noodles and pesto. I almost made beet noodles before I realized I was completely copying that dish and replacing zucchini with beets! It didn't occur to me at first where I got the idea from, honestly. Then, there was another dish we made which consisted of wedges of golden beets, olive oil, red wine vinegar and toasted pistachios. This dish is basically a hybrid.
I choose to do a pistachio pesto rather than a pine nut or other nut pesto, because I especially like how beets and pistachios pair together. I also chose to leave the cheese out of this pesto. That way, there's no one competing with the flavors of the goat cheese, and I had the opportunity to add a little more lemon. Beets handle acidity very well.
One last thought. I published my first (well technically second) blog video! It's not perfect. I might have lost some footage of me stirring together the goat cheese and yogurt (sigh), and I am in the beginning stages of learning Premiere Pro, but hey I did it. Check it out below!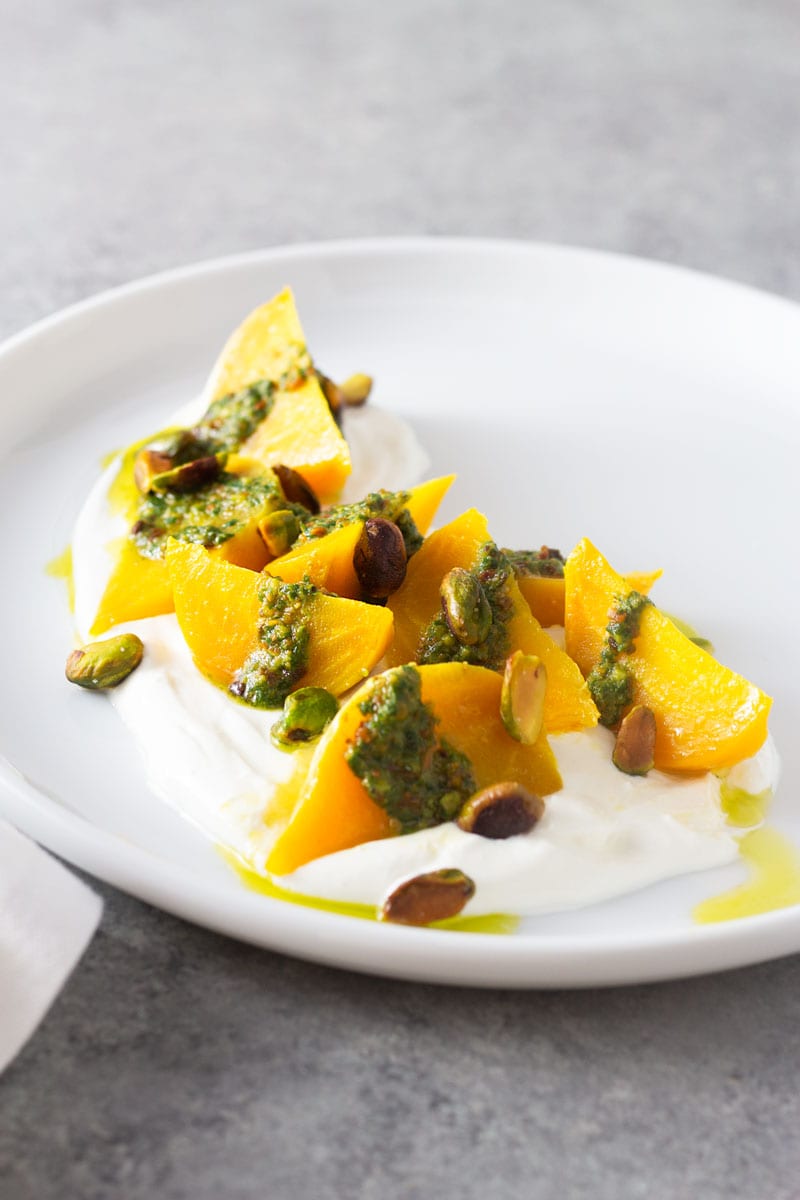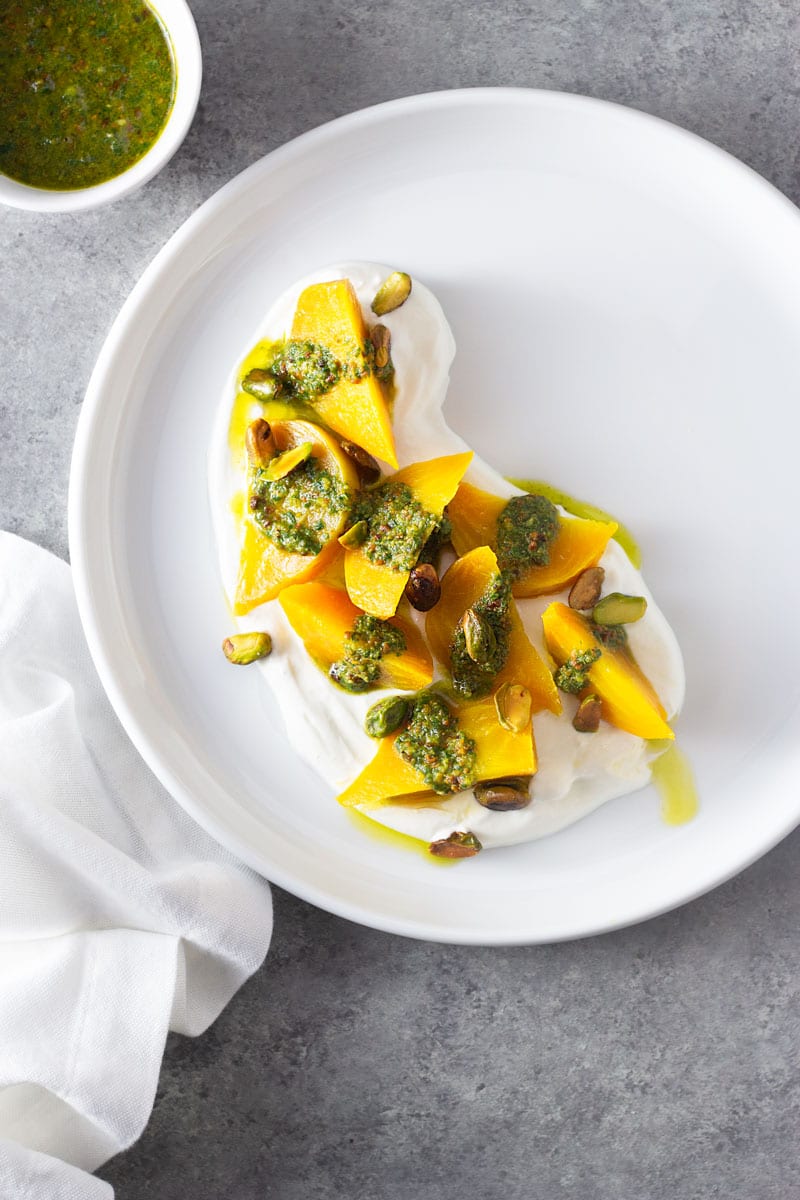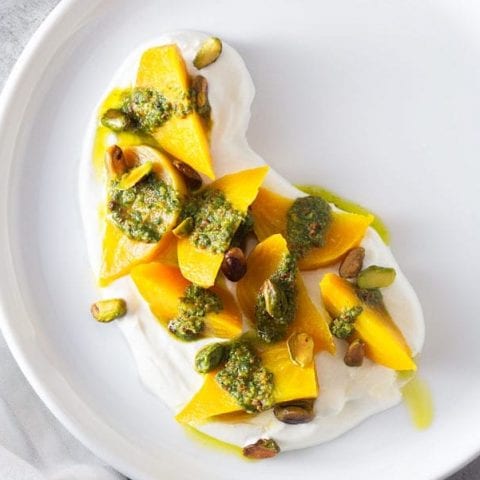 Beet with Goat Cheese Yogurt Spread and Pistachio Pesto
Sabrina Russo
This twist on a Beet and Goat Cheese salad includes golden beets, goat cheese yogurt spread, pistachio pesto and toasted pistachios.
Ingredients
3

medium golden beets

~12oz, trimmed of leaves & skin intact

Extra virgin olive oil

as needed

Lemon juice

as needed

¼

cup

plus 2 tbsp pistachios

1

tsp

extra virgin olive oil

¼

cup

toasted pistachios

from above

1

clove

garlic

3

cups

basil leaves

loosely packed

6

tbsp

extra virgin olive oil

1

tbsp

lemon juice

4

oz

creamy

fresh goat cheese, at room temperature

5-6

tbsp

plain whole milk yogurt

not Greek, or as needed

Kosher salt
Instructions
Cook beets: Add beets to a pot and cover with room temperature water. Cover pan and bring to a boil. Reduce to a simmer, partially cover, and cook for 25-30 minutes or until beets are tender. You know they're tender when you can pierce them with a paring knife which slides out without effort. Transfer to a bowl, cool slightly and peel. The skin should rub off easily with your hands. Slice in half lengthwise and cut into wedges. Allow to cool completely.

Toast nuts: While beets cook, preheat oven to 350°F. Place nuts on a parchment lined baking sheet. Toss in 1 teaspoon of oil and season with salt. Bake for about 8 minutes or until toasted and golden brown. Cool.

Make pesto: In a food processor, add ¼ cup of nuts and garlic, and pulse until finely ground. Add basil, a couple teaspoons of olive oil and a pinch of salt. Pulse until finely chopped. If using a small food processor, add basil in stages and coarsely chop until all basil is added. Slowly drizzle in remaining 5-5 1/2 tablespoons of olive oil and pulse until well combined. Stir in lemon juice and add more salt, as needed.

Make goat cheese spread: Add softened goat cheese to a bowl. Stir in yogurt 1 or 2 tablespoons at a time until desired spreadable texture is reached. Season with salt.

Season beets: Toss beets with enough olive oil to coat, a squeeze of lemon juice, and salt to taste.

Plate: Dollop a large spoonful of yogurt onto serving plates, and spread using the back of the spoon. Top with beets. Drizzle over pesto, and sprinkle over reserved pistachios. Enjoy.
Sabrina Russo
My Three Seasons represents the 3 key factors that are most important to me in cooking. #1 Seasonal ingredients #2 Proper Seasoning (don't skimp on that salt!) #3 Cooking like a Seasoned chef (technique is everything). My name's Sabrina. I live in NYC. I'm a registered dietitian with professional cooking and food styling experience. Come cook with me.