SPONSORED POST: We're celebrating the rest of summer with recipes and wines from Beaujolais that will usher us into fall in delicious style. Be sure to enter below for a chance to win the ultimate picnic set!
Dig into this hearty beet shakshuka for dinner and enjoy with a perfectly paired Beaujolais wine.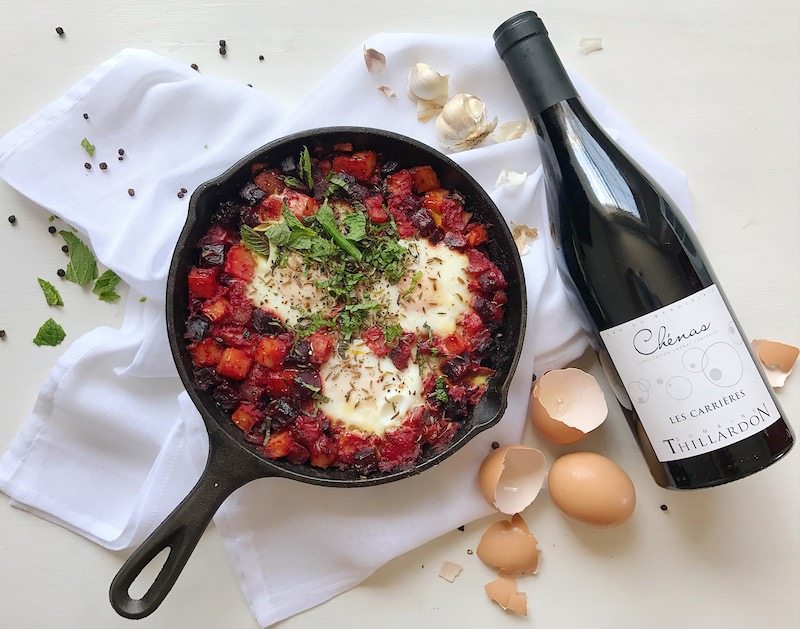 Ever since I got back from France in June I've been truly obsessed with French wine. I've done a deep dive into French varietals and I'm convinced they are superior to all others. Since Its summer aka day drinking season I wanted to share a delicious recipe that pairs perfectly with my new favorite French wine, Beaujolais. Beaujolais refers to a style of French wine from the Beaujolais region in France. Beaujolais is usually made with Gamay grapes that are naturally low in tannins, making Beaujolais super smooth and delicious. I drink approachable and affordable wine at home, if I want to get back to France I can't blow all of my money on their heavenly wine! You can get this delicious Beaujolais for under $25 and your summer guests will definitely be impressed with the flavor. Because of its smooth and light profile, I love to pair Beaujolais with heartier foods like my root vegetable and egg Beet shakshuka recipe. The light and almost floral quality of this Chénas, Paul-Henri Thillardon, Les Carrières, 2013 perfectly balances the sweet and rich quality of the beets. This pairing is a unique departure from the been there done that summer snoozefest Sauvignon Blanc and salad combo that everyone else will be serving. Feel free to double this recipe and invite some friends over, a sure fire way to up your summer hostess cred.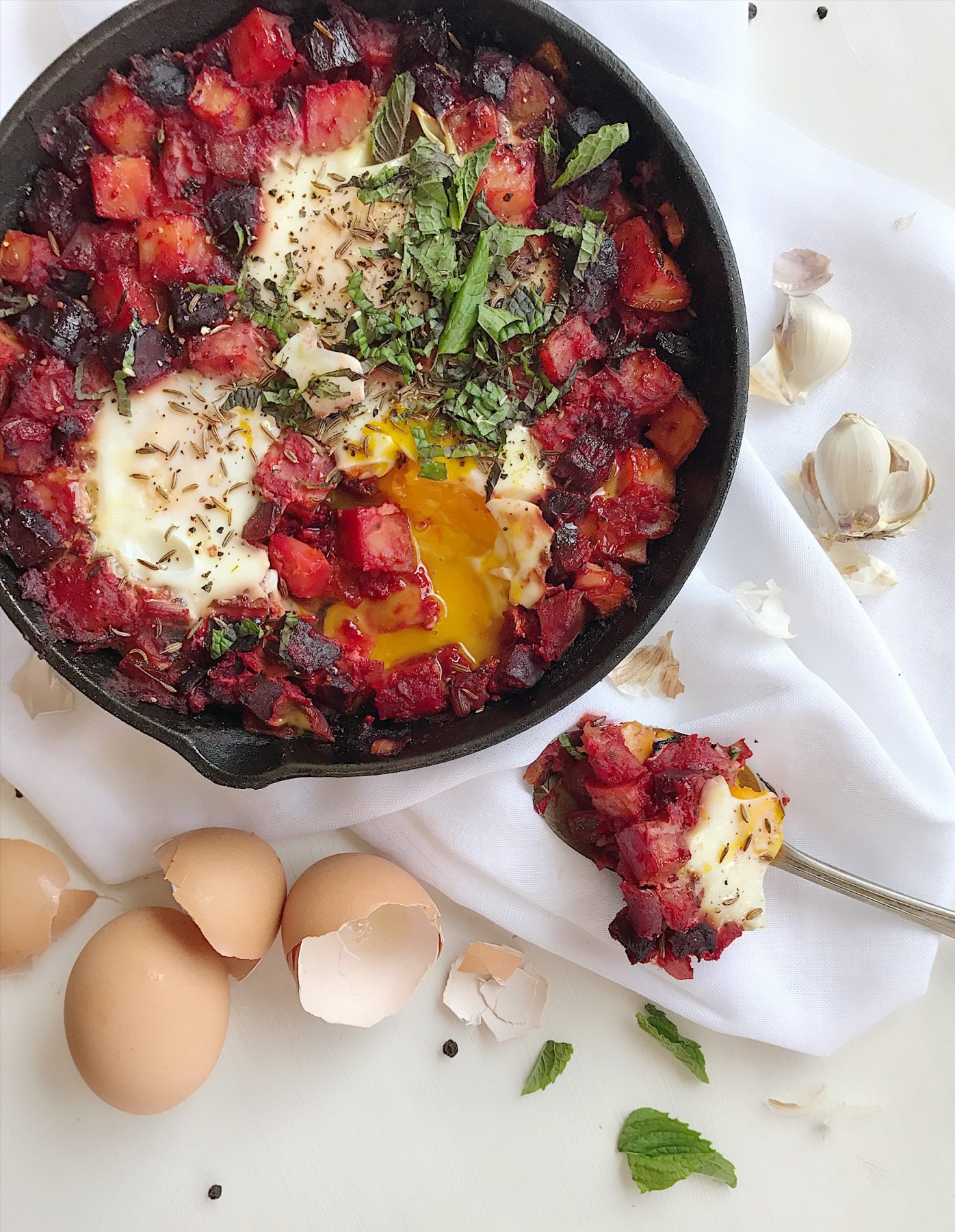 Check out these Beaujolais wine tips:
Enter below for a chance to win a stunning wine and picnic set.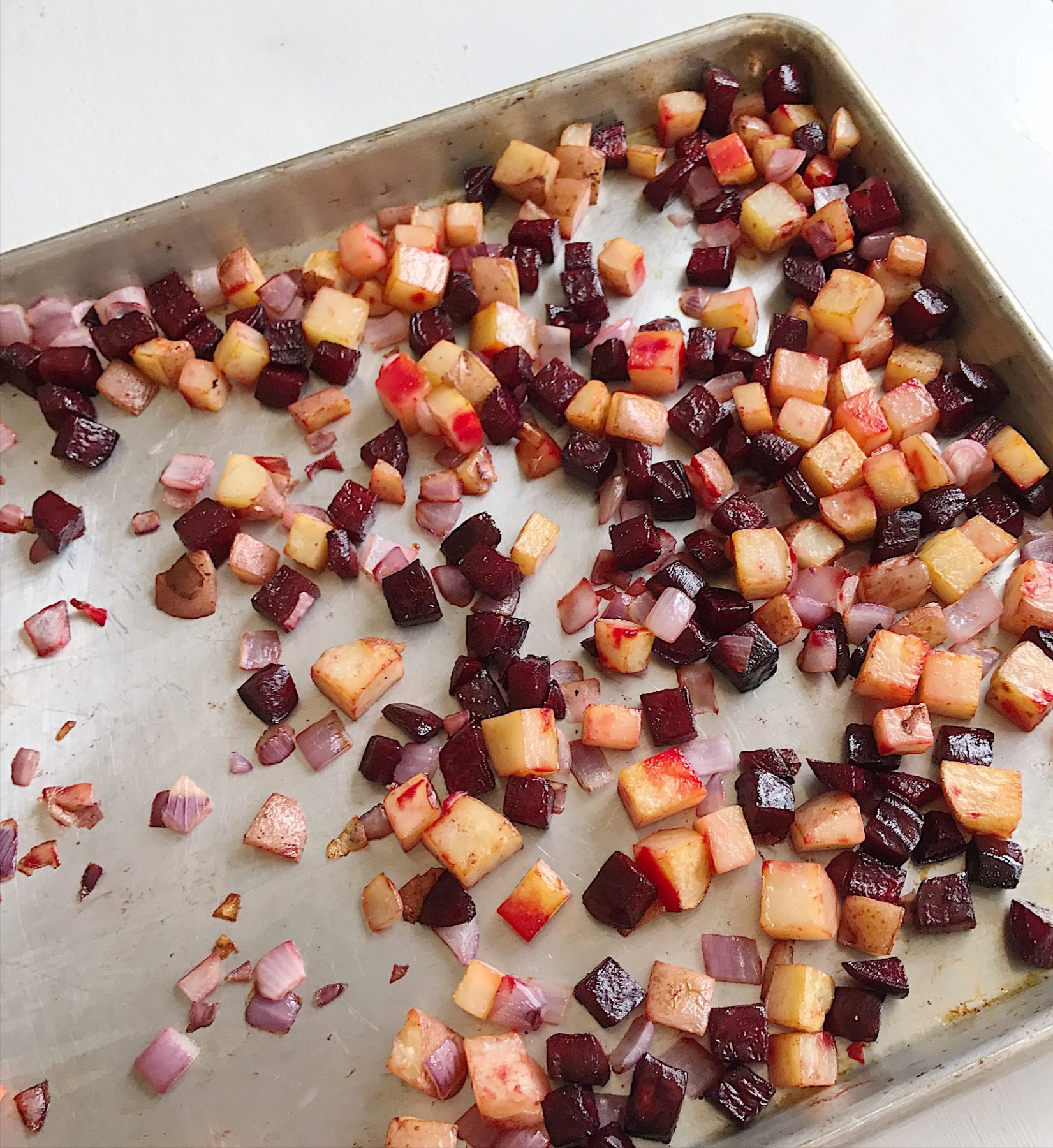 Beet Shakshuka and Beaujolais Wine
Celeste Wilson
Ingredients
2

cups

beets

peeled and rustically cubed

2

cups

red potatoes

peeled and rustically cubed

3

tablespoons

olive oil

1

medium red onion

rustically chopped

1

cup

of tomato sauce

2

cloves

of garlic

peeled and sliced thin

1/4

teaspoon

cumin

1/4

teaspoon

caraway seeds

1

generous pinch of fresh ground pepper

1

generous pinch of salt

1

tiny pinch of cayenne pepper

optional

3

eggs

6-8

fresh mint leaves
Instructions
Preheat oven to 400

Place beets and potatoes on a lined baking sheet and coat evenly in olive oil

Bake veggies for 15 minutes, remove veggies from oven

Add onion to baking sheet and stir all veggies until well incorporated

Bake veggies for an additional 10 minutes, remove veggies from oven

Add baked veggies, tomato sauce, garlic, cumin, caraway seeds, pepper, salt, and cayenne into a small oiled cast iron skillet, stir until well incorporated and cook for 5 minutes

Create 3 egg nest openings in the veggie tomato blend in the skillet by pressing down with a spoon.

Carefully crack eggs into "nests", cover skillet, return it to the 400 degree oven and cook for 12-15 minutes or until whites are opaque and yolks are formed to your liking

Remove skillet form oven and allow to sit for cool for 10 minutes

Pair with a bottle of Chénas, Paul-Henri Thillardon, Les Carrières, 2013
Celeste Wilson
Hi friends my name is Celeste Wilson, I'm a nurse, recipe developer, food stylist, food photographer, blogger, and influencer chronicling a plant based lifestyle. My recipes creatively showcase plant based cuisine from my perspective as both a registered nurse and a healthy food lover. I aim to inspire plant based eating without a strict vegan or meat shaming agenda, life is short, eat what makes you happy. Residing in sunny Los Angeles California, home of the year round avocado