This recipe uses beets to bring color, sweetness and the moist texture to to the cupcakes.
By Nandita Nataraj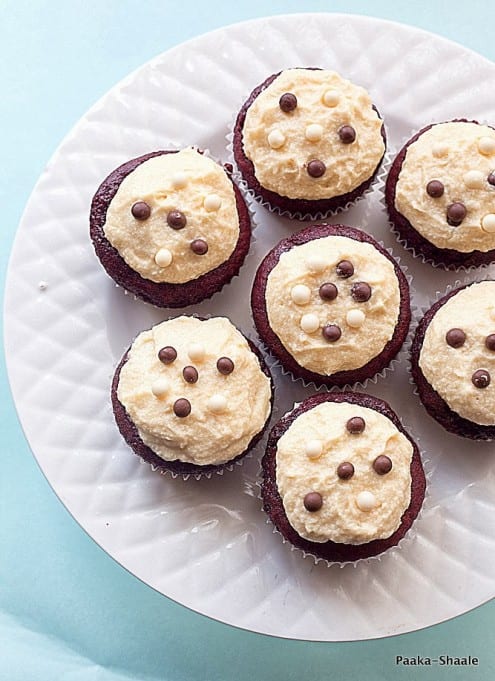 Beet Cupcakes with Cream Cheese Frosting
This recipe uses beets to bring color, sweetness and the moist texture to to the cupcakes.
Ingredients
Milk- 1cup+2tbsp
Beetroot- 1med, peeled and cut into ¼" pieces
Flax seed meal- 2tbsp
Apple cider vinegar- 2tbsp
Sugar- 1-1/2 cup
Canola oil- ⅓ cup
Vanilla extract- 2tsp
Nutella- 2tsp
All purpose flour- 2-1/4 cups
Unsweetened cocoa powder- ½cup
Baking powder- 2-1/2tsp
For the cream cheese frosting
Cream cheese- 8Oz packet, softened
Butter- ¼ cup, at room temperature
Castor Sugar- 8tbsp
Vanilla extract- 1tsp
Instructions
Cook the diced beetroot with a little water till completely soft. Allow the beets to cool completely and blend the cooked beets to a smooth puree.
Add the milk, flaxseed meal and vinegar to the pureed beets and blend till well combined.
Transfer the mixture to a bowl and stir in the oil, vanilla extract, nutella and sugar.
In another bowl, sift together the flour, cocoa powder, baking powder and salt.
Add the flour mixture to the beet mixture little by little and mix till well combined.
Scoop the batter evenly between 16 muffin cups and bake in a preheated oven at 180C for 25-30min or till the skewer inserted comes out clean.
Allow the cup cakes to cool the pan for 5min before transferring them to a wire rack to cool completely.
For the frosting:
In a large bowl, combine the softened cream cheese, butter, powdered sugar and vanilla and mix till well combined.
Frost the cooled cup cakes the cream cheese frosting and serve.
Nandita Nataraj
Nandita was born, bred and spread in India, but right now lives in Tanzania where her quest for simple and exotic pleasures of food led to the creation of the blog Paaka-Shaale. She believes that food is not just a means to feed a body. But it is also meant to appeal the mind and satiate the soul.