Beer and Food Matching: The New Trend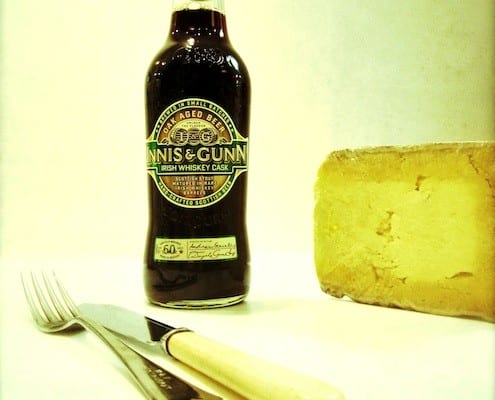 The art of matching beer and food has gone way beyond light lagers and spicy dishes.
By Hilary Sturzaker
Pint of lager and a curry? Maybe…to the uninitiated. But there is a lot more to food and beer matching than perhaps a late night trip for a chicken jalfrezi and a garlic naan would lead you to believe.
Hopefully I can offer up a few grains of wisdom to get your beer buds tingling and I might even tempt you away from the chilled Pinot Grigio at the back of the fridge. You never know, you may become an artisan beer convert, there's a thought!
As more craft beers hit the shelves of our local delis and wine merchants, the rather more predictable and obvious choice of wine pairing is starting to take a back seat. Beer and food matching has arrived. The British national drink has been elevated from beer mats to Michelin and everything in between.
My local Edinburgh brewery Innis&Gunn 'oak age' their beers which imparts great depth of character yet one that is perfectly mellow and incredibly smooth. Matching their beers with food enhances their complexities allowing you to savour and appreciate the richness of the flavours.
First up, I know what you're all thinking… 'I couldn't possibly drink a pint of beer with my cheese course'. Stop the clock! Drinking artisan beer is definitely not about 'pint after pint after pint' of liquid. It is much better enjoyed in small quantities. Time to downsize your pint glass.
So, with your 'small glass' at the ready you are good to go. Let's talk cheese. First up, an Innis&Gunn 'Rum Cask'.  The perfect match for strong cheeses – think blues, particularly Stilton, and mature cheddars eaten alongside your favourite chutneys. Heavenly.
If you've any Christmas cake left over from the recent festivities then try the Limited Edition 2011 Winter Beer.  A classic match, the dried fruit complementing perfectly with the pudding like notes and the hints of sweet tasting honey. Perfection.
And this is just the start.  With so many artisan beers available which cover the entire foodie spectrum I guarantee there will be a beer to match your favourite foods. From monkfish to haggis, asparagus to dark chocolate, the world is literally your beer oyster.
Convinced? I hope so, there's only so much Sauvignon Blanc and Shiraz you can drink. Time for a change! Time to start championing the British national drink once more and raise our half pint glasses, but only if they've been suitably matched to our 'tea'….
Perhaps you should head off to your local beer emporium today and part with some hard earned cash for some fantastic artisan beer, you won't regret it.
Hilary Sturzaker
Hilary Sturzaker lives in Edinburgh, Scotland, but eats her way around the world! She is a fanatical food blogger and is passionate about eating local and supporting local producers. The exploration of underground restaurants and experiential dining are very close to her heart. You will often find her eating cake, drinking tea and talking food at her favourite local haunts in the beautiful city that is Auld Reekie.