Beef Shortrib Soup with Vegetables and Macaroni
Homemade soup always sounds like such a feat, but it's actually nothing more than letting everything do its thing in a big pot of simmering water.
By Jessica Dang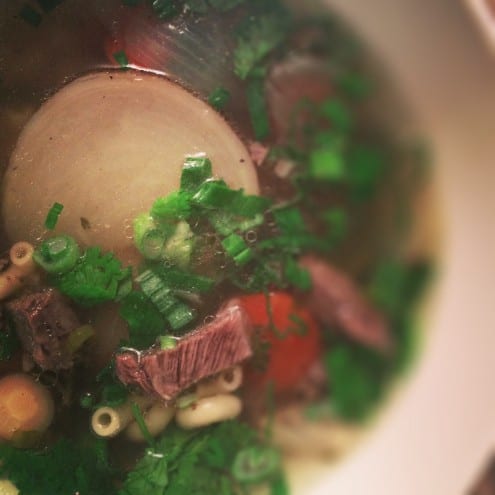 Homemade soup always sounds like such a feat, but it's actually nothing more than letting everything do its thang in a big pot of simmering water. You'll be amazed at how the water magically transforms into a gorgeous, multi-layered broth. Invest two hours into it and you'll yield at least four lovely meals for your efforts.
Beef Shortrib Soup with Vegetables and Macaroni
Homemade soup always sounds like such a feat, but it's actually nothing more than letting everything do its thing in a big pot of simmering water.
Ingredients
1 yellow onion, chopped (I quarter mine because chopping onions makes my eyes so watery that I just want to get it over with quickly!)
3 small carrots or 1 large carrot, sliced into chunks
1 parsnip, sliced into chunks
1 turnip, roughly chopped
1 small red potato, chopped into small chunks
A handful of parsley, chopped—stems too!
A bunch of scallions, chopped (white part only)
1 package of beef shortribs (about 5 or 6 of them)
1 package of marrow bones, if you can find it (This is optional, but will add more flavor.)
½ a box of dried macaroni
Extra virgin olive oil
Sea salt
Black pepper
A dash of Maggi Seasoning Sauce
Any other dried herbs or spices you want to add
A bunch of scallions, finely chopped (green part only)
A bunch of fresh cilantro, roughly chopped
Instructions
Fill a soup pot with water and put it over high heat.
Submerge your beef shortribs and marrow bones into the water.
Add all of your chopped vegetables, except for the chopped parsley and scallions.
Once the water gets to a rolling boil, skim off all of the scud and discard.
Add the chopped parsley and scallion.
Sprinkle in about two tablespoons of sea salt and a few turns of the black pepper mill grinder. Add a few dashes of Maggi Seasoning Sauce and whatever dried herbs and spices you desire.
Cover with a lid and let it simmer for an hour to an hour and a half.
Carefully remove marrow bones and beef shortribs from the pot and put them into a large bowl to rest while the broth continues to simmer. Once they are cool enough to the touch, scoop out the marrow and cut it into small pieces. With the beef shortrib, separate the meat from the bone and cut into small pieces. Discard all of the bones and return the marrow and beef back into the pot.
In a separate pot, cook the macaroni according to the instructions on the box. Add a bit of olive oil to the water so that the noodles don't stick. Drain and set aside. Do not add the pasta to your soup! It will expand and soak up all of the broth overnight!
When the soup is ready, put the cooked macaroni into your bowl and ladle the soup on top, making sure to get a little bit of everything. Season to taste. Top with chopped scallions and cilantro.
Jessica Dang
Jessica Dang is a freelance writer, blogger, and social media consultant based in New York City. She is currently developing Single Girl Dinner, an online community and resource of dinner ideas for young independent women living in the city. She enjoys reading menus, dining at the bar, and experimenting in the kitchen when no one's looking. When it comes to food, she can't resist uni, foie gras, caviar, or Popeyes' fried chicken.