Bean & Sausage Rice on Baked Potato Cups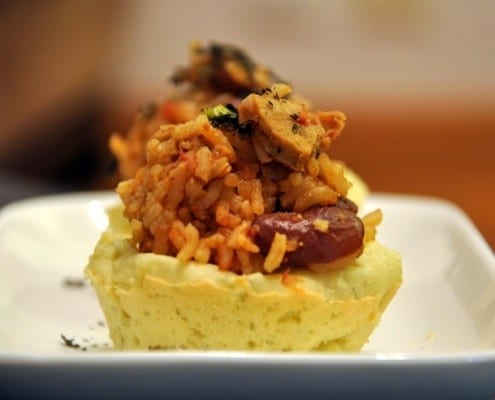 These delicious bean and sausage potato cups almost look like savory cupcakes.
By Shuchi Mittal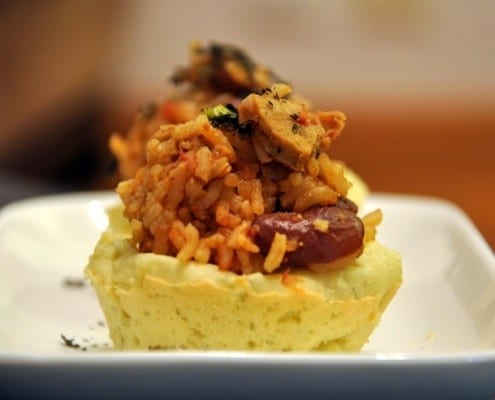 Once in a while I try to put some effort into food presentation. I care less about the taste (although it has to taste good if I blog it), and more on how I would serve it. I keep the dish simple, basic and adapt it from an everyday recipe, but try to give it a unique twist in terms of how it will come in front of the guests.
I recently tried my hands at potato cups- which are simply baked cups made from mash (how can it go wrong eh) and served with a dollop of bean & sausage rice. To my surprise it looked much like a cupcake once served, and hence I also started calling it my savory rice cupcakes. The combination worked, the dish looked pretty and most of all my friends left with a satisfied tummy. All in all, a success I'd say.
Bean and Sausage Rice on Baked Potato Cups
Bean and Sausage Rice on Baked Potato Cups
Recipe Type:
Main, Appetiser
Ingredients
For the rice
1 cup white rice
1 cup boiled kidney beans
2 chicken sausages, sliced
2 tablespoons canned tomatoes
1 clove of garlic, crushed
1 teaspoon ginger, chopped
1 tablespoon onions, chopped
½ cup mixed peppers, chopped
½ cup frozen peas
1 teaspoon coriander powder
½ teaspoon turmeric powder
½ teaspoon garam masala
Salt & chili to taste
For the potato cups
1 potato, boiled
2 tablespoons flour
1 tablespoon cornflour
1 teaspoon olive oil
1 egg
Salt & pepper to taste
Instructions
Make the rice
Heat oil in a pan. Fry the onions, ginger and garlic till brown.
Add the rice and stir till all the grains are fully coated with oil.
Add the remaining ingredients, along with 1.5 cup of water and cover and cook on medium flame for 20 minutes. To check if done, see if the rice is fully cooked and all the water is dry. Cover and keep aside
Make the potato cups
Mix all the ingredients for the potato in a bowl, till well blended. The mixture should not be too sticky. If it is, add a little extra flour so the mixture is just dry enough to mold easily by hand.
Pre heat the oven to 200-degree C and grease a cupcake tray with some butter
Take a tablespoon of the mixture and put it in each mould. Flatten it down to take the shape of the cup, with a small hollow in the center.
Bake for 20 minutes until the cups have taken shape, are slightly crisp on the outside and come out easily from the mould.
Spoon a tablespoon of the rice mixture and make a ball out of it. Put it in the center of the potato cup, garnish with cilantro and serve!
Shuchi Mittal
Shuchi cooks with the heart of a poet. Banker turned chef, she runs the 29. Private Kitchen in NYC focusing on social tasting events, dining experiences and small-scale private events. Using simple & wholesome ingredients, she likes to re-invent homemade Indian flavors into modern tapas & small plates. Her dream? To cook, feed, write, and eventually open her own communal dining cafe - with a published recipe book on the stands.