Barbecue. Pork. Crock pot. Tortillas. Cheese. You have the information you need. Now go forth, put on your Jetsons water wings and float down the river of easy peasy lemon squeezy.
By Julia Mueller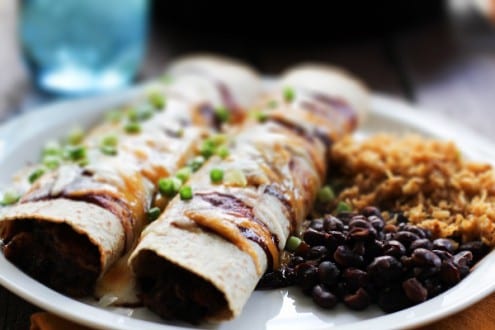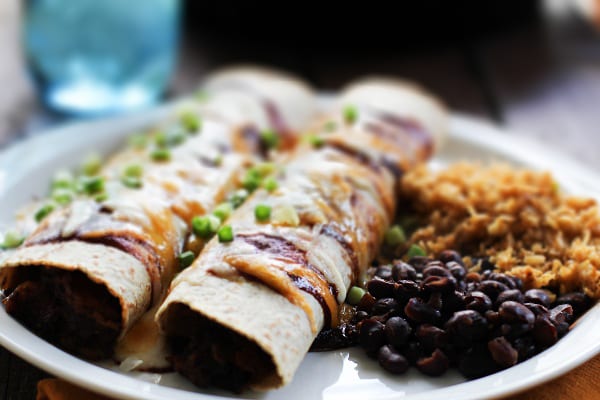 BBQ Pulled Pork Enchiladas
Barbecue. Pork. Crock pot. Tortillas. Cheese. You have the information you need. Now go forth, put on your Jetsons water wings and float down the river of easy peasy lemon squeezy.
Ingredients
For the Barbecue Pulled Pork
5 pound pork shoulder roast (bone-in recommended)
18 ounces homemade or store-bought barbecue sauce
For the BBQ Pulled Pork Enchiladas
6 flour tortillas
8 ounces cheddar or jack cheese (I used a combination of both), grated
6 ounces homemade or store-bought barbecue sauce
Instructions
To Make the BBQ Pulled Pork
Place the pork shoulder roast in a crockpot and pour 18 ounces of barbecue sauce on top
Cover the crock pot and place it on its lowest setting, allowing it to cook for 8 to 10 hours
The pork is finished when the meat is easily shreddable and falls off the bone. Carefully place the roast on a cutting board and using a couple of forks, shred the pork. Place the shredded pork back in the crock pot with the juices, discarding any bones or excess fat.
To Make the BBQ Pulled Pork Enchiladas
Preheat the oven to 400 degrees F.
Spray or lightly oil a casserole dish
Add desired amount of pulled pork to 6 to 8 tortillas. Wrap them tightly and lay them close together in the casserole dish.
Pour desired amount of barbecue sauce on top of the wrapped pulled pork (for me, this was about 6 ounces, but feel free to douse!)
Sprinkle grated cheese on top and bake in the oven until tortillas begin turning brown and cheese is melted, about 15 to 20 minutes.
Serve with your favorite toppings (sour cream, avocado, green onion) and favorite side dishes (beans and cauliflower rice!)