Sponsored Post: #EnjoyItsFromEurope This post is brought to you by Jambon de Bayonne aka Bayonne Ham, the melt-in-your-mouth charcuterie from Europe. You've probably tried cured ham before, but have you had French Bayonne ham? Be sure to enter for a chance to win Bayonne ham here.
Few side dishes can compete with a show-stopping Hasselback potato. Crispy edges and tender, centers make these as delicious as they are beautiful. For a version that outshines all others, fill them with herb-garlic butter, melted cheese, and thin slices of rich ham. It's easier than you might think!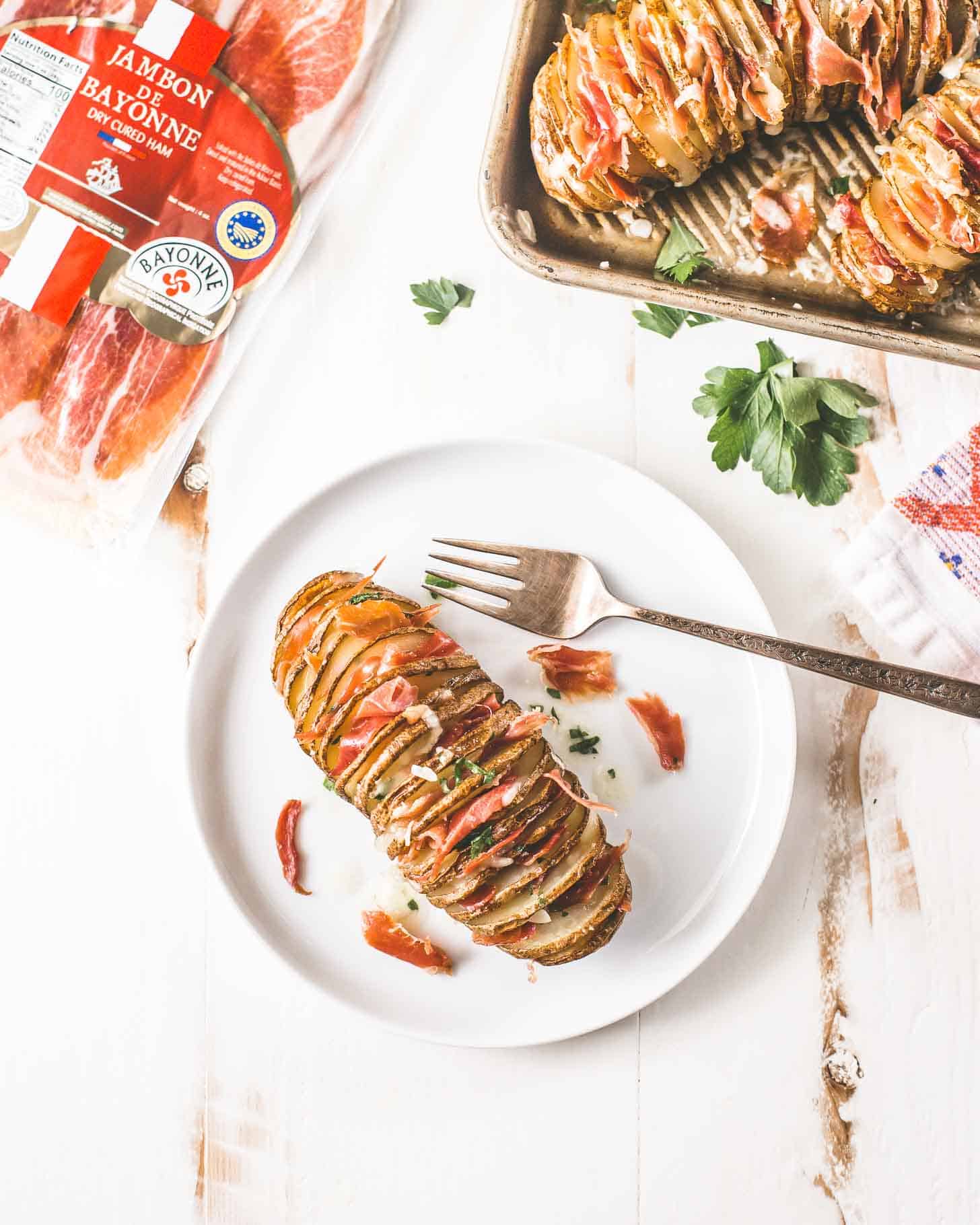 I used to ooh-and-ah over photos of Hasselback potatoes on Pinterest long before I attempted to make one. These potatoes look so elegant and complicated, but they're actually not that hard to make. This is one of those dishes that, once you've made it once, you'll want to make it again and again. And filling the potatoes with delicious toppings makes this an easy meal and a fun twist on baked potato night.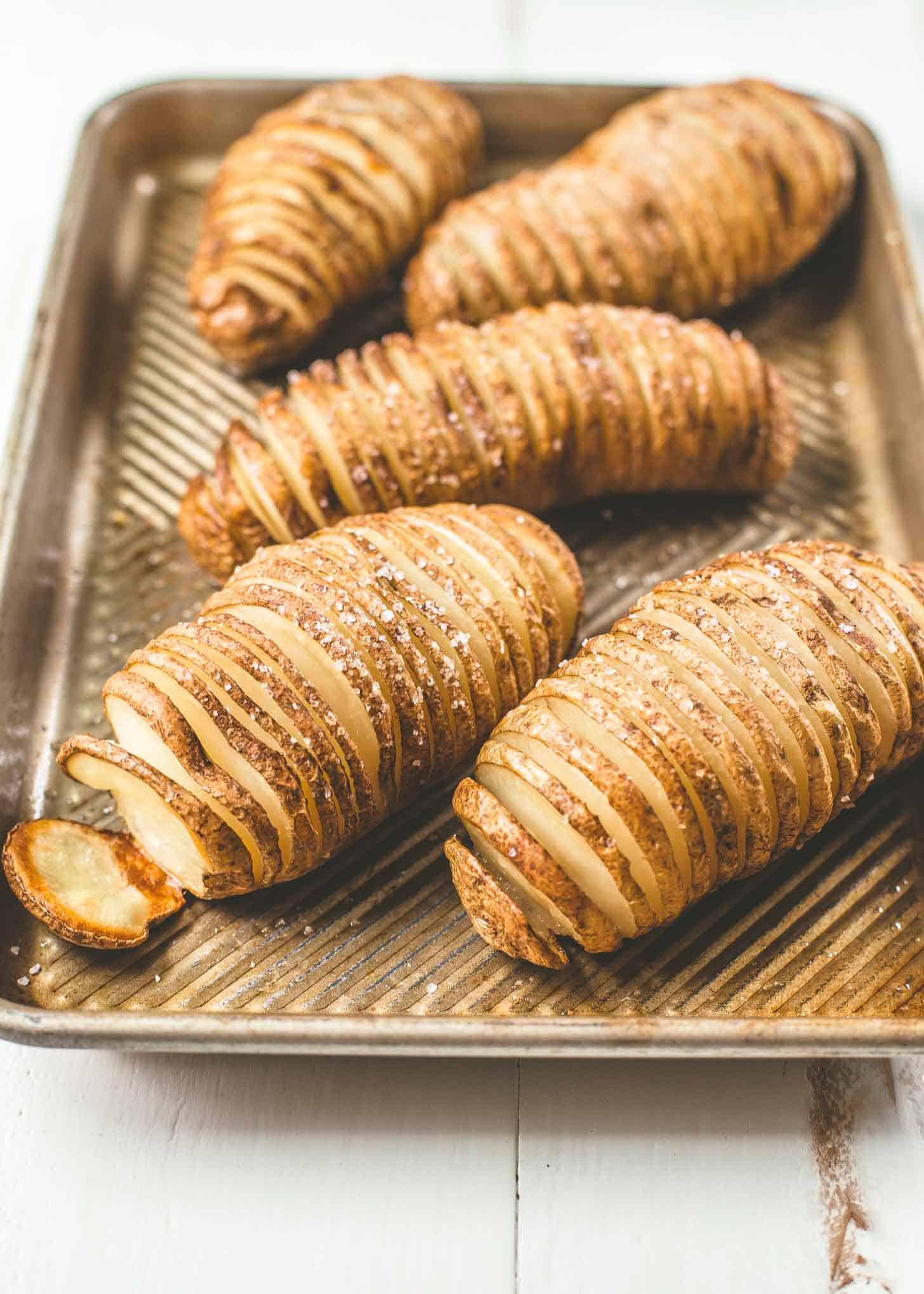 INGREDIENTS FOR HAM AND CHEESE HASSELBACK POTATOES
Potatoes – Any type of baking potato will work, but Russet potatoes hold their shape well and get tender on the inside and golden brown on the outside. Yukon gold are another great choice. The recipe was tested with potatoes that were all about 10 oz and had a similar shape and size. Adjust the cook time if using larger or smaller potatoes.
Cooking Oil and Salt – Before roasting the potatoes, rub them with a generous amount of cooking oil and season with salt. This will give the outside of the potato lots of flavor and make keep it tender while baking.
Butter, Garlic, Chopped Parsley – This is the trifecta that forms the garlic butter drizzle used to finish these Hasselback potatoes. Curly or flat leaf parsley will work just fine.
Thinly Sliced Cured Ham – The Bayonne Ham I received as part of this sponsored post comes thinly sliced, so all I had to do was tear it into pieces to add a rich flavor to the dish. This cured ham has a buttery texture that is easy to tear and gets melty and rich inside the potatoes. You could slice the ham into even pieces for a more consistent look, but tearing the pieces as you add them to the dish gives it a rustic look and all of the edges sticking out of the potatoes get crisp and golden in the oven.
Cheese – The sky is the limit here and just about any type of cheese would be great. Havarti is creamy and melts really well. Gruyere, white cheddar, or provolone would also be delicious. I grate the cheese and just add it to the spaces between the potato slices – no need to be super precise.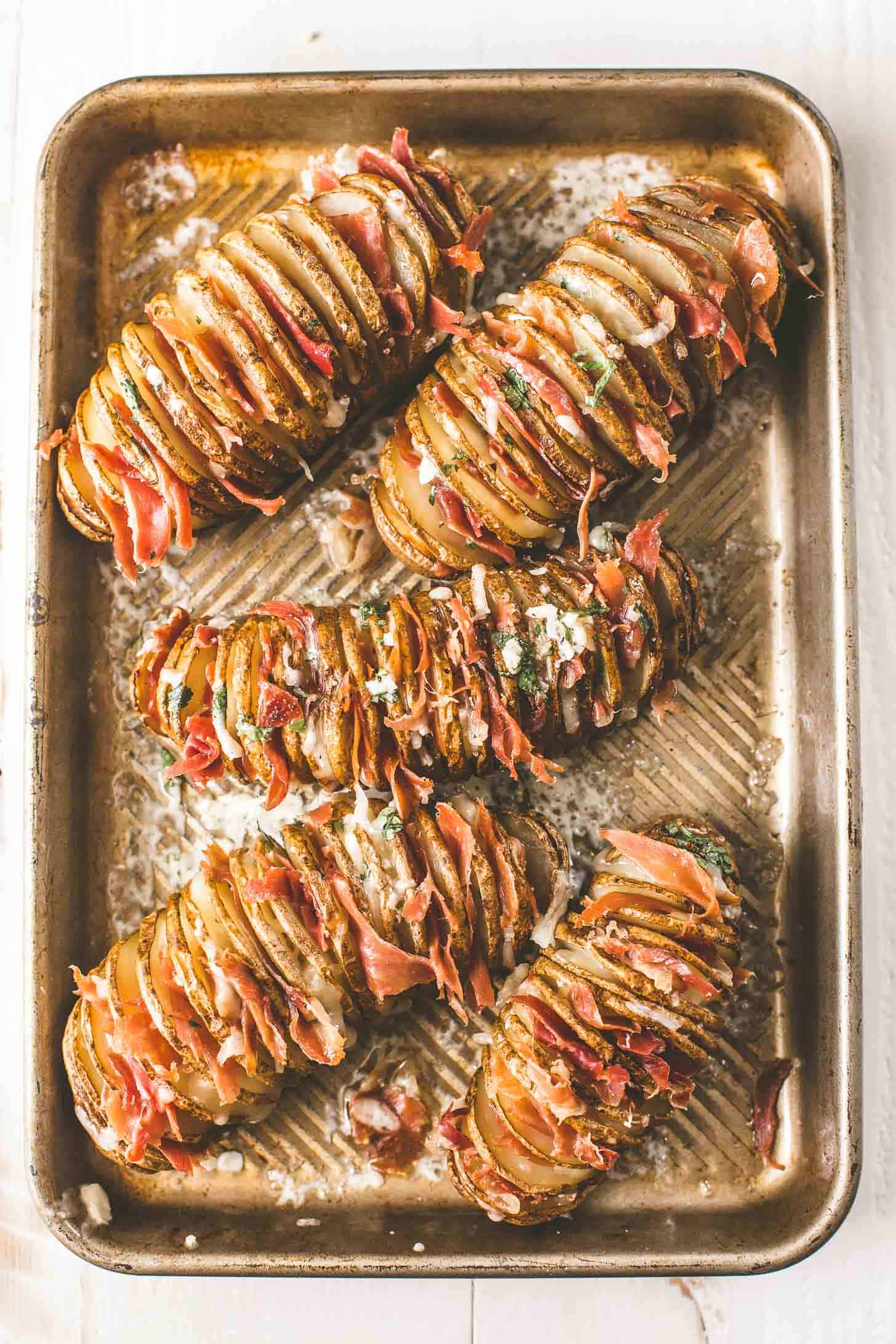 Hasselback potatoes are potatoes that are cut nearly all the way through into thin slices, leaving the bottom of the potato intact to hold the slices together. The potatoes are then roasted until tender. They can be served plain or the slices can be loaded with fillings in the last few minutes of cooking.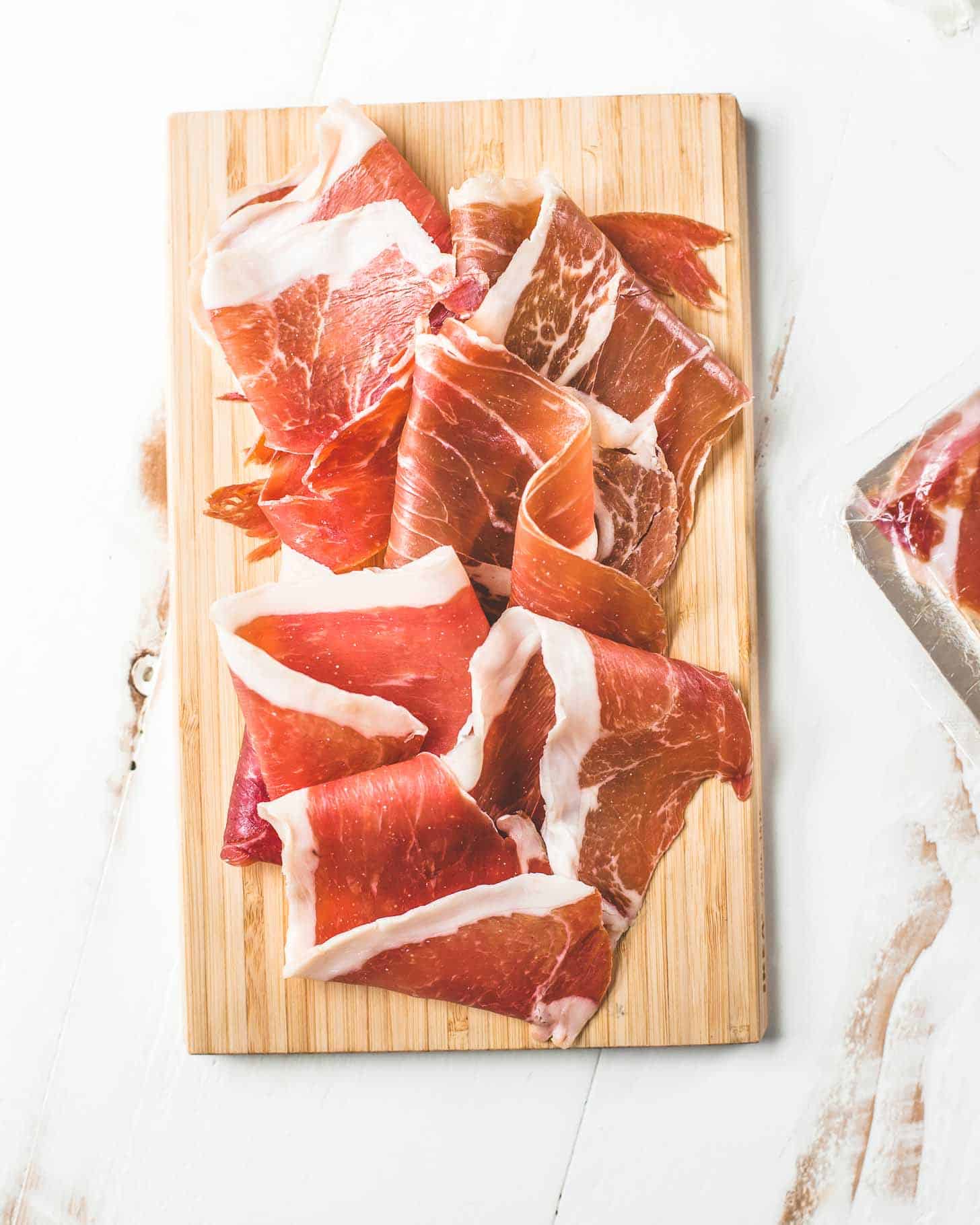 HOW TO SLICE POTATOES HASSELBACK-STYLE
Even though Hasselback-style potatoes look complicated, it just takes a few easy steps to make them.
Wash and scrub potatoes clean.
Working with one potato at a time place it on a cutting board with the longer ends running left to right.
Place evenly sized chopsticks or wooden spoons on the longer sides of the potato. These will act as guides to prevent your knife from slicing all the way through the potato. (These may get small slices in them from the knife, so don't use anything that you're worried about getting nicked.)
Use a knife to cut slices into the potato about 1/3" / .8 cm thick. Don't worry too much abou the exact thickness of the slices. It is more important that the slices are even. (The chopsticks / wooden spoons should work to insure that the bottom of the potato doesn't get sliced through, and holds everything together.)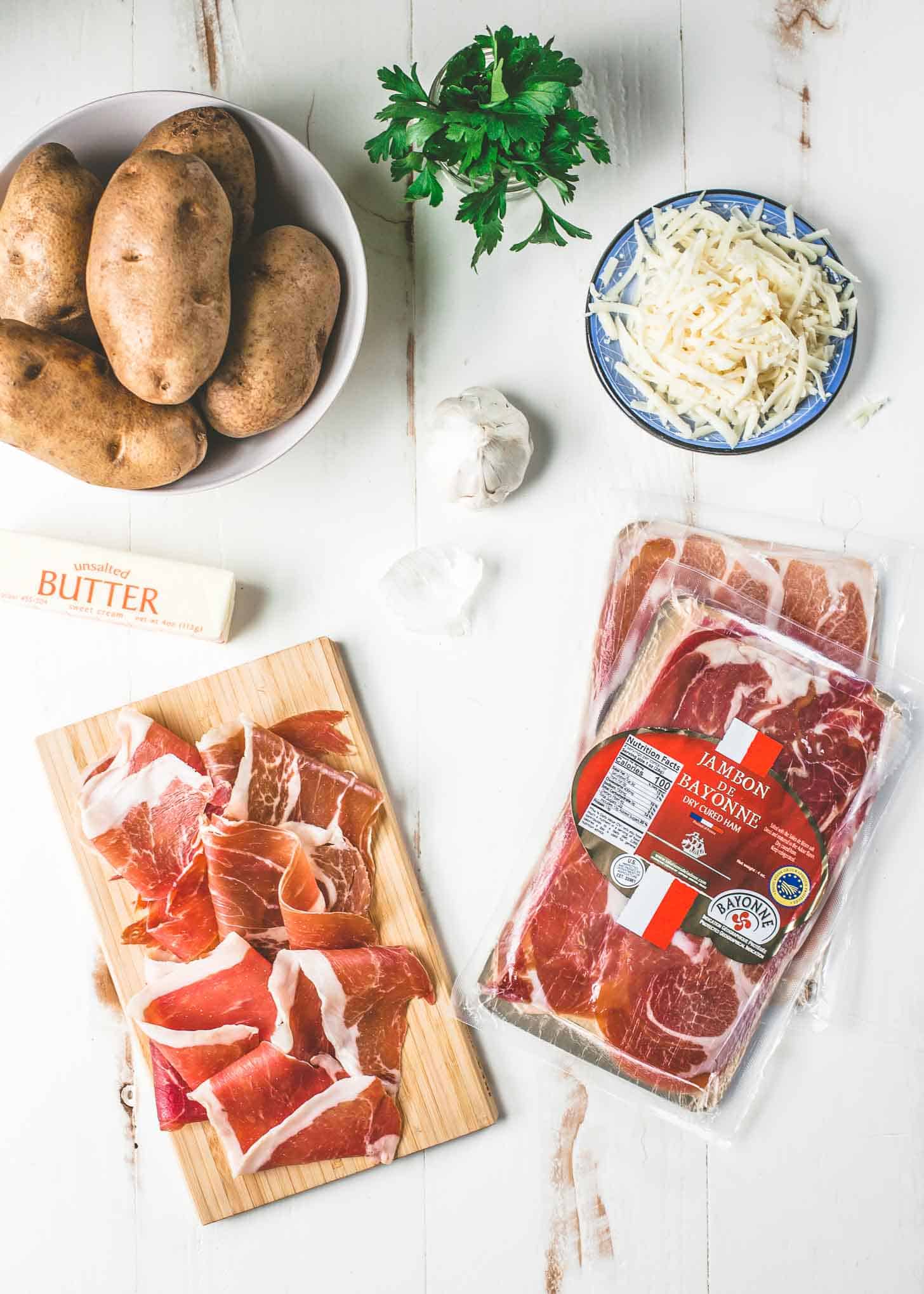 Filled with herb-garlic butter, melted cheese, and thin slices of rich ham, this version of Hasselback potatoes makes a beautiful side dish or main event. Add a fresh salad on the side for a satisfying, show-stopping dinner.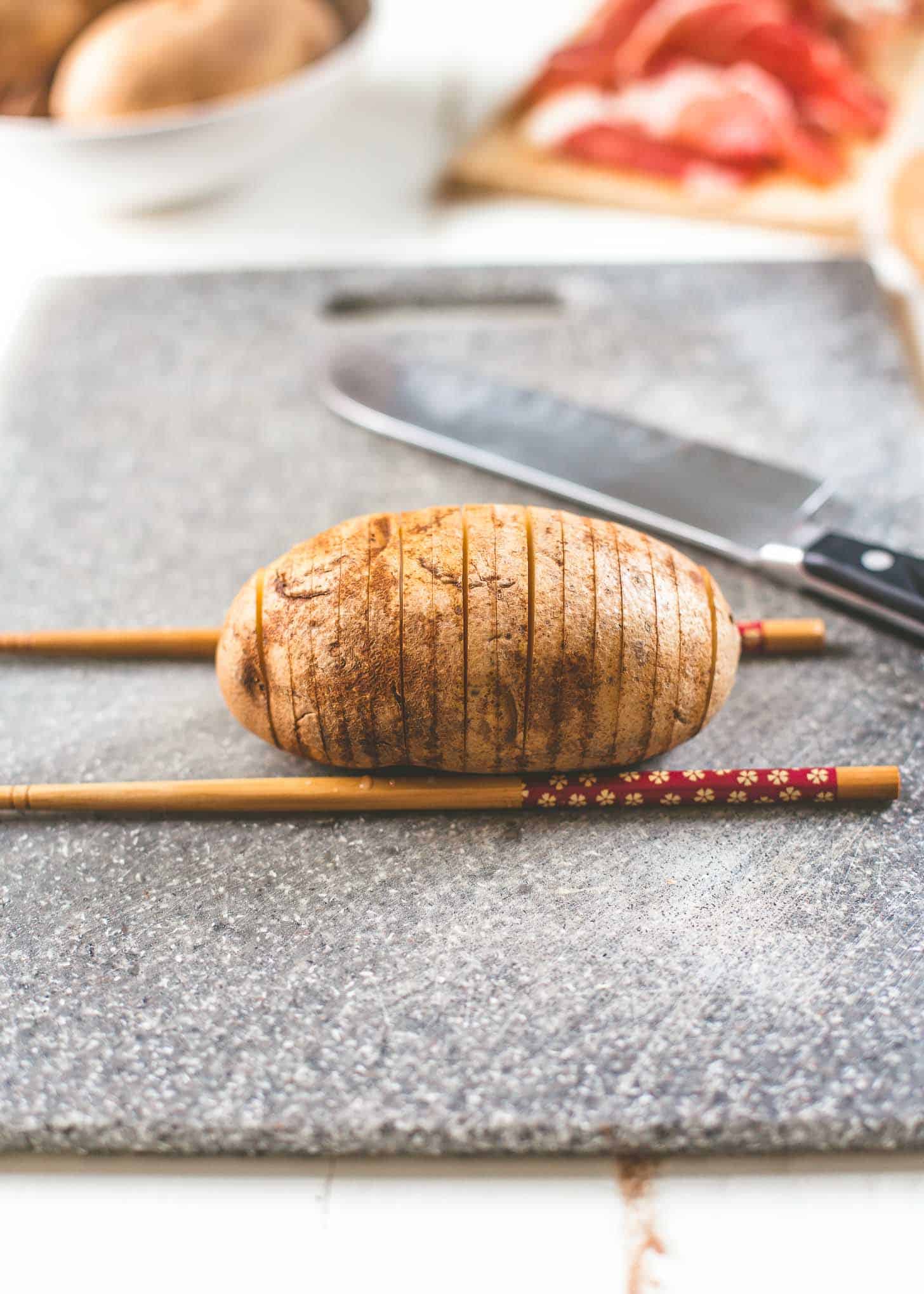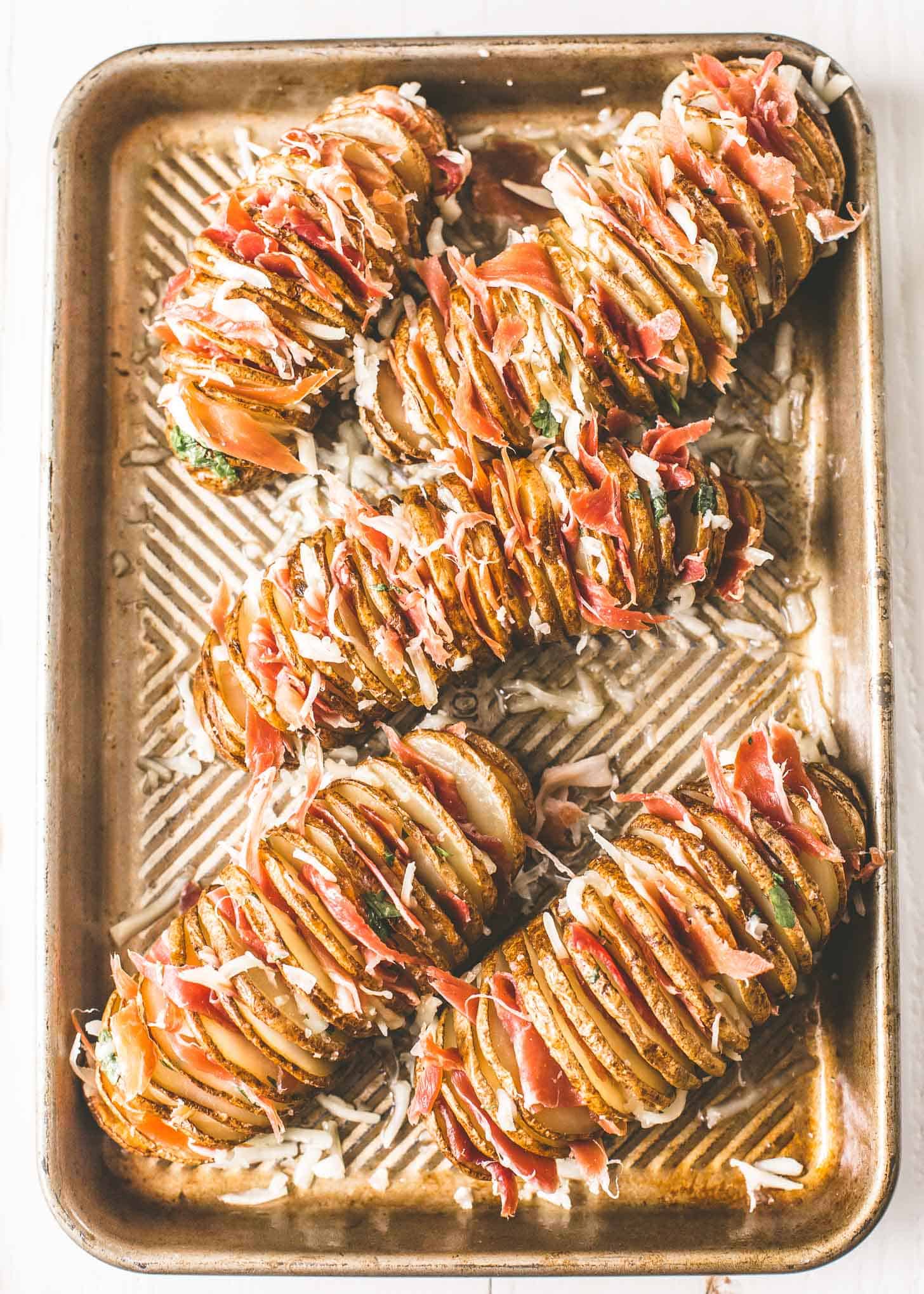 Be sure to enter for a chance to win Bayonne ham here.
Bayonne Ham and Cheese Hasselback Potatoes
Ingredients
Equipment
Chopsticks or Wooden Spoons
sheet pan
Parchment Paper
Ingredients
4 Potatoes (Yukon Gold or Russet; about 10 oz each)
3 tbsp Cooking Oil
1 tsp Salt
4 Tbsp Butter
2 cloves Garlic, minced
1 Tbsp Parsley, finely chopped
4 oz thinly-sliced Cured Ham, cut into 2" square pieces
5 oz Havarti Cheese, grated (sub gruyere, white cheddar, or provolone)
Instructions
Preheat oven to 425°F.
Scrub potatoes and rub dry with a dish towel.
Line a sheet pan with parchment paper.
Working with one potato at a time, set chopsticks or wooden spoons on either side of the potato (these act as a guide to prevent slicing all the way through the potato). Cut parallel slits at ¼-inch intervals through the potato, leaving the bottom of the potato attached. Set the sliced potatoes on the prepared sheet pan.
Rub potatoes on all sides with oil. Season on all sides with salt.
Bake the potatoes until potatoes are golden on the outside and tender in the middle, 60 to 70 minutes (see note).
Remove potatoes from the oven (leave the oven on).
Combine butter, garlic, and parsley in a microwave-safe bowl. Microwave until butter is melted, stirring every 20 seconds.
Working carefully (the potatoes are still hot), drizzle herb-garlic butter over the top of the potatoes, making sure that some drizzles down into the slits.
Fill each of the slits with ham and cheese.
Return potatoes to oven and continue baking until cheese is melted, 5 minutes more.
Serve immediately.
Notes
Total bake time for most 10 to 12-oz potatoes is about 60 minutes. If using smaller or larger potatoes, adjust the cook time accordingly.