A poppable snack with a whimsical appearance, but with ingredients and flavors that hold a bold trump card.
By Sarah & Mark Burbridge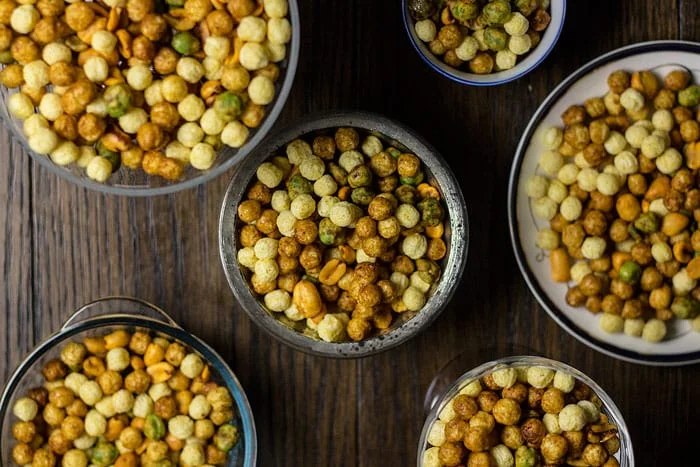 It is a truth that should be well known that in bowling, style > talent. Bowling is not an activity I do very often, but when I do, it's quite the spectacle – or so I've been told.
According to witnesses, my style resembles nothing so much as Velma from Scooby Doo. Scuttling up to the line, I then come to a complete and abrupt stop and hurl the bowling ball down the lane. Sometimes some pins fall, sometimes they don't – but there's always applause.
Party food can be a little more demanding. If the occasion calls for anything fancier than jeans and team jerseys (though this recipe is a great call for super bowl parties and tailgating as well), the hors d'oeuvres you serve are going to have to boast both style and flavor.
And so we offer up the Baubles Party Mix. This endlessly poppable snack started with the visual component – a fairly uniform roundness and size to create a whimsical almost "bubbly" effect, but when selecting ingredients flavor still holds the trump card.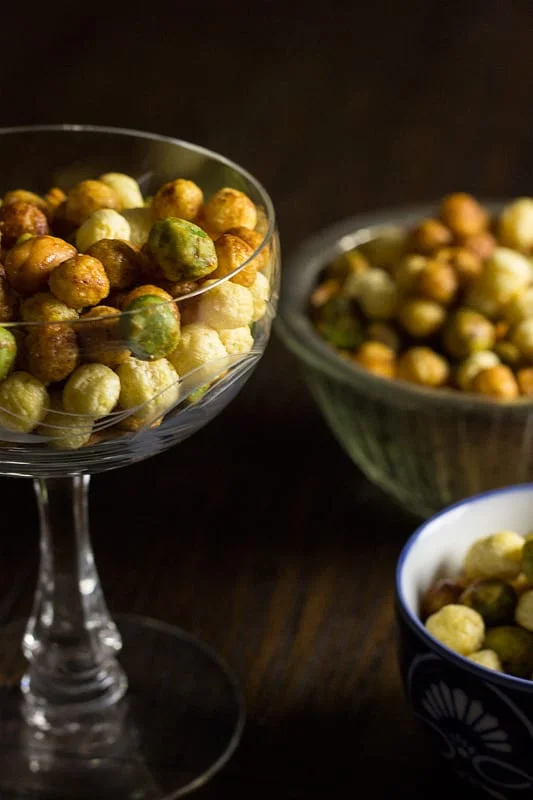 Beginning with the neutral backdrop of spherical, slightly sweetened corn cereal, we were able to match both appearance and complement flavor with the bold wasabi peas. An Asian flair seemed the rather obvious choice and spicy peanuts were thrown into the mix along with a quick coating in a sweet & salty hoisin glaze. The mixture is toasted in two stages so that you actually end up with three different levels of seasoning throughout. I can't say the recipe is quick, but it is super easy.
And it's got more panache than bedazzled bowling shoes and a matching custom ball.
Print
Baubles Party Mix
---
Author:

Pickled Capers

Yield:

8 Cups

1

x
Description
A poppable snack with a whimsical appearance, but with ingredients and flavors that hold a bold trump card.
---
3

T (45 ml) Hoisin Sauce

2

T (30 ml) Butter

3 tsp

(

15

ml) Soy Sauce

4 tsp

(

20

ml) Granulated Sugar

2 tsp

(

10

ml) Rice Wine Vinegar (either White Wine or Distilled Vinegars would work as well)

5

C (1.125 l) round corn cereal such as Kix

2

C (450 ml) Dried Wasabi Peas

1

C (225) Sriracha or other Spicy Peanuts
---
Instructions
Line a baking sheet with parchment paper and preheat oven to 200.
In a sauce pot over medium heat melt butter, hoisin, soy sauce, sugar and vinegar together.
In a large mixing bowl, drizzle half of the hoisin sauce mixture over 2 C of the cereal and stir gently until well coated.
Spread coated cereal on sheetpan and bake at 200 for 45 minutes.
Remove from oven and put back into mixing bowl with another 2 C of cereal, peas and peanuts.
Drizzle remaining hoisin mixture over cereal mixture and stir gently until evenly coated.
Spread on sheetpan once again and place back into oven, raising the temperature to 250 and baking for another 45 minutes.
Remove from oven and place back in bowl adding last cup of cereal and stirring until all ingredients are well distributed.
Serve immediately or store at room temperature for up to a week.
Category:

Snack, Appetizer
Sarah & Mark
Sarah (whiskey swilling writer) and Mark (doc and dishwasher-loading critic) created the site PickledCapers.com for those who love to gather friends in their kitchen; to break out the cake pans, the sauciers and the BBQ brushes; to clink glasses together in celebration; and to shine up new shoes for nights destined to deserve "remember that time…".