With these basil burgers, you can have a beef burger and still stick to your healthy diet.
By Amber Massey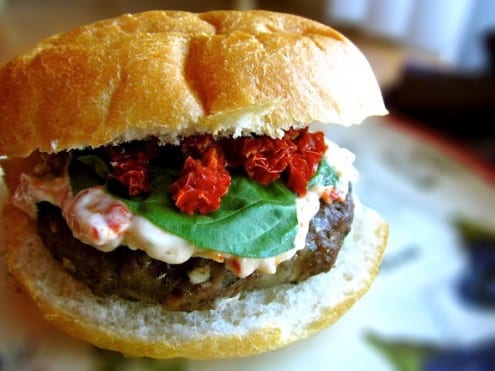 I randomly got the urge to sift through the many burger recipes I have posted on CB, and came to realize I have but NONE of beef burgers.  Serious? Not intentional- but I can't help it that I have a slight obsession with burgers of the bean kind, and most recently- seafood burgers.
See.. you can have a beef burger and still stick to your healthy diet. Although my beef burgers aren't a quarter pound doused in processed cheese. They ARE, however, stuffed to the brim with flavor.. and cheese.  I also learned that basil and beef are a new found combo that can't be duplicated.
While my Fireman was doing the 'man' work at the grill with these burgers (I couldn't even tell you how to turn the grill on.. I know, what a girl I am.) I prepared a Sundried Tomato & Basil Aioli to dollop on our grilled goodness.
See Also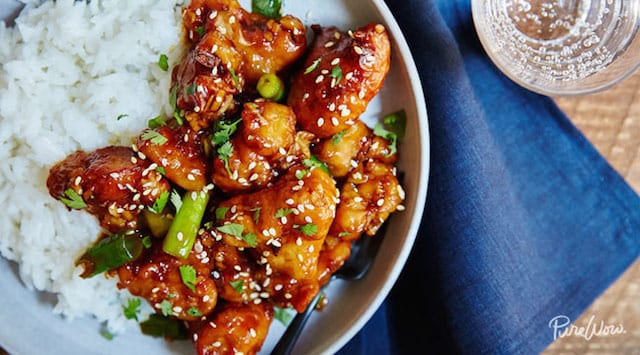 Beef is good.  Especially when it is stuffed with cheese and topped with all kinds of insane flavor.  The first love of my (foodie) life?  Bean Burgers.  Close second?  Seafood burgers- and now this burger is close in line to being among my top three.
Who am I kidding. Sandwiches, in general, pretty much rock my world.  This sandwich included.
Print
Basil Beef Burgers with Sun Dried Tomato-Herb Aioli
---
1/4 cup

sun-dred tomatoes (pre-packaged, not in oil)

1 cup

boiling water

1 cup

reduced fat Canola mayonnaise

2 teaspoons

Worcestershire sauce

1/4 cup

plus 2 tablespoons coarsely chopped fresh basil leaves

2 teaspoons

Italian blend seasoning

3

garlic cloves, minced, divided

1/2 teaspoon

1 teaspoon

pepper

1/4 teaspoon

kosher salt

1

pound extra-lean ground beef (94% lean)

1/2

pound lean ground beef (90% lean)

3/4 cup

shredded reduced fat Italian blend cheese

6

hamburger buns (preferably whole wheat)
Additional fresh basil leaves and sun-dried tomatoes, optional
---
Instructions
In a small bowl, combine tomatoes and water. Let stand for 5 minutes; drain.
In a food processor, combine mayonnaise, 2 tablespoons chopped basil, 1 clove minced garlic, and tomatoes; cover and process until blended. Chill until serving.
Prepare a large platter by coating it with cooking spray. Set aside.
In a large bowl, combine the Worcestershire sauce, remaining basil, Italian seasoning, remaining garlic, pepper and salt.
Crumble beef over mixture and mix well with your hands.
Shape into 12 thin patties, placing them on the prepared platter.
Place 2 tablespoons cheese on six patties; top with remaining patties and press edges firmly to seal.
Lightly spray the tops of the burgers.
Grill burgers, covered, over medium heat or broil 4 in. from the heat for 5 minutes on each side or until a meat thermometer reads 160° and juices run clear.
Serve on buns with mayonnaise mixture and additional sun-dried tomatoes and basil if desired.
Nutrition
Serving Size:

1 burger with 3 T aioli

Calories:

360

Fat:

15 g

Carbohydrates:

30 g

Fiber:

5 g

Protein:

30 g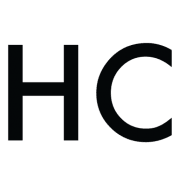 Amber Massey
Amber Massey is a southern-raised, food-loving, registered dietitian focusing on the culinary world of dietetics. Personal chef, author of her blog, Chocolate Broccoli, and accidental lover of food photography, Amber takes pride in healthy recipe development as well as culinary and nutrition instruction through personal and public cooking classes, public speaking, and media outlets. Amber can be seen in print for her nutrition expertise, as well as multiple magazine publications for her culinary creations, including Taste of Home, Healthy Cooking, Simple and Delicious, and Country Women's Magazine.