Turn ripe tomatoes into sauce for a taste of summer all through the cold winter to come.
By Tamara Novakoviç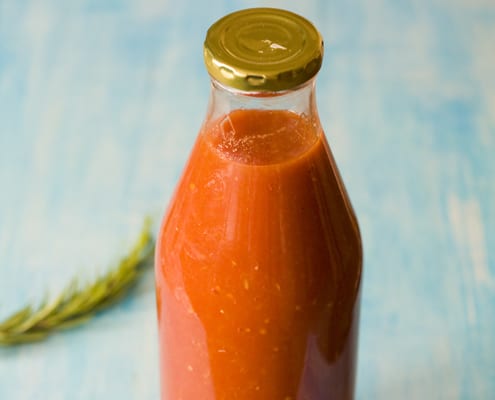 People in Croatia generally make a lot of fruit and vegetable preserves. Here, preserving fruit and veggies and use them during the entire year is some pretty important stuff, I tell you. For me personally, preserving tomatoes represents preserving summer. The're one of my favorite ingredients. I buy a lot of artificial vegetable and fruit throughout the year, when the're not in season, and am well aware of it, but one thing I never buy when not in season: tomatoes. I have a knack for them and want to remember and enjoy them exclusively seasonally (and those seasonal, real ones preserved like this).
When it comes to tomatoes, of course you can preserve them in the form of marmalade and jam, or dry them and put into jars filled with olive oil, but where I come from, they're most likely to end up in a sauce. You can freeze the sauce (in this case even add some spices and garlic to it), or keep it simple and pour into sterilized jars, which are kept in dry and dark places aka pantries (once opened, make sure to keep them in your fridge).

Preserved tomatoes: tomato sauce
Turn ripe tomatoes into sauce for a taste of summer all through the cold winter to come.
Cuisine:
Croatian, Mediterranean
Ingredients
35 oz (approximately 3 kg) fresh tomatoes
3 or 4 bay leaves
2 tbsp salt
2 tbsp sugar
lemon juice
Instructions
Wash tomatoes and peel their skin off (you can cook them for 5 minutes in boiling water, then let them cool, the skin will come off very easily). Cut them into pieces, put in a large pot and mash. Add sugar, salt and bay leaves and cook, stirring occasionally, for about 1 hour. In the end, remove bay leaves.
Prepare your jars: cook them and lids in boiling water for 10 minutes. Take them out, pour hot tomato sauce into them, cover with lids and place back into the large pot with boiling water. Cook for 20-30 minutes. Remove from the pot, let cool. Store in pantry, or once opened in your fridge.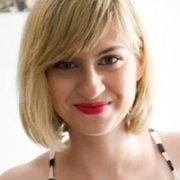 Tamara Novakoviç
Tamara Novakovic is a passionate self-taught cook, food blogger, freelance food writer and photographer behind bite-my-cake.blogspot.com. Her life journey has led her through Faculty of Humanities in Zagreb, Croatia to discovering passion for making cakes. She is currently a weekly food columnist for Croatian newspaper V magazine and food magazine Repete.