The satchel of seeds helps to thicken the quince paste, which is delicious served with crackers and Spanish cheese like Manchego.
By Vicky Cohen and Ruth Fox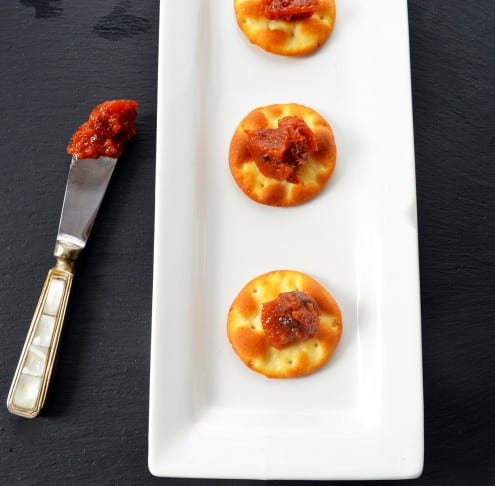 Basic Quince Paste
The satchel of seeds helps to thicken the quince paste, which is delicious served with crackers and Spanish cheese like Manchego.
Author:
Vicky Cohen and Ruth Fox
Ingredients
2 large quince
1¼ cups of sugar
1 cup of water
Instructions
Peel and cut each quince into 8 pieces. Remove seeds and place them in a cheese cloth. Create a pouch and tie it with cooking twine.
Combine quince, sugar, water, and seed pouch in a large sauce pan. Bring to a boil and simmer for 45 minutes.
Let it cool, take seed pouch out, and puree the quince with an immersion blender or in the food processor until smooth.
Spread the paste into a rectangular or square shallow dish with a lid. Cover it.
Refrigerate for 3 hours.
Serve over crackers, plain or with Manchego or sharp cheddar cheese.