Barcelona Wine Bar in Logan Circle has the recipe for success: a fantastic gathering place, phenomenal food and amazing drinks. With an expansive indoor-outdoor space on one of DC's hottest avenues, the recently-opened restaurant has become a mainstay for friends to share laughs, tapas and, if the weather is cold, even a blanket.
By Lauren Clason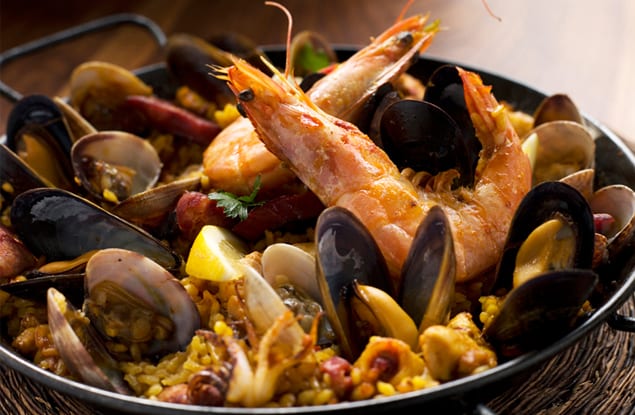 Barcelona Wine Bar & Restaurant
What makes the Washington, D.C. location of Barcelona Wine Bar different than its predecessors?
"This patio is sick," Executive Chef Steve Brand says, gesturing out the window to the tables and heat lamps outside, which come complete with faux fur blankets in the winter. "The entrance. Let's just leave it at that. The entrance."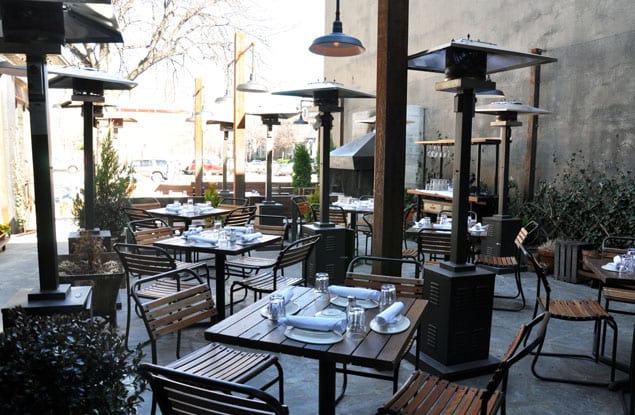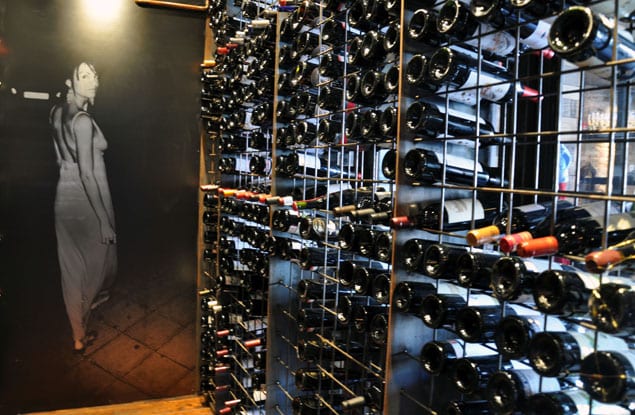 The 14th street restaurant opened in the former space of a Gold's Gym last October and has since become one of the neighborhood's most popular destinations. Good luck getting a table here on a weekend night, when the wait list can be three hours long. On a Wednesday, like today, with the late afternoon sun slanting through the windows, things are fairly quiet. A few patrons lounge at the bar for an early meal, while the staff buzzes around preparing for the dinner rush that will soon pack the restaurant wall-to-wall.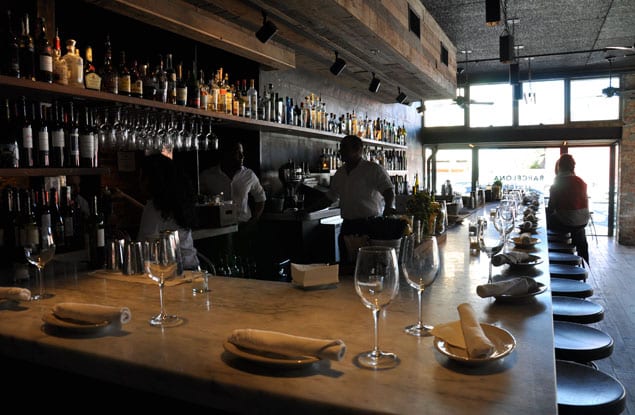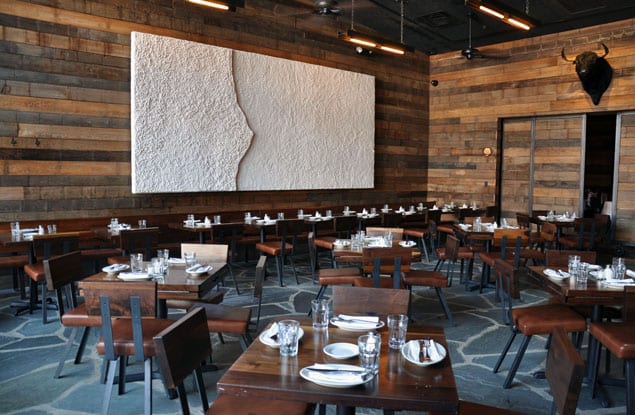 Barcelona Wine Bar is a Spanish tapas restaurant with locations in Connecticut, Massachusetts, Atlanta and DC. Chef Brand controls about half of the menu here at the DC location, which varies day by day to include somewhere between 40-50 tapas options, and paella of course. Today the new feature is braised rabbit with fava beans, a dish Brand calls "cold weather spring."
"What I take from Spanish cuisine and from my travels in Spain is the passion that people have for what they're doing," he says, on a break from the heat of the kitchen. "It's the way they picnic or the way they make a cocktail or the way they build cars or the way that they farm. It's just really true passion behind it. Everyone says, oh well the Spaniards are famous for partying. But what it is is an intensity about life. That's what it's really about."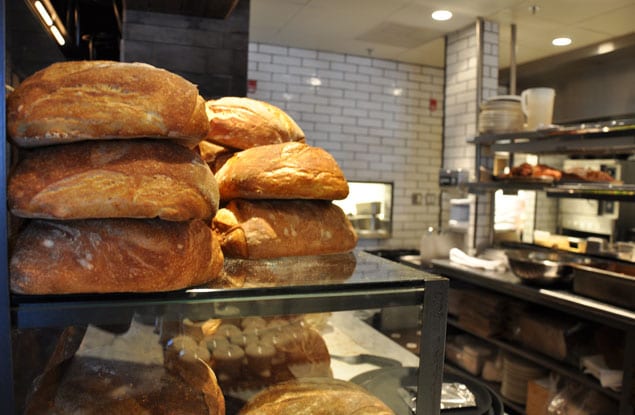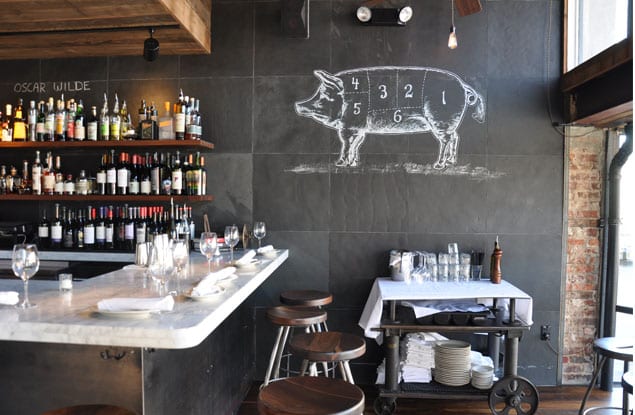 Brand savors that intensity himself. He was first drawn to the profession by the lifestyle and the free time it gave him to spend with friends and family. That relaxed attitude is reflected throughout his friendly, easy-going staff, who are quick with a recommendation or a joke. ("He doesn't even work here," one staff member murmured to me as he walked by.)
Before opening DC's Barcelona spot, Chef Brand received his culinary degree from Johnson & Wales University in Providence, Rhode Island, and worked at a slew of restaurants in the northeast and New York City. He also traveled extensively through Europe, where he earned a German sommelier certificate.
Besides the rabbit with fava beans, Chef Brand recommends the steak tartare, as well as the morcilla, or blood sausage, which is made from pork sausage and calves blood.
"It's kind of like eating a sausage and a steak at the same time," he says. "It's smoky, gently spiced, just really delicious. I'd do anything to get that on someone's table."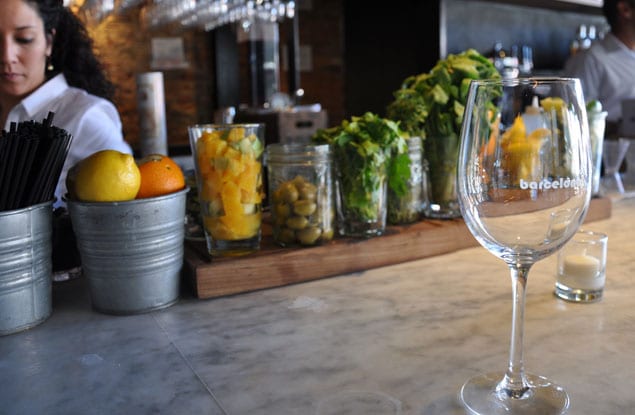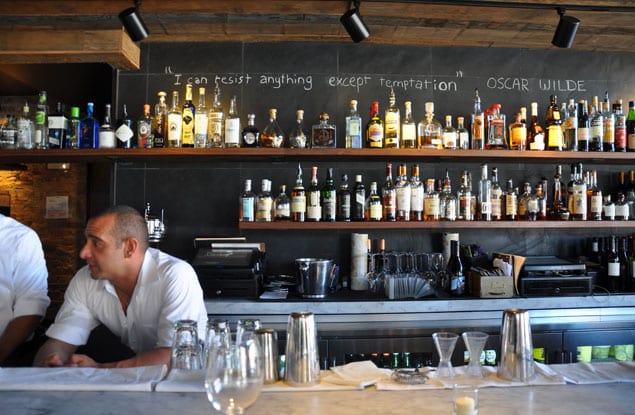 In keeping with the trend of the times, Brand and company recently started serving brunch on the weekends, something they haven't really advertised and that Brand categorizes as a "soft opening."
"My passion for brunch comes from… to be honest, it's fake," he says. "What's your site called again? You want honest cooking? My passion for brunch is fake. Everyone hates brunch, ok?"
So much so, in fact, that one day he and the entire Atlanta location's team were planning on getting matching tattoos of the word "brunch" with the "no" symbol drawn across the lettering.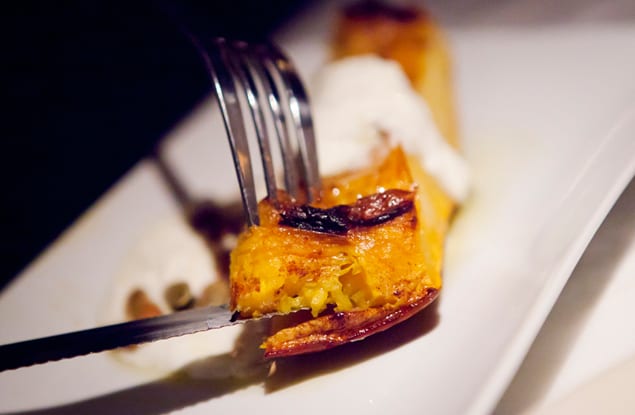 Barcelona Wine Bar & Restaurant
Like the dinner menu, the brunch menu has a certain Spanish flavor, although slightly less so. Highlights include eggs Benedict with either serrano ham, morcilla or lobster, buttermilk fried chicken and lemon ricotta pancakes with lavender honey and fresh berries. Cocktails include your obligatory bloody Mary and cava sangria, as well as coffee spiked with rum and sugar cookies.
And that's definitely something the patrons can be passionate about, even if the kitchen staff isn't. If there's one thing the Logan Circle crowd can't live without, it's brunch. With both brunch and dinner laid out before you, it will be hard to think of a reason to leave.
Check out the recipe for one of Barcelona's signature cocktails, the Bourbon Spice Rack, below.
Bourbon Spice Rack
Author:
Barcelona Wine Bar
Ingredients
¾ oz. lemon juice
½ oz. Doc's Maple Syrup grade B
1 oz. Cocchi Torino Vermouth
1 oz. Four Roses Bourbon
1 dash Scrappy's Cardamon Bitters
2 dashes Scrappy's Lavender Bitters
Instructions
Measure all ingredients into a shaker.
Add ice, shake well.
Strain into a rock glass. Add 2-3 LARGE ice cubes.
Garnish with a skewer.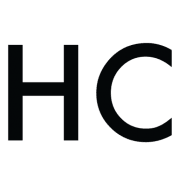 Lauren Clason
Lauren is a freelance writer based in Washington, DC. She is known to order the most bizarre thing on the menu when dining out, and she still calls her mother when she can't remember Grandma's recipes.